What do Mtunzini, Eshowe, Hluhluwe and Mkuze have in common? Extraordinary bird life – and a flock of expert female guides to decipher it. Melanie van Zyl linked four nature havens into a journey for adventurers and avid birders alike.
Written by Melanie van Zyl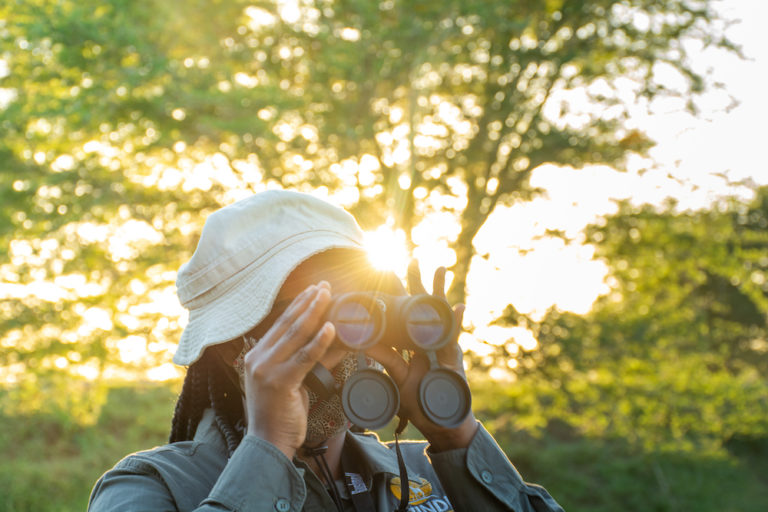 Location, location, location. When plotting a road trip to admire any feathered friends, environmental diversity is a sure-fire way to encourage a flourishing list. All things bright and beautiful, all creatures great and small. Tropical acacia and swampy waterhole. Murky mangrove marshes with rivers running by. Rippling grasslands and fever trees sky high. Fabled old-growth forests and sweeping sandy shore. Oh, what staggering awe – KwaZulu-Natal has them all. 
From Mtunzini to Mkuze, each unique and enigmatic habitat sustains its distinct bevvy of birds and beasts – as well as the binocular-clad beings intent on ticking them off. 
Some of these beings drive lumbering white Range Rovers and sport bazooka-sized spotting scopes, too. They are also more than happy to drive the seven-hour haul from Gauteng during the soupy dead of night to sight a simple little sandpiper. 
At least that was the scene we stumbled across near Mkuze Game Reserve and it froze local bird guide Phindile Ntshangase in her tracks. 'Something is going on here,' she said in her assured, but unpretentious way. 
Doing our best not to startle the mystery sighting, we skirted Mpempe Pan – and the parking lot of enormous 4x4s. 'What on Earth could they be looking at,' I mused, imagination whirling wild, for we had unwittingly stumbled across our very first twitch. The subject? Southern Africa's 19th-ever buff-breasted sandpiper. 
Mpempe Pan was part of Phindi's regular circuit, our next stop after a glorious morning birding at silky sunrise around nearby Mkuze Pan. Following healthy summer rains, water had spilt over the roots of fever trees filling the wetland for pink-backed pelicans that sat sailing on the glossy surface and blue-cheeked bee-eaters that twizzed in the branches above. Southern brown-throated weavers threaded homes together in the reeds and we kept a sharp eye open for the hippos har-har-har-ing somewhere beyond. 
Phindile Ntshangase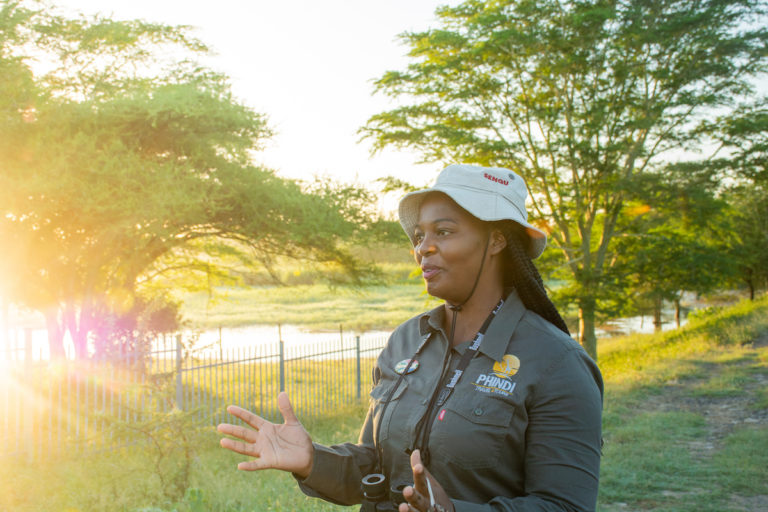 Phindile Ntshangase is one of four female guides I'd scheduled to visit on an avian expedition borne of a chance conversation with the BirdLife South Africa avitourism project manager, Andrew de Blocq. 
BirdLife South Africa is the country's premier bird authority and a registered non-profit, public benefit environmental organisation. For the past 20 years, the NGO has been training people from rural backgrounds to become professional bird guides, with more than 200 graduates. Roughly 50 of these are actively guiding while others have transitioned into the tourism, hospitality and education sectors.
I've encountered many of these graduates during my South African travels: David Letsoalo and Paul Nkhumane in the forests of Magoebaskloof, Themba Mthembu in subtropical St Lucia, and Lucky Ngwenya in the Wakkerstroom wetlands – legends deserving of their recognition and talent. When I asked why there were no community bird guides in the Western Cape (it's a story for another day), I learnt that BirdLife South Africa has also trained a host of women. Like bird species, where males often bear the brightly coloured, noticeable plumage, it seemed that females are somewhat overshadowed. I sought to meet some of them.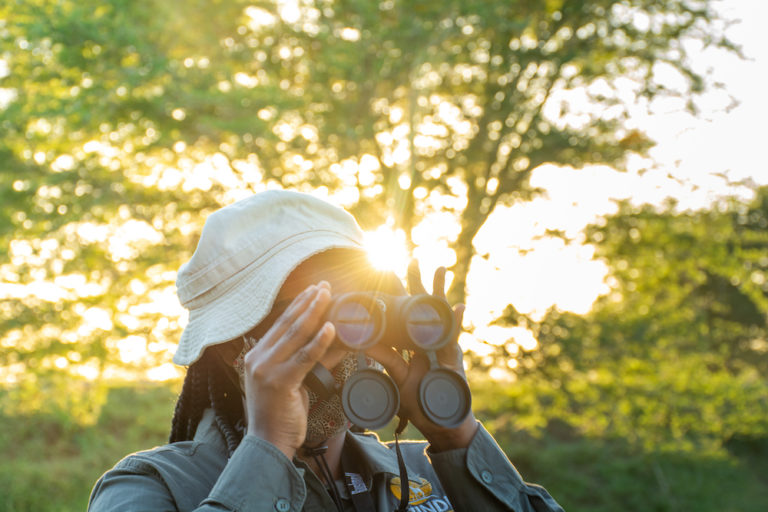 Phindile hails from Mtubatuba, was trained by BirdLife South Africa in 2016 and went on to establish Phindi's Travel and Tours. She owes much of her knowledge and inspiration to Themba. 'Themba introduced me to BirdLife. Before that I knew only a few common species, just things like the cattle egret,' Phindi said during our morning at Muzi Pans near Mkuze Game Reserve. 'I was so lucky to train with this guide – the famous one!'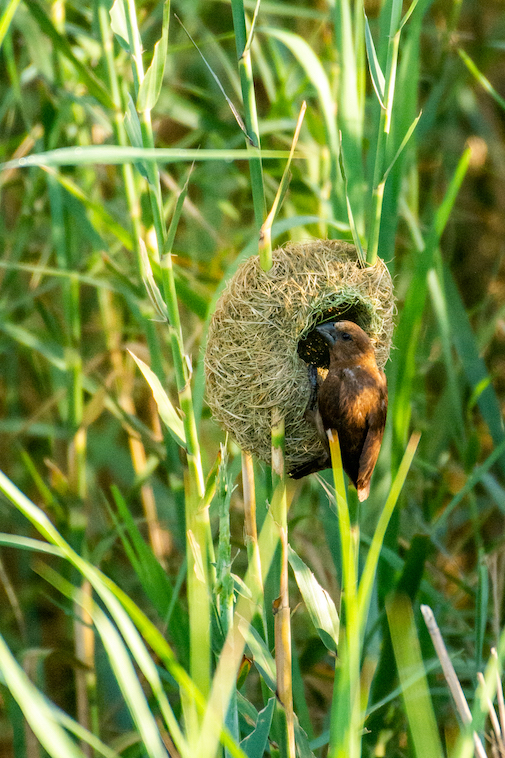 'Phindile' means 'not another girl' in isiZulu as she was the last in a string of sisters. As such, it was her duty to tend to the cattle. Perhaps the gender-bending of stereotypes started there. She now keeps a comprehensive list of birds seen. '524,' she beamed. 'I added the Madagascar cuckoo and Caspian tern this year.' Little did she know she'd hit 527 (and we'd score a day rate of 84) by midday. 
Thobeka Nkosi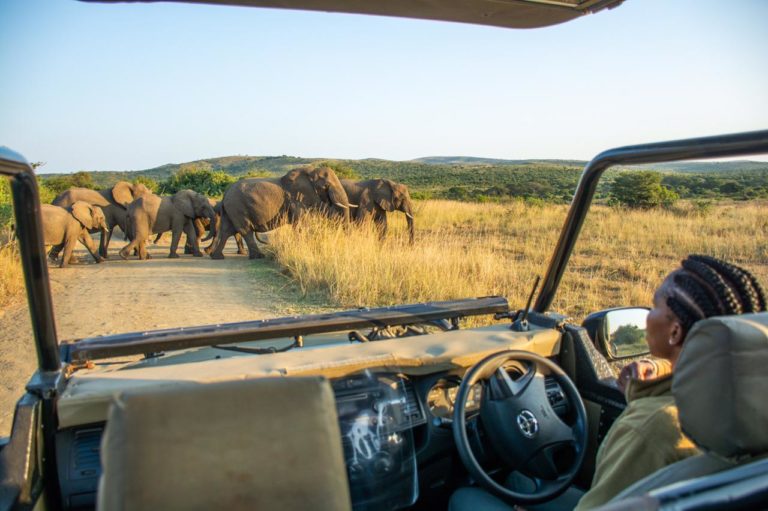 Next stop was Rhino Ridge Safari Lodge at Hluhluwe-iMfolozi Game Reserve, where I had a date with one of Isibindi Africa's female field guides. Although she has no affiliation to BirdLife South Africa, Thobeka Nkosi is a whizz at all things wild and has been at the lodge since its inception. 'Six years now,' she calculated with a grin. 'My home is Mpembeni village, just a 15-minute drive from here.' What she couldn't figure out though, was why I'd come to meet her. 'I'm very shy,' she insisted. Yet, on getting into a game drive vehicle with her, demureness quickly gave way to confident passion. 
Rhino Ridge Safari Lodge is situated on land belonging to the local Mpembeni community, which has been incorporated into the Hluhluwe-iMfolozi Park. Our safari started as most do, with indifferent impala herds, a breeding march of stoic mothers flanked by cheeky teenage elephants and journeys of giraffes. 'There are the dlulumeti,' Thobeka pointed out. 'That is our Zulu name for giraffe, which means taller than the trees.' We also saw a lightning lizard, otherwise known as the chameleon. I loved this aspect of our outings the most. Thobeka elegantly intertwined her culture with our sightings. Doing her best to appease every guest on our vehicle, she'd stop for the big sought-after game, but always surreptitiously point out the interesting feathered finds to me. An orange-breasted bushshrike, the tambourine dove or a green-winged pytilia. 
'Before I started here at the park, I never got to see the animals and when I started guiding I was really scared. Reading animal body language took me a long time to understand. Like the elephants, they're really unpredictable. The rhinos, too. I just remember looking at that large horn! When I started there were a few challenges. Some guys would drive right past, and they wouldn't share any information. I'm still being told what to do.' Thobeka regaled her backstory with a laugh, which doubled after I shared that there's a modern term for that – it's called mansplaining.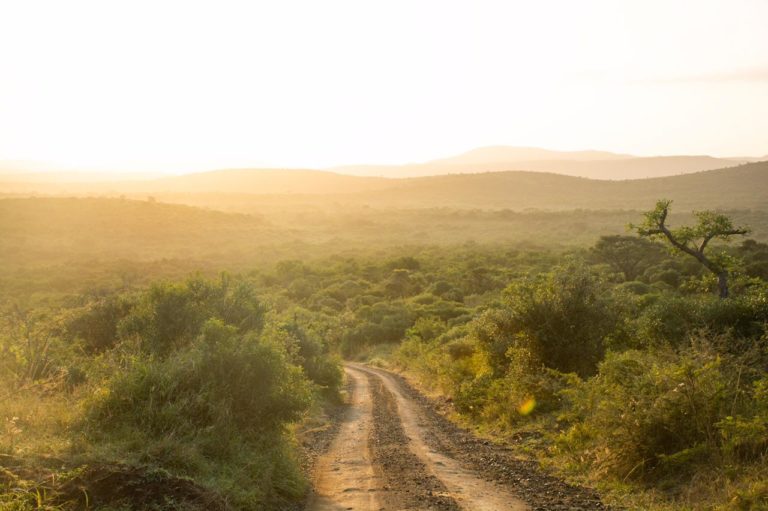 'I'd say I've inspired other people,' she added reluctantly. 'I get more people asking questions. How can they do this, too? Especially the kids. When little girls see it, they can see it's possible.' 
This female presence in the industry is vital. 'Guided tourism is already an imbalanced industry,' Andrew later told me in agreement. 'Women – particularly African women – often struggle to make inroads because of client perceptions and prejudices as well as cultural and systemic issues. It has been said that, in general, women are actually much better guides than men,' he continued with a small smile, 'because they are more empathetic and attentive to their clients. Some of the men don't like hearing that.'
Manah Ntuli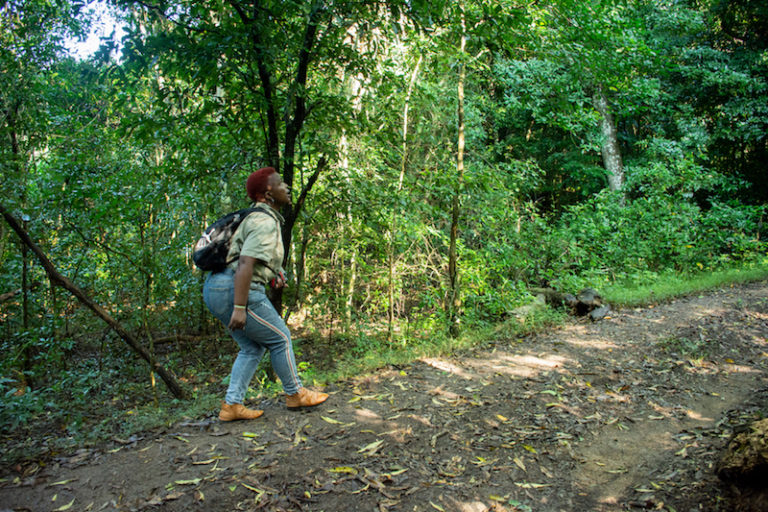 Manah Ntuli is the kind of person who doesn't give a tailfeather about what people do or don't like hearing. She went to Wakkerstroom for two years to train with Birdlife South Africa in 2001. 'I'm also a prophet and sangoma,' she said on our drive towards the Ongoye Forest. This last shred of ancient forest spans some 4 000 hectares and sits 15km inland, parallel to the coast between Eshowe and Empangeni. Decked out in big sunglasses, armed with a keen bird-like whistle and boasting a head of bright red hair, our drive through rural Zululand towards this lesser-visited arboreal oasis revealed plenty of character. 
While I was fretting about getting the Toyota through the mud after an overnight deluge, Manah remained nonplussed and confident in my abilities. 'This is a big car. It will be fine.' Grasslands ('Often we see southern ground-hornbill here,' Manah enthused) gave way to soaring trees and we were soon strolling below the leaves, eyes pointed eagerly upwards. This forest is home to the highly localised green barbet (you get them up in East Africa too, but this is the only location for about 500km), eastern bronze-naped pigeon and Ongoye red squirrel. But even without seeing these specials, the drive was worth it. 
READ: Birdlife South Africa to compile list of birds in isiZulu
'Where are you? You bastard,' Manah whispered under her breath, creeping gently along the mud road (we'd parked the car safely in the grass and opted to walk). Above us, the dark shape of a green malkoha flip-flapped, all-too-obscured in the upper crown of the canopy. Then a cacophony. 'It's a party! Melanie, look at this party,' Manah practically hopped from foot to foot. Dark-backed weavers, white-eared barbets, yellow-streaked greenbuls, a golden-tailed woodpecker and drongos deluxe. Although I will have to return for that green barbet someday, I departed happy with my list of new sightings. Manah explained that there was a density of one pair of green barbets per four to five hectares, which are pretty tough odds. 
Mabuyi Zungu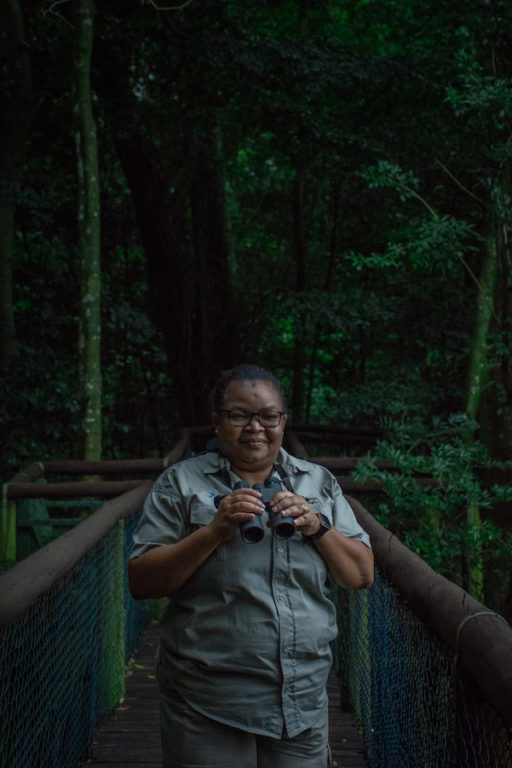 I had better lifer-luck at my last destination, where Mabuyi Zungu led a walk through the shadowy sanctum of Dlinza Forest in Eshowe. Mabuyi has been working full time at the forest for seven years, and worked at the nearby Umlalazi Nature Reserve before that. We toured the viewing tower in hopes of scoping out the eastern bronze-naped pigeon but drizzly landscapes hindered our progress. 'Forest birding is already tough,' Mabuyi allayed my disappointment. 'Down here you can't even see the noisy hadeda or enormous trumpeter hornbill.' She had a point. 
No matter, we were soon rewarded with a spotted ground thrush and she guided us like a practised pro towards a Narina trogon that generously sat and posed.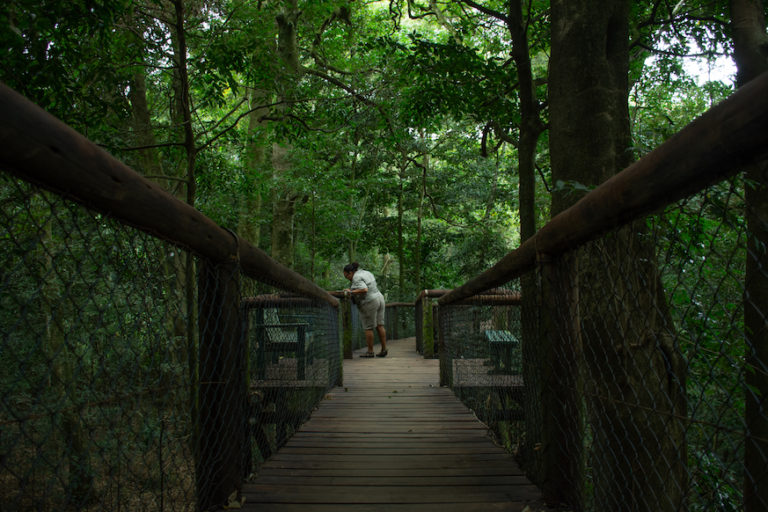 Named by François Levaillant, a French explorer, zoological collector, and celebrated ornithologist sent by the Dutch East India Company to South Africa's Cape Province in 1781, this bird has a particularly appropriate backstory. Levaillant travelled extensively and collected specimens until 1784, during which time he fell in love. It is believed that this spectacular trogon is named after Narina, his Khoi mistress.
Most birds are named after men, the taxonomic norm, but this jewel-coloured Narina trogon is a most exquisite exception. A lot like this group of guides. 
GO BIRDING 
Phindile Ntshangase, Phindi's Travels and Tours Phindi is based in St Lucia and operates across the entire Isimangaliso Wetland Park, False Bay and Nibela floodplain, up to Mkuze. From R550pp for a half-day guiding. 072 356 5906, [email protected] 
Manah Ntuli is based in Eshowe and operates in the Dlinza Forest, Eshowe, Mtunzini, Ntumeni, Mlalazi, Matigulu, Stanger (her favourite!), Dreadnought Farm, Phobane Dam and Ongoye Forest. R800 for a half-day from 7am to 1pm and R1 500 for a full day from 7am to 4pm. 073 910 6033, [email protected] 
Mabuyi Zungu is based in Mtunzini and loves guiding in the Umlalazi Nature Reserve. She is employed full time by Ezemvelo KZN Wildlife, but she freelances on weekends. R600 for half day birding from 7am to 11am and R1 200 for full day from 6am to 2pm. Whatsapp 073 944 8708, phone 082 812 0979
Thobeka Nkosi is a guide at Rhino Ridge Safari Lodge in Hluhluwe-iMfolozi Park. Request Thobeka as your guide when you book to stay here. 035 474 1473, rhinoridge.co.za 
FASCINATING FACTS 
Little lemon-breasted canaries like to nest in the lala palm. Look for them among the fronds when birding near Mkuze. 

The mangrove kingfisher is migratory and active in this area in June and July. It's best spotted on foot while meandering the mangroves at Umlalazi Nature Reserve.

August to February is a better time to see the green barbet, when it's busy gorging on fruits and breeding. The Ongoye Forest has eight fig species; few other forests have more than three.

Globally threatened birds to seek out on this route include the spotted ground thrush, crowned eagle and southern ground hornbill.
ALSO READ: See the best of Cape Town on The Lion Trail
Follow us on social media for more travel news, inspiration, and guides. You can also tag us to be featured. 
TikTok | Instagram | Facebook | Twitter