The Cederberg is a vast and unspoiled wilderness, one of South Africa's few wilderness areas where you can meet nature on its terms. Here are a few hiking trails in the Cederberg.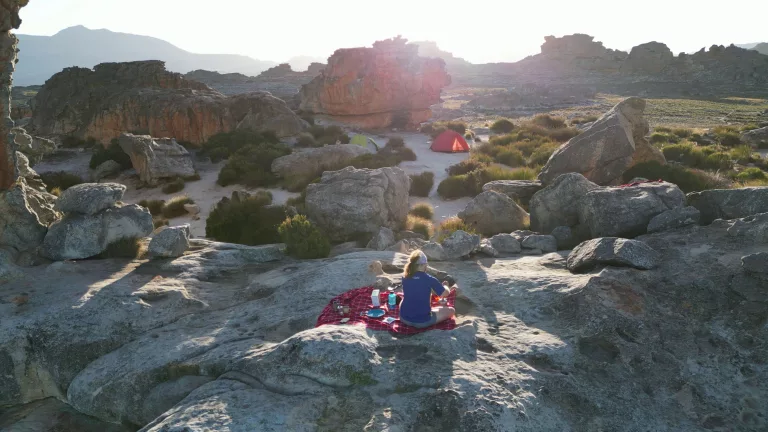 Its majestic mountains are a hiker's paradise, offering a network of trails that wind through rocky mazes, grassy plains, craggy peaks, secretive wooded valleys and crystal-clear streams. It is a land of extremes, with scorching summers and cool winter nights. But it is not just the dramatic landscapes that make the Cederberg a must-visit destination. The night skies offer a spectacle of stars, captivating stargazers with their breathtaking beauty.
The Cederberg is a must-visit hiking destination in South Africa, whether you're an avid hiker or a nature enthusiast looking for a remarkable adventure. From leisurely day hikes to challenging multi-day treks, this wilderness has trails to suit every skill level and ambition.
Also Read: 10 amazing places to go trekking in Namibia
A Land of Boundless Beauty
The Cederberg encompasses a vast area that stretches from Pakhuis Pass in the north to Dorp op die Berg in the south, flanked by Wupperthal and Citrusdal in the east and west respectively. This rugged landscape consists of private land, farms, conservancies, and two main reserves — the 71 000ha Cederberg Wilderness Area managed by Cape Nature and the 182 000ha Cederberg Conservancy, a collection of 22 properties that form the heart of the central Cederberg. Each step along these trails reveals the remarkable geology that has shaped this land over millions of years. Sandstone and shale dominate the scenery, adorned with hues of red, grey, yellow and cream — a painter's palette etched into the earth by wind and water.
A Unesco World Heritage site
The Cederberg is not only a haven for hikers but also a sanctuary for a rich diversity of flora. As one of the 13 clusters in the Cape Floral Region, it boasts two of the Western Cape's six biomes: the fynbos and the succulent Karoo. Fynbos blankets the landscape with its distinctive reeds, ericas and Protea species, while the succulent Karoo thrives in the arid eastern reaches.
The critically endangered Clanwilliam cedar tree, after which the Cederberg is named, stands defiantly on cliffs and rocky outcrops but faces the constant threat of extinction.
Safety first
When planning your Cederberg hiking adventure, keep in mind that the best time to visit is from April to early December. Summertime can be scorching, with temperatures reaching 40 degrees Celsius, while winter brings cool, clear days and extremely cold nights. As you navigate the trails, be prepared for rocky and uneven terrain, and make sure to wear sturdy hiking shoes or boots.
If you are staying overnight, be sure to book beforehand and get your permits at the Cape Nature office.
Read: Hiking Safety tips from Mountain Search and Rescue
Preserving the Wilderness
As you wander through the Cederberg's untamed beauty, remember that you are exploring one of the last untouched places in the world. Respect the fragile ecosystems, follow Leave No Trace principles, and refrain from making open fires to prevent devastating wildfires. Let the serenity of the Cederberg fill your soul, and let its untouched wilderness leave an indelible mark on your heart.
Hiking trails in the Cederberg
1. Wolfberg Cracks
Length: 5 km
Elevation gain: 560 m
Route type: Out and back
Starting point and permits: Sandrif Campsite
An adventurous 5 km hike along the Wolfberg Cracks trail. This challenging route is a popular choice among hikers, so expect to meet fellow adventurers. Dogs are not allowed on this trail, so leave your furry friends at home. Embark on a thrilling journey, navigating through narrow cracks and scrambling up steep sections. The shaded parts of the trail offer respite from the summer heat, making it manageable.
2. Wolfberg Arch
Length: 11.9 km
Elevation gain: 787 m
Route type: Out and back
Starting point and permits: Sandrif Campsite
An exciting 11.9 km hike along the Wolfberg Arch trail, starting in Cederberg, Western Cape. The highlight of the hike is the magnificent arch but en route, you also get to explore the cracks where you can test your skills with some light scrambling. Remember to pack enough water (at least 3 litres) as there is no water on the trail.
View this post on Instagram
3. Disa Pool
Length: 15.4 km
Elevation gain: 307 m
Route type: Out and back
Starting point: Kromrivier campsite
Traverse the valley, keeping an eye out for Red Disas in season. As you reach the pool, cross the stream on the rocks above and descend to the pool on the far side.
4. Lots Wife and Window Rocks
Length: 4.2 km
Elevation gain: 127 m
Route type: Loop
Starting point: Cederberg Private Cellars
A short 4.2 km loop trail known as Lots Wife and Window Rocks. This moderately challenging route is a hidden gem for hiking enthusiasts. Start your journey from the Cederberg Private Cellars' office towards Algeria and follow the sign for Lot's wife. Don't forget to obtain a permit from the Dwarsrivier Farm or Algeria Forest Station. Park at the Stadsaal Caves car park and begin the well-signposted trail to Lots Wife and Window Rocks. In just one to 1.5 hours, you can complete this hike, making it a perfect morning adventure.
5. Algeria – Middelberg Hut
Length: 5.8 km
Elevation gain: 704 m
Route type: Point to point
Starting point: Algeria Campsite
A moderately challenging route and while popular, quieter times of the day provide moments of solitude. A permit is required and can be obtained at the Cape Nature reception at Algeria Campsite. This moderate hike is well worth the effort, taking you through a grove of Ceder Trees.
6. Maltese Cross
Length: 6.3 km
Elevation gain: 440 m
Route type: Out and back
Starting point: Parking area at end of 6km jeep track leading from the Dwarsrivier Observatory
This moderately challenging trail is perfect for hikers and runners seeking a memorable experience. While popular, there are quieter times when you can enjoy the solitude of the trail. Explore the otherworldly landscapes of the Cederberg as you hike along a straightforward route. Keep in mind that the summer heat can be intense, so bring ample water as there are no refill stations along the way.
7. Middelberg Trail Loop
Length: 6.4 km
Elevation gain: 398 m
Route type: Loop
Starting point: Algeria
A picturesque hike, starting at the Algeria campground. The climb is moderate, following a well-marked trail. The highlight of the hike is the stunning waterfall. Be sure to scramble to the flat area at the bottom of the upper main falls to fully appreciate the falls. Keep in mind that some sections of the trail are rocky, so watch your step along the way.
8. Tafelberg
Length: 13.4 km
Elevation gain: 1,126 m
Route type: Out and back
Starting point: most easily accessed from Driehoek, where the trail going up Welbedacht Kloof to Welbedacht Cave starts from a parking area underneath a cluster of oak trees next to the Driehoeks River.
A 13.4 km challenging route that offers stunning landscapes and captivating scenery. The trail involves significant elevation gain but is manageable for those with a reasonable level of fitness. The road to the parking lot requires a high-clearance vehicle, as Tafelberg is the second-highest peak in the Cederberg.
9. De Pakhuys Campsite Trail
Length: 7.9 km
Elevation gain: 185 m
Route type: Out and back
Starting point: De Pakhuys campsite
A quiet, easy trail near the Pakhuys Campsite, where you can also set up camp. Meander along the banks of the Brandewynsriver, eventually reaching the captivating waterfall. After your hike, indulge in a refreshing dip in the freshwater rock pool.
Best hikes in the Cederberg for rock art
With more than 2 500 rock art sites in the Cederberg alone, it's about time you get exploring.
Read: Get cultured outdoors with these rock-art trails in the Western Cape
10. Stadsal Caves
Length: 1.1 km
Elevation gain: 16 m
Route type: Loop
Starting point: 8km past the Dwarsrivier Campsite on the dirt road until you see the start signposted.
Enjoy a 1.1 km loop trail to the Stadsal Caves, an easy route with amazing rock formations and some of the best preserved San Busmen Rock art in the Cederberg.
11. Sevilla rock art trail
Length: 5km
Elevation gain: 16 m
Route type: In and out
Starting point: Traveller's Rest Farm
Sevilla rock art trail is an easy way to get acquainted with ancient art, where a map is available, and a marked trail winds along the Brandewyn River, taking you to nine sites. It is also kid-friendly and you can take a dip in the river on hot days.
12. Gifberg rock art site
The Gifberg forms part of the Cederberg, Bokkeveld and Matsikamma ranges, the eastern boundary of the Olifants River Valley. The rock art site is reached by the narrow Gifberg Pass off the N7, about 15km before Vanryhnsdorp.
Permits are available (R50) from Gifberg Holiday farm where you can view rock art paintings that show shamans (healers) and animals leading from their nows, said to represent ancient shamanic rituals.
Best hikes in the Cederberg for kids
While the steep but straightforward hike up Adderley Street (the main gully in the Wolfberg Cracks) is spectacular, pick up a map and route description at Sanddrif Holiday Resort and head for the third crack if you fancy an adventure. A signboard indicates the start of the route, which branches off the main trail at the base of the cracks. Worm through tunnels and over big boulders until you finally emerge on the top of the plateau and turn left to rejoin the main trail. Otherwise, the rock art trails above are also suitable for kids.
Follow us on social media for more travel news, inspiration, and guides. You can also tag us to be featured. 
TikTok | Instagram | Facebook | Twitter
Also Read: The Other 'Die Hel': Hiking the Groot Winterhoek
Hiking Table Mountain: The ultimate guide