Beauty abounds where vast plains of wild landline Jozini Lake. Oliver Keohane spent a few days at the Royal Jozini Private Game Reserve, where he was introduced to the potential available for those interested in investing in land opportunities.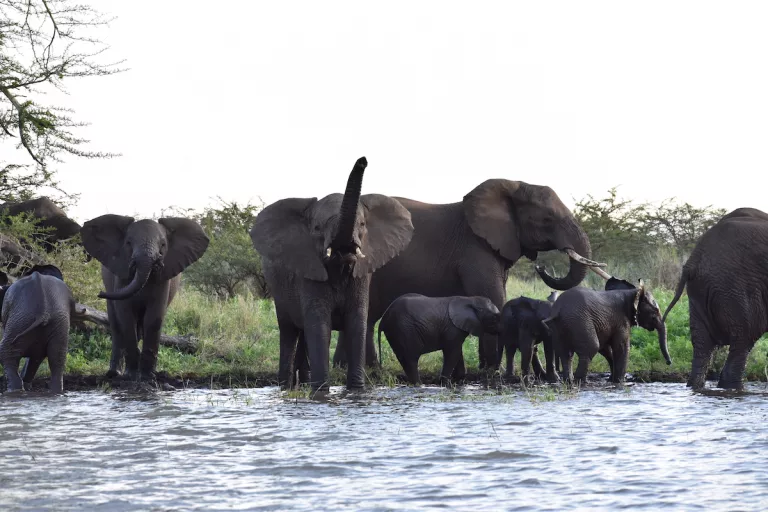 Royal Jozini Private Game Reserve is a special place. You have this luxury of full immersion; bush, lake, mountain. It feels, as you cruise along the lake, that you are floating through a safari snowglobe, the immense mountains marking the perimeter. The glass of the globe, if you will.
I had the wonderful opportunity of spending two nights at Royal Jozini on a trip that felt like everything but work.
Running along the Jozini Lake, in the Southeast pocket of the Kingdom of Eswatini, lies the 7,000 hectares of Royal Jozini Private Game Reserve. A vast expanse of wild land, filled with animals and over 330 species of birdlife, and dotted with beautiful lodges here and there.
Royal Jozini is an eco-friendly, off-grid private reserve that offers self-catering lodges with extensively equipped kitchens and a daily cleaning service.
But the primary vision at Royal Jozini is that of sustainably developing accommodation in the area by enticing people to invest in land opportunities.
Check out Royal Jozini's website here
While 90% of the infrastructure within the estate is completed, the reserve remains brimming with building opportunities, with plots ranging from 4000m² to 24 000m². Over our two days spent traversing the landscape by boat, bakkie and Unimog (more on that later), we were shown the potential of the land available to invest in.
As an investor you have the option to venture within Royal Jozini and build your own lodge. These land opportunities are split into three areas; Lake, Bush and Mountain. On our first night spent at the Kujabula Lodge I remember thinking "why would you go for anything but the lake?". This was until the next afternoon's sundowners spent at the immense mountain outlook built by Jozini locals Linda and John. My mind was made up on a mountain plot by the time we got back for dinner.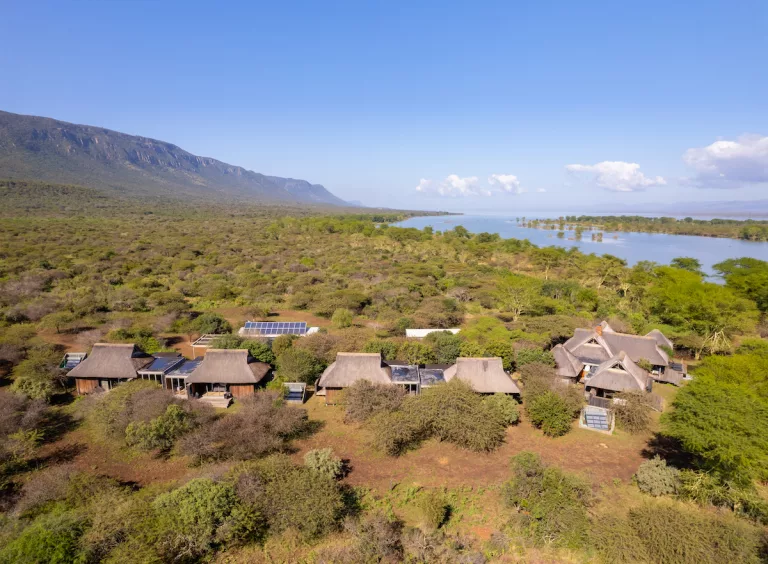 Whether you choose to build private mooring along Lake Jozini, or find solace amidst the bush or high up in the mountains between the Marula trees, Royal Jozini offers such accessibility to different elements of the wild.
An extensive web of dirt roads connects every corner of Royal Jozini, and during our game drive we got to rub shoulders with elephants, giraffes, zebra, impala, wildebeest and bushbuck. Oh, and lots of warthogs. I may be leaving out a few others, but I do know that we were eluded by the leopards, and I would have loved to see a few buffalo! But one day does not do justice to what 7,000 hectares of land offers in terms of game viewing. I really do hope to go back soon.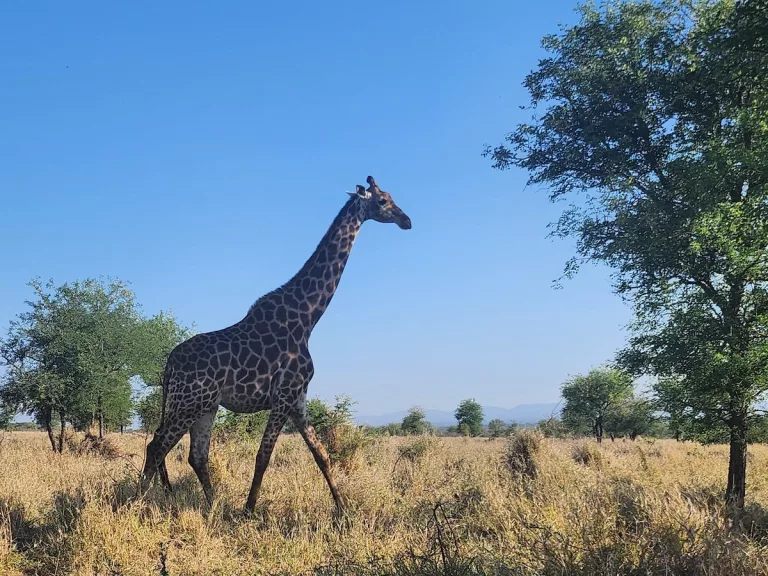 The highlight for me was not spotting any of the big five though, but getting to do the game drive in and ancient Mercedes Unimog. Unimogs are old military trucks and supremely capable 4x4s. Jay Azran, the Managing Director at Royal Jozini, and our awesome guide for the two days, explained that this particular machine was used as a prop in the movie Blood Diamond, and bought by Royal Jozini to be converted into a safari vehicle!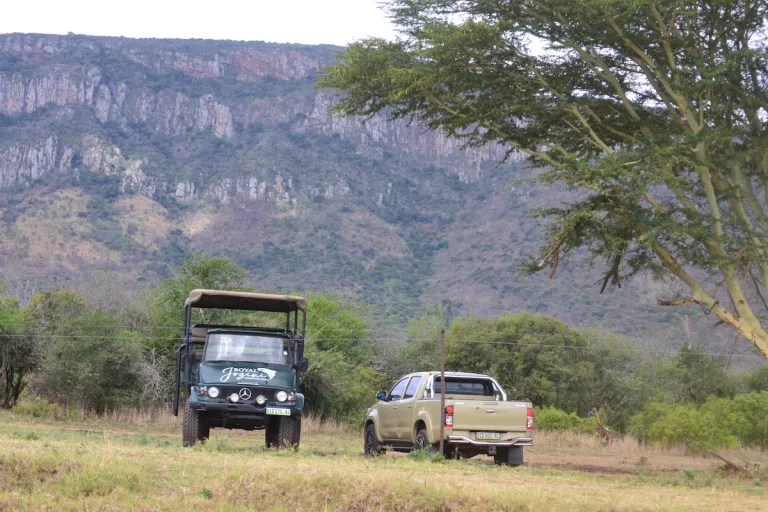 I was so evidently engrossed by this truck that Jay actually let me drive it for a little bit at the start of our game drive. Under the guidance of our game ranger, Thando, I managed to get it into drive without stalling. Thankfully I didn't have to reverse. I've written about the experience on Leisure Wheels, for those interested.
The day before our game drive we were taken on a boat Safari by one of Royal Jozini's lodge-owners, Mike Oldfield. It was a pretty surreal experience. Sipping on a Sibebe Premuim lager – "The Pride of eSwatini", as promised by the label – I got to watch a herd of hippos splash around. A few minutes later I was handed a pair of binoculars and pointed to the shore, where two crocodiles lounged in the late afternoon light.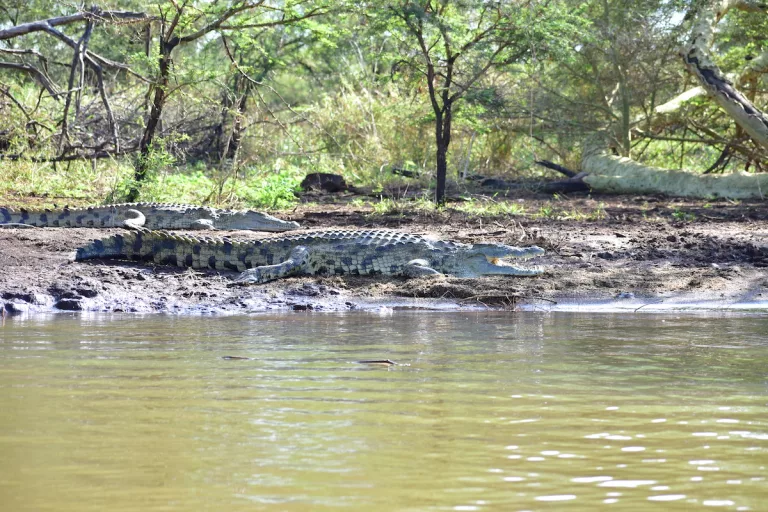 Crocs and hippos aside, Lake Jozini is actually one of the most popular Tiger Fishing locations in the world, and the closest spot for South Africans to partake in the sport. Royal Jozini holds annual Tiger Fishing competitions, while managing a catch and release lake. Unfortunately I had a six hour drive back to Durban to catch the evening flight back into Cape Town, so I missed out on the fishing experience afforded to a few media members on the last day.
This will not always be the case for Capetonians though! King Mswati III International airport is 120km away from the reserve, and eSwatini Air offers flights to and from Johannesburg, Cape Town, Durban and Harare.
Outside of the vast wildlife and immediate peace available in this unique intersection of land and water, what coloured my experience at Jozini was the familial feel and approach to the Bush. Every lodge owner we met was calm and content in sharing their experience of and love for the reserve. Jay's passion for conservation and for future development in the area was evident, the hospitality of him and his staff was superb. And Thando's extensive knowledge of elephants and ability to manouvre a Unimog is like nothing I've ever seen!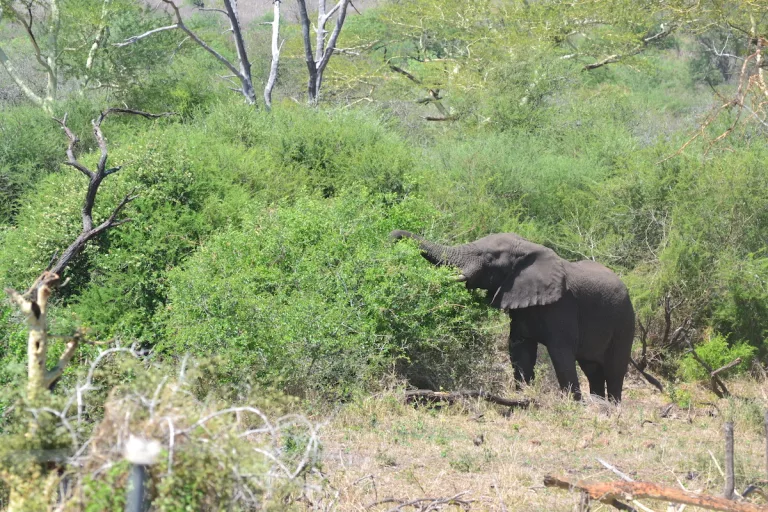 Royal Jozini is beautiful because it is made up of thousands of acres of bush, lining 30km of lake, enclosed by spectacular mountains. But its charm lies also in the personalities that live and breathe the area, and are working to build a sustainable future in which home owners can share in the peace and beauty of this wonderful land on the border of eSwatini and South Africa.
Keep an eye out on out for our December issue of Getaway Magazine, where we'll be running a feature on Royal Jozini Private Reserve.
Imagery courtesy of Rainmaker Marketing