The island town of Knysna has way more than just 25 things to do, with multiple water sources, gorgeous viewpoints, top-class restaurants and hiking trails galore.
Here are our recommendations of must-do activities to add to your itinerary when on a getaway in Knysna.
Hikes
1. Circles in the Forest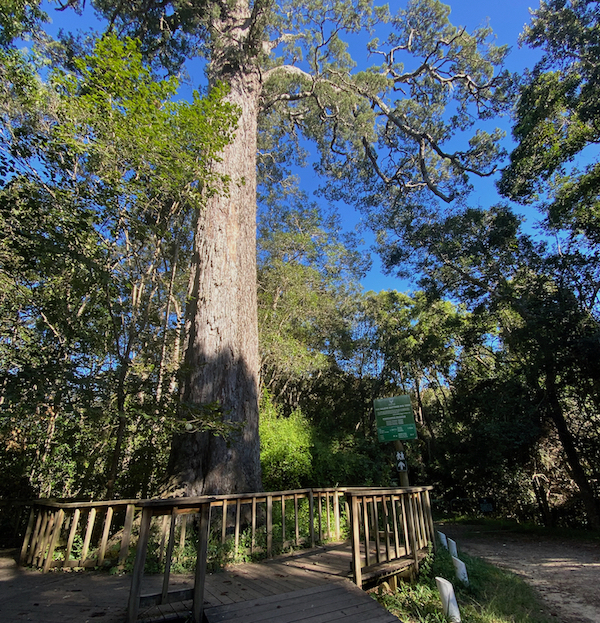 The only thing that makes this hike difficult is the mud if it has been raining. Walk beneath the trees and through the beautiful Knysna forest on either the 3km or 9km trail.
2. White Elephant Trail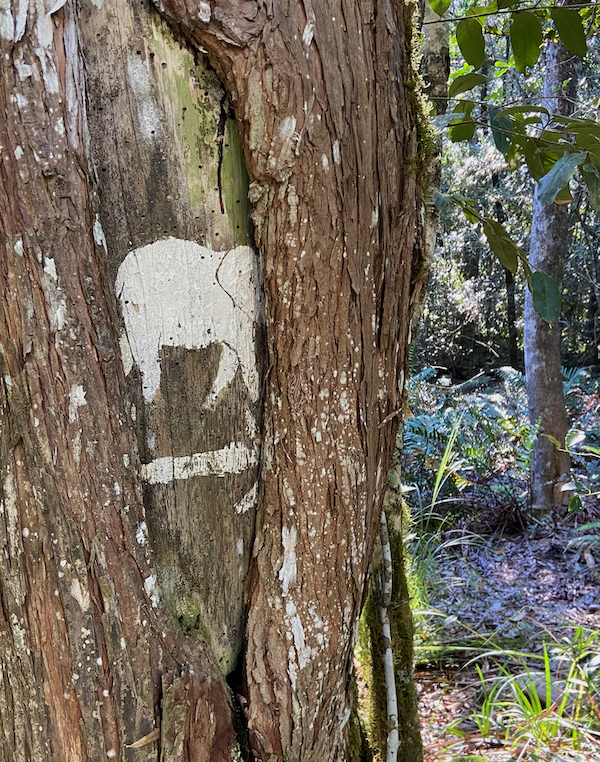 Follow the White Elephants carved into the barks of trees as you walk the 8km White Elephant trail. The elevation can be tough at times, but the forest keeps the hike nice and cool, even at midday.
3. Garden of Eden
If you're looking for things to do in Knysna, this is the perfect spot for a leisurely 1km stroll through the Knysna Forest. The wooden boards and stream crossings make this walk wheelchair friendly and comfortable for elderly travellers.
4. Kranshoek Hiking Trail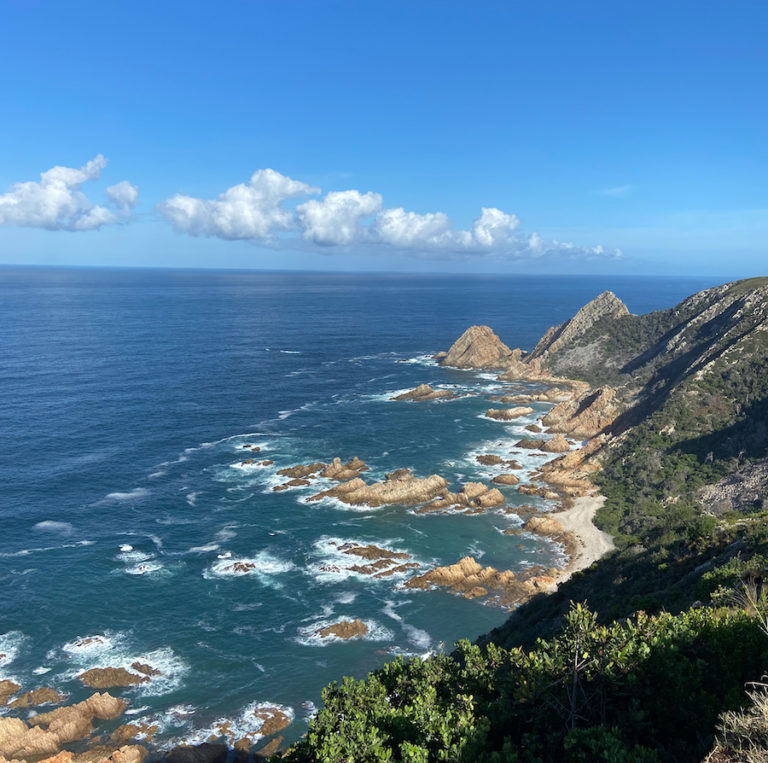 This 9km hike is for advanced hikers, as it involves slippery inclines and scrambling. You might even see a person or two using this trail to practice for the Otter Trail. What makes this trail so worthwhile is the unmatched views of the ocean, forest and mountains.
To find out more about Knysna Forest hikes, visit: gardenrouteadventureguide.com
Viewpoints
5. Knysna Heads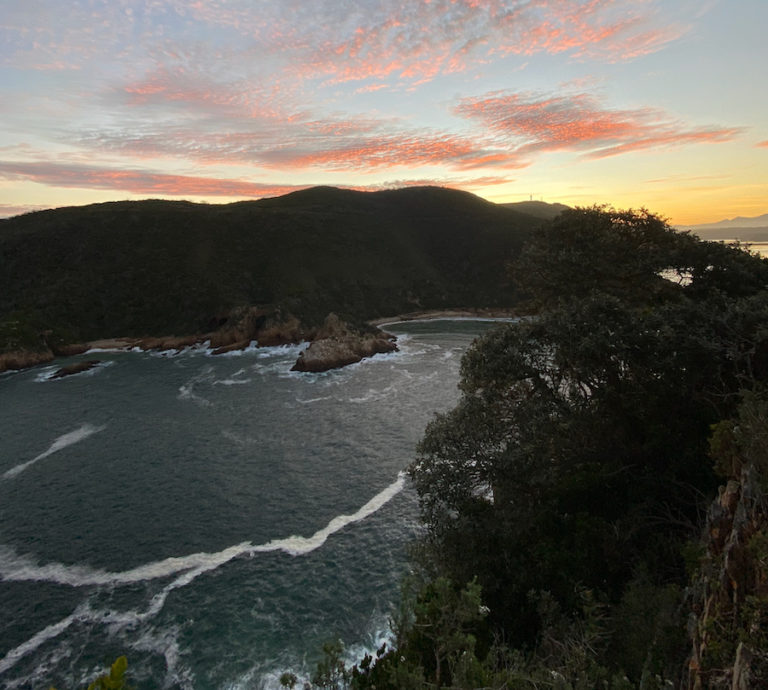 The Heads are an iconic point in Knysna, where there are views of the lagoon meeting the ocean between the two mountains. It is one of the essential things you need to do when visiting Knysna. The entrance is free, and if you're there during the low season, you can pack a picnic and enjoy the views with delicious food.
6. Spitskop Viewpoint
After chasing the white elephants carved into the trees (aka hiking the white elephant trail), take a drive up to Spitskop Viewpoint for scenery that will literally take your breath away.
7. Margaret's Viewpoint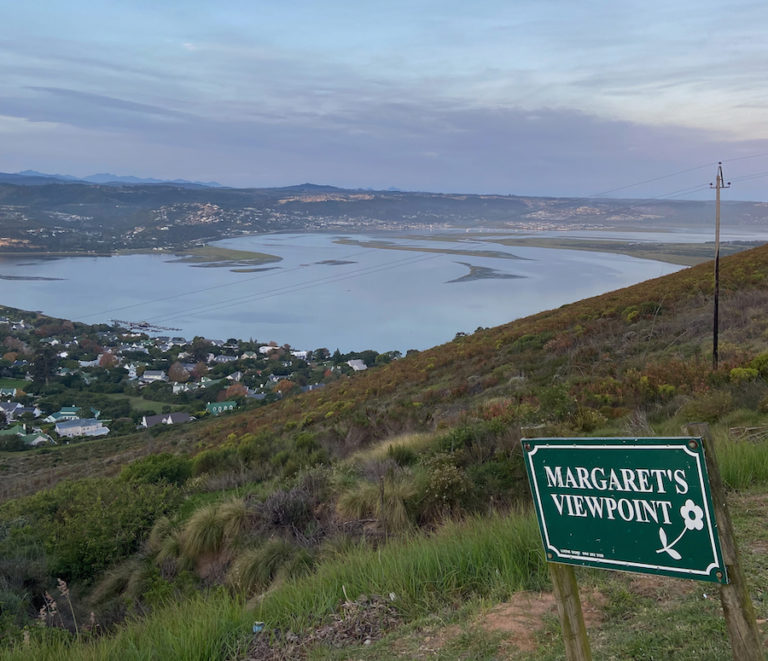 If you're looking for an easy-to-get-to viewpoint for sundowners, Margaret's Viewpoint looks out over all of Knysna and is the perfect place to sip a drink and watch the sun go down.
Markets
8. Wild Oats Market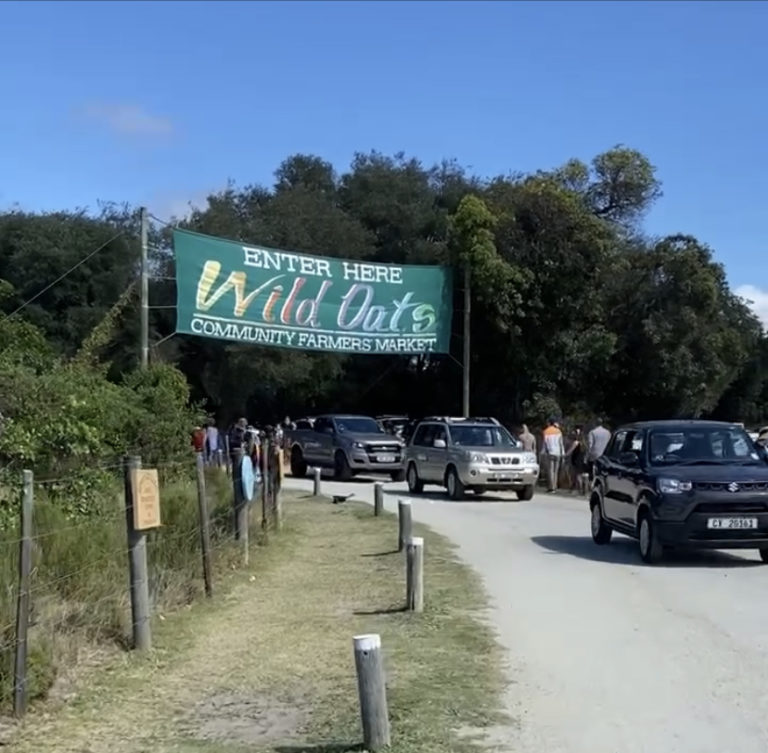 This vibrant market is great for a slow morning. Browse through the flower stalls, pick fresh veggies and choose from a delicious selection of breakfasts.
9. Friday night market at Knysna Montessori
Sit around a big bonfire while eating artisanal pizzas (or whatever else is on offer). Children sometimes come around with raffle tickets, there are drinks on sale, and what better way to kick off the weekend than at a vibey night market?
10. Knysna Waterfront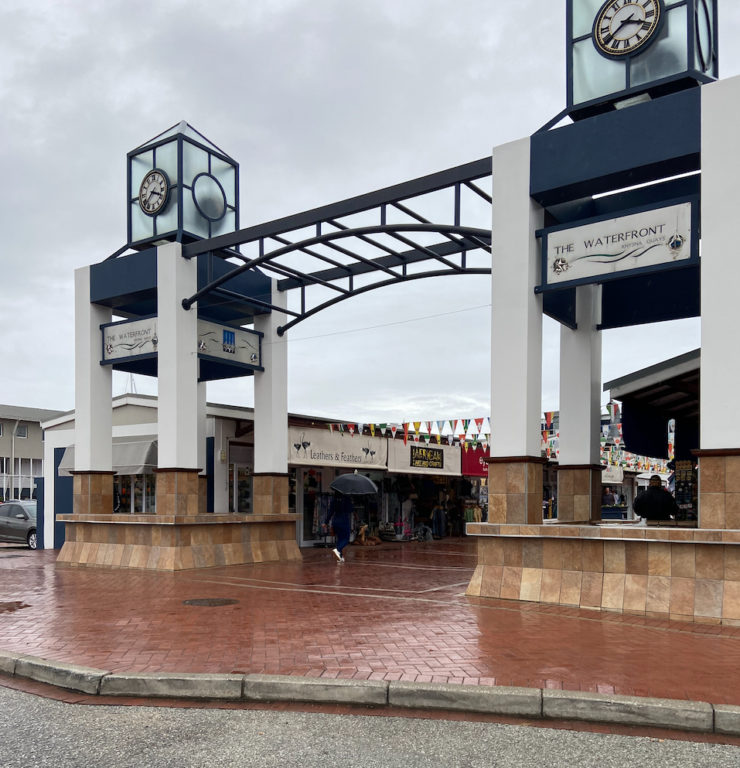 The Knysna Waterfront is another of the things you definitely need to check off your to-do list. It's not the same sort of market as mentioned above, but it has a lot of shops to browse. If you're in need of an 'I heart Knysna' sticker to add to your travel sticker collection, this is the place to go.
11. Harkerville Market
If you enjoy food and crafts, there is much to see and experience at the Harkerville Market. There are benches and tables if you and your friends feel like enjoying each other's company amid the hustle and bustle of the market.
Beaches
12. Buffalo Bay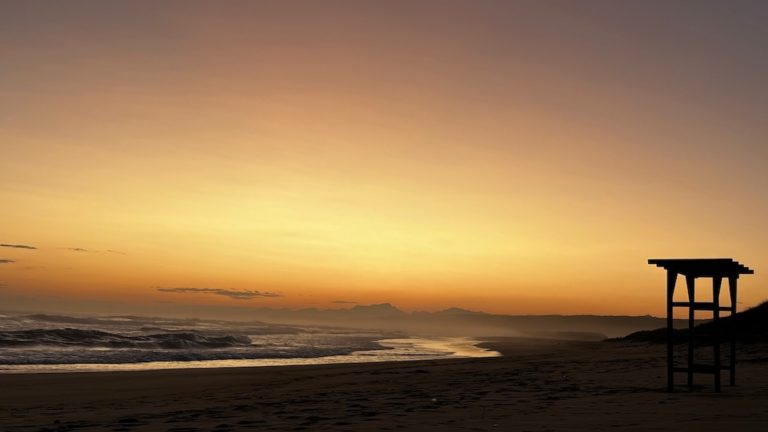 This is my personal favourite, and the car park is close to a couple of restaurants if you want to eat by the sea. The stretch of beach is perfect for a long afternoon walk, and the beach sunsets are incredible.
13. Brenton Beach
You can't visit Knysna without a trip to the beach. Brenton Beach is one of the popular swimming spots close to the town, and great for a day at the sea.
Restaurants
16. île de païn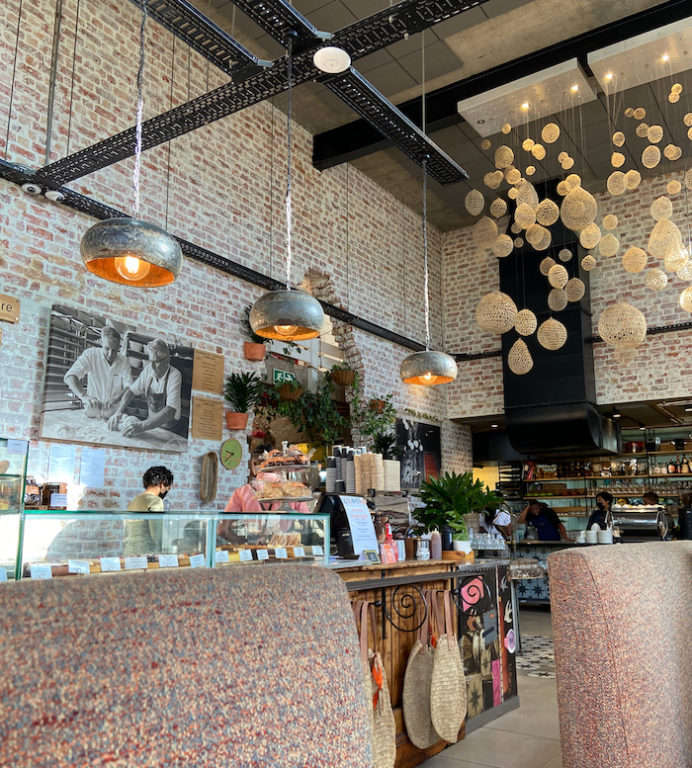 If there's one place you shouldn't miss when in Knysna, it's île de païn. Shelves of tasty goodness are on offer as you walk through the door, and the breakfast menu is mouthwatering. I recommend their organically certified 100% sourdough bread, which is so delicious you can eat it plain.
15. Trinity Coffee
Things to do in Knysna have to include some of their restaurants and coffee shops. Trinity Coffee is a cosy, street-side cafe that serves one of the best cappuccinos in the town. The baristas are friendly, the environment is perfect for a morning coffee or a spot to get some work done, and the cakes are delicious.
---
Also Read: The 20 Best Restaurants in Midrand
---
16. Knysna Gin Distillery
For a good time and some delectable alcohol choices, visit the Knysna Gin Distillery. Not only do they sell the award-winning Knysna gin, but there is also a brewery and cocktail bar if you're looking for something other than gin.
---
Also Read: The 20 Best Restaurants in Port Elizabeth
---
17. Dry Dock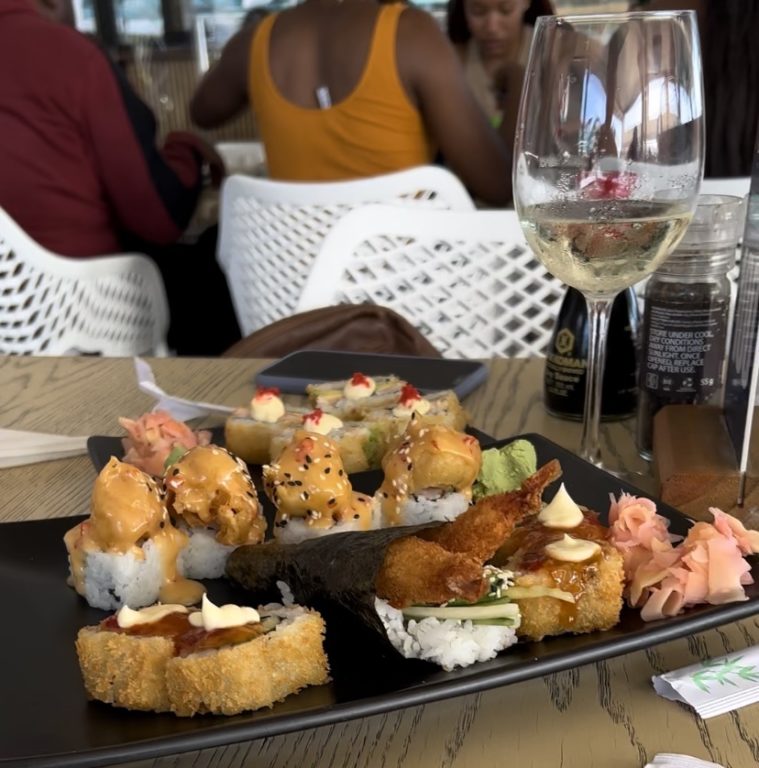 If you are looking for a spot to enjoy some of the town's finest seafood, pay Dry Dock a visit. At the Knysna Waterfront, overlooking the harbour, there's nothing better than slurping back oysters or failing at picking up sushi with your chopsticks while watching the boats docking.
18. East Head Cafe
East Head Cafe should be on your list of things to do in Knysna if you are looking for decent food with a view. It's known as a local landmark, situated on the rocks of the Eastern Head, and all dishes are made with fresh, local ingredients.
---
Also Read: The 20 Best Restaurants in Boksburg
---
19. Cafe Mario
A little more discreet than other well-known restaurants in Knysna, Cafe Mario is the place to go for an easy Saturday night dinner. I still dream about their baked pasta, and they certainly know their way around pizza-making.
---
Also Read: The 20 Best Restaurants in Bloemfontein
---
Water Activities
20. Whale watching
Explore the coastline of the Garden Route as you search for the migratory southern right and humpback whales on a whale-watching experience.
21. Knysna Lagoon Tour (John Benn)
The John Benn Experience is one of Knysna's best floating restaurants that offer tours of the Knysna lagoon. The cruise takes passengers to the Knysna Heads on a boat steeped in history.
22. SUP on Thesen Island
Rent a SUP and explore the waterways of Thesen Island. It's a fun and active way to see more of Thesen Island, and the water is calm enough for beginners.
23. Featherbed Nature Reserve eco-experience
Hop on a ferry across the lagoon to the Western Head, and then drive up onto the reserve to enjoy spectacular views. The specialist guide will give you insights into the surrounding fauna and flora before you get to indulge in a delicious buffet lunch at their outdoor restaurant.
Road trips
24. Seven Passes Road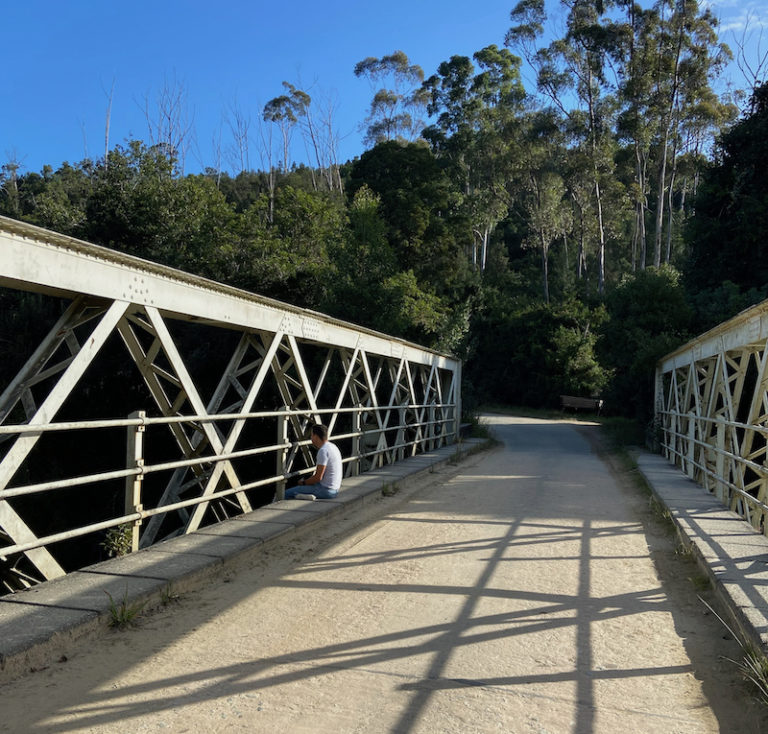 This beautifully scenic road trip takes you from Knysna to George via seven passes. Pack snacks and cool drinks and drive slowly along dirt roads to soak up the stunning mountain scenery.
25. Prince Alfred's Pass
The longest publically accessible pass in South Africa should most definitely be on your Knysna to-do list. The pass joins Knysna to Uniondale and gives you unrivalled views as you drive.
Have a look at these awesome deals when looking for places to stay in Knysna: daddysdeals.co.za
Pictures: Jordyn Johnson
Follow us on social media for more travel news, inspiration, and guides. You can also tag us to be featured. 
TikTok | Instagram | Facebook | Twitter
ALSO READ: 20 Best Rosebank Restaurants