The beauty and diversity of South Africa is effortlessly charming to the hearts of different kinds of travellers.
It is even more so for newly-weds who are searching for an unforgettable honeymoon which is nothing short of the ultimate blissful romantic fairytale.
Whether you're in search of a romantic bush experience or a honeymoon that oozes of all things luxurious, there is undoubtedly a destination for you and your better half.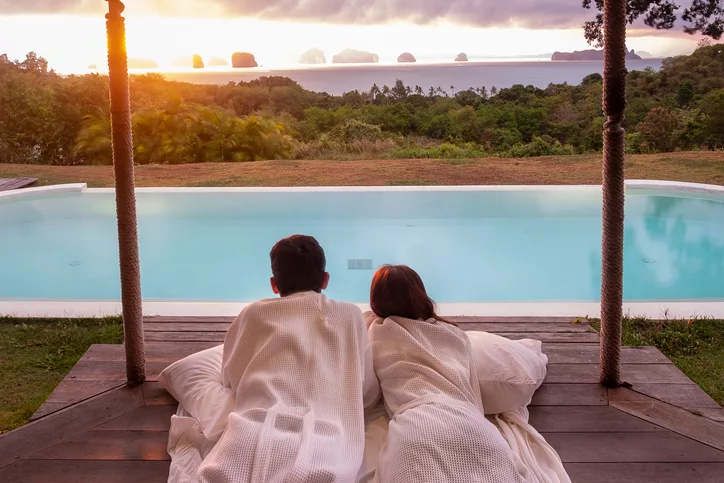 Here are some of South Africa's best honeymoon destinations:
Knysna's Lazy Leopard, Western Cape
Knysna offers breathtaking views and a dreamy experience which you will always cherish. Lazy Leopard in Knysna boasts a lush forest setting which is the dream of every honeymooner.
You and your significant other get to choose between two romantic cabins, Forest Moon and Starry Forest, which are tucked away among the trees. Both are perfectly equipped with thoughtful features for an unforgettable honeymoon experience.
Forest Moon comes with an outdoor bathtub on the deck, while Starry Forest includes a glass encased shower where you two can enjoy spectacular views during bath time.
There are also plenty of romantic experiences to explore in Knysna including a romantic dinner at one of the many beautiful restaurants, as well as a champagne sunset boat cruise on the calm waters.
Royal Kruger Lodge in the Kruger National Park
A honeymoon in the Kruger National Park provides the ultimate bush fairytale.
At the Royal Kruger Lodge, you and your lover will be spoilt to a plethora of romantic experiences, including private lantern-lit boma dinners, an aroma therapy bubble bath for two, as well as outdoor showers.
For the ultimate romantic safari, you can go on a sunset game drive along the banks of the Crocodile River. There is also the option to take a mild walk in the wild alongside an experienced game guide.
The Oyster Box in Umhlanga, KwaZulu Natal
Umhlanga is an amazing place to be, and celebrating your honeymoon at this coastal destination is an excellent idea.
The Oyster Box in Umhlanga is one of South Africa's best honeymoon destinations as it offers luxury and total relaxation.  You can enjoy the breathtaking view of the Indian Ocean alongside your lover, while draped in personalised robes and sipping on some bubbles.
You can also enjoy a personalised massage and loads of pampering at the hotel's luxurious spa.
The gorgeous Umhlanga Promenade is also idea for romantic walks.
The Palace of the Lost City in Sun City, North West
Sun City offers newly-weds the honeymoon experience of a lifetime. At The Palace of the Lost City, you and your heart's favourite can enjoy a number of unforgettable experiences.
The magnificent towers of the famous hotel are decorated with elephant tusks and fascinating features which reflect the beauty of Africa.
For honeymooners, there is enormous bath and shower room. There is also a grand pool which is perfect t for sunbathing,  relaxing and enjoying some quality time with the one whom your heart has chosen. You can also explore the many facilities and experiences which Sun City has on offer. Undoubtedly, a honeymoon spent at Sun City oozes of romantic bliss and  will leave you feeling like royalty.