My wife Erin and I have always loved road-tripping. Even as varsity students, we took every opportunity to see where the road would lead us, seldom planning a set route or booking accommodation. We were always disappointed when we returned home, and even some of our longer 25-day trips didn't satisfy our thirst to experience South Africa. 
During the lockdown, we often talked about what we'd do when we could hit the road again, and we came up with building and living in a camper van full time. Erin and I have owned a graphic design agency, Dorky Hero Creative Agency, remotely for years, which left us free to move anywhere in the country. 
We left with our daughter Aimée (7) and son Taylor (4) in November 2021, intent on being on the road for a year. My father passed away suddenly at the end of 2022, and we had to return home.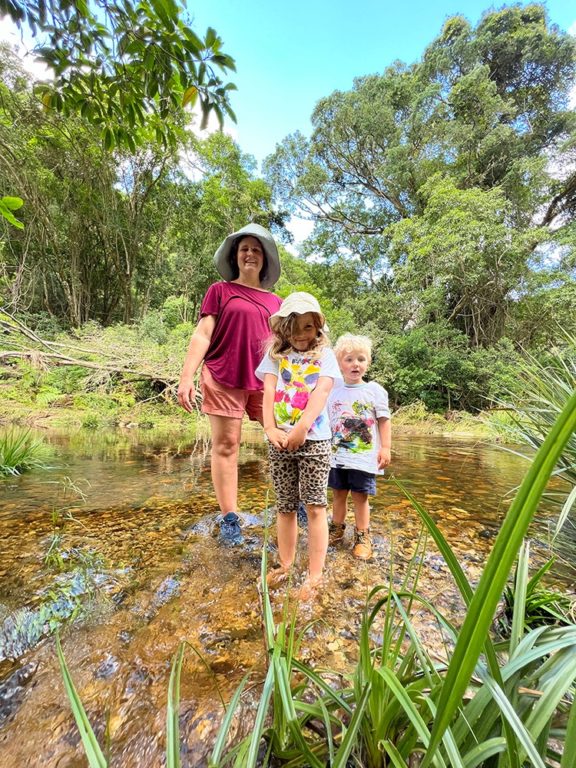 Then, we decided to upgrade our van, and after four months at our home base, we were on the road again, headed up to the Wild Coast to take part in Vanfest 2023 in Chintsa, Eastern Cape. 
We learned planning, for the most part, is more stressful than it's worth. Sometimes, we get somewhere we thought we'd love and would stay for a while but end up leaving after a night or two, while others, we didn't think we'd be for too long, we end up staying there for weeks. We've realised being adaptable gives us so much more freedom.
I shoot, edit and create videos for a living. I hope people will relate to the beautiful and humorous sides of life on the road. Life happens, and I think it's important for people to engage with that.
These are my favourite things to do between the Eastern Cape and the Western Cape.
1. Buccaneers on the Beach, Chintsa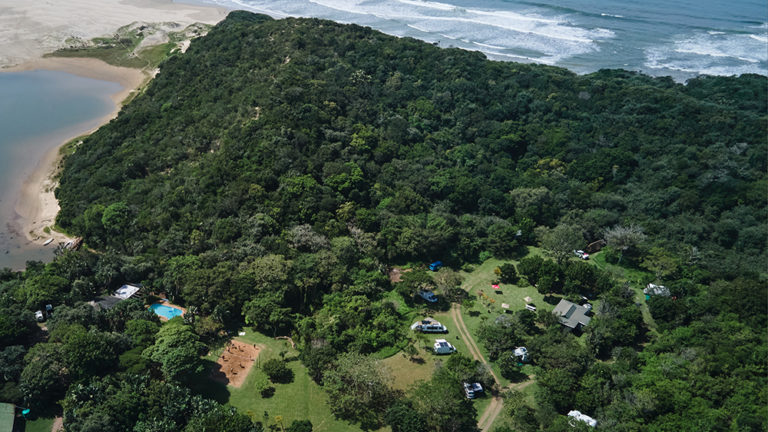 This is fairly well-known for its backpackers, less so for its campsite. It's rustic but serene, offers easy access to the beach and lagoon and provides a great introduction to the Wild Coast, plus, you'll probably have the place to yourselves.
2. Overnighting at Kenton-on-Sea or Canon Rocks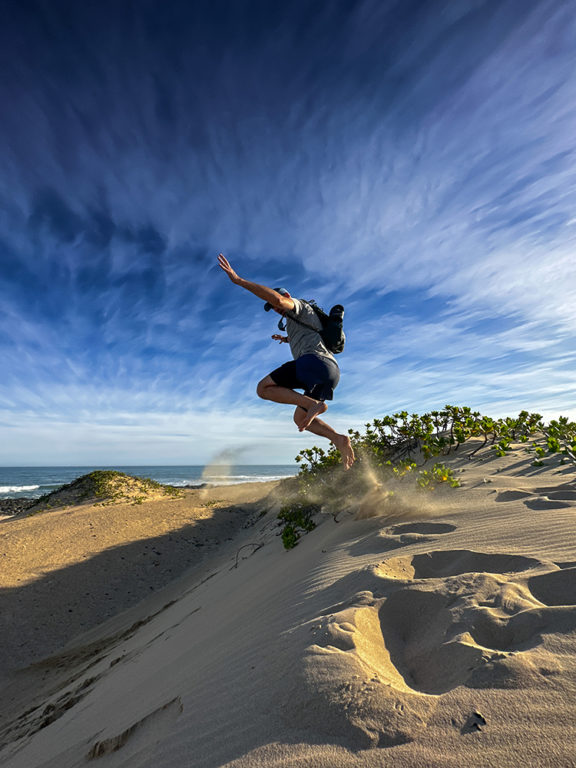 Explore the vast spaces and sand dunes on a hike to The Dias Cross Memorial in Boknesstrand, Eastern Cape. We loved playing in this unspoilt, lunar-like landscape, which is ideal if you want to experience awesome sand dunes without committing to the full Alexandria multi-day hike.
No road trip in this area is complete without a pie from the delicious Nanaga Farm Stall en route to the Garden Route National Park. Famous for its suspension bridge shots, Storms River Mouth needs no introduction, but go off-season when it's quiet, cross the bridge and experience the most incredible sound as the waves hit the rocks on the pebble beach, before hiking up the steep opposite side to take in the spectacular view.
3. Arch Rock, Plettenberg Bay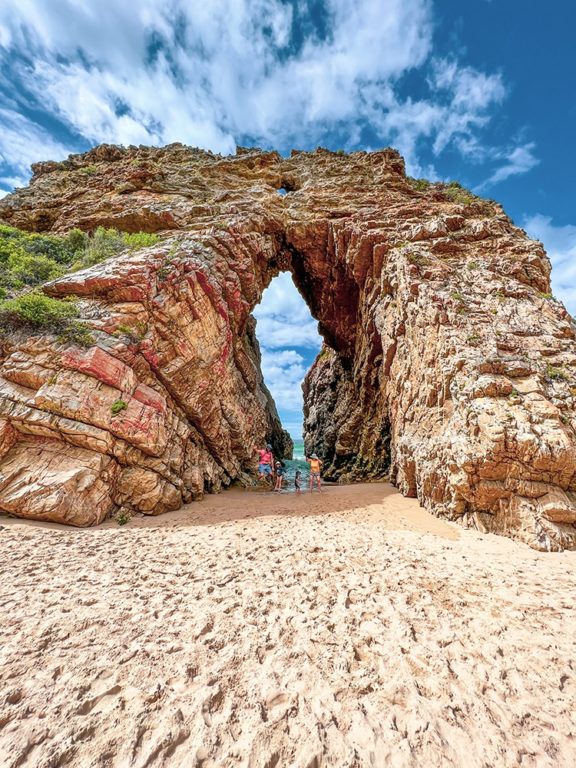 This is another popular spot that deserves deeper exploration. After an easy walk to the arch, put in a little more effort, hike past and further along the narrow path and be rewarded with the most untouched and spectacular beaches that you'll probably have to yourself. Tuck into a bomba pizza at Enrico's afterwards!
4. Kaaimans Rustic Views, Kaaimans River, Wilderness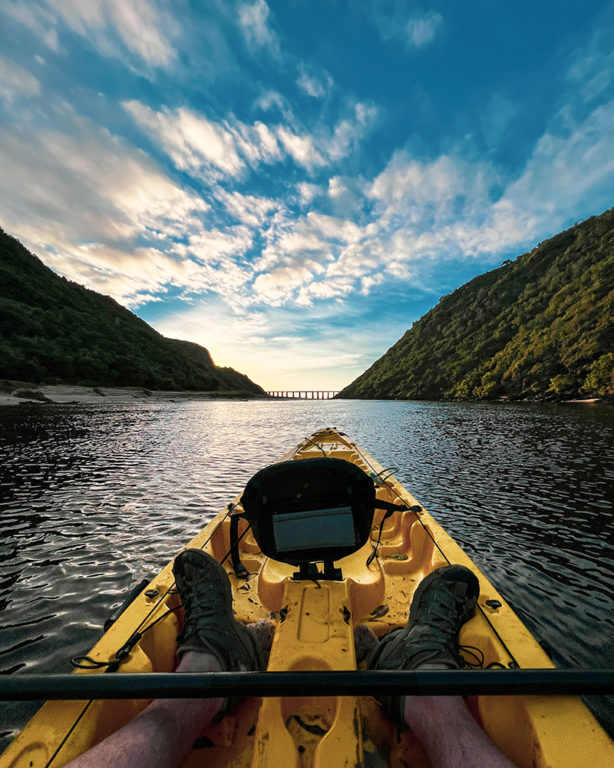 You can be forgiven for overlooking the Kaaimans River, situated on the river next to the short stretch of winding road between Wilderness and George, but don't. Kaaimans Rustic Views, although a little rough around the edges, is an absolute gem of peace and tranquillity. Explore the river by kayak at sunrise and search for the hidden waterfall.
Hike the Half Collared Kingfisher Trail or explore the abandoned railway on foot en route to the much wilder Brown-hooded Kingfisher Trail.
5. Pick strawberries at Redberry Farm, George …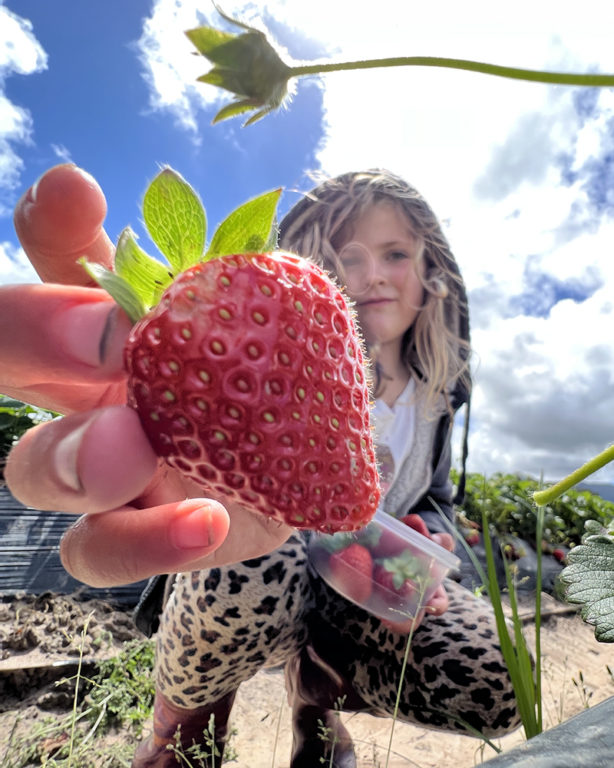 Before heading up the beautiful N2 (or Montagu pass for the more adventurous) towards Ladismith. Make sure to explore the awe-inspiring landscape of the Seweweekspoort Pass before heading to Oaksrest Vineyards, our absolute favourite campsite in South Africa. Nestled between a dam and a Vineyard with pristine ablutions and high-speed WiFi, this one has it all. And some of the most spectacular sunrises we've ever seen.
6. From there, the Western Cape is your oyster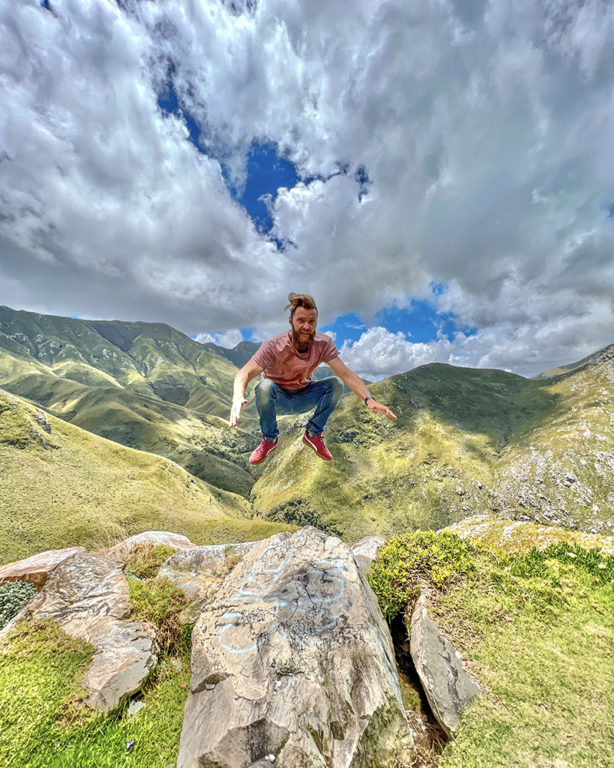 Feel free to explore the magnificence of the R62 or head south towards Agulhas and onward to the R44 (which we consider South Africa's most beautiful road), making sure to overnight at the incredible Oudebosch Eco Cabins or find hidden waterfalls at Kogelberg Nature Reserve.
Words and Pictures: Matthew Gillman
Follow Matt, Erin, Aimée Taylor on Instagram (@awesome.roadtrip) and YouTube
Follow us on social media for more travel news, inspiration, and guides. You can also tag us to be featured. 
TikTok | Instagram | Facebook | Twitter
ALSO READ: Road trip itineraries for adventurers and foodies in South Africa: exploring local padstals and cuisine