When you head to the Overberg, you'll have heard of Hermanus as the 'Whale watching capital of the world' and that Gansbaai on the other end of the bay is the 'shark-cage diving capital of the world.'
Situated between these two towns, Stanford has created a destination not tied to the comings and goings of marine life, which seem to be too easily scurried away by a marauding pair of orcas going by the names of Port and Starboard.
Instead, Stanford invites you to do exactly what it has been doing while its neighbours became frantically concerned with being capitals of the world; sit back and observe.
Things to do in Stanford
Take a boat cruise
There are 129 bird species in the area, so hitch a ride on the Lady Stanford to get as close as you can to the Hermanus Lagoon Bird Sancutary.
On our little meander down the river, we saw rare species like an African swamphen, and beautiful ones like an African fish eagle pair, a spotted eagle owl, malachites and a pied kingfisher.
You can bring your own drinks and snacks on the boat, so pack a cooler box and some vino and enjoy a spot on the upstairs deck and see what you can spot.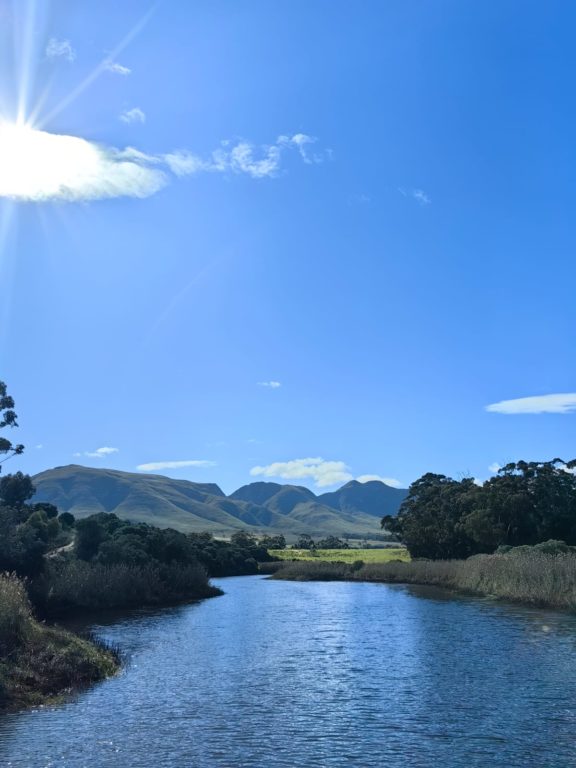 To Lady Stanford has daily cruises, including early and late morning, as well as a sunset cruise. For more information, visit their website here.
Head to Birkenhead
Birkenhead has been a mainstay in Stanford since 1998 but has added Walker Bay wines to its range of drink options. Not often do you approach a brewery encircled by vineyards.
Walker Bay Estate was founded in 2003, planting its first vineyards then. At the estate's Restaurant and Venue for tours, wine tasting and of course, some refreshing beer.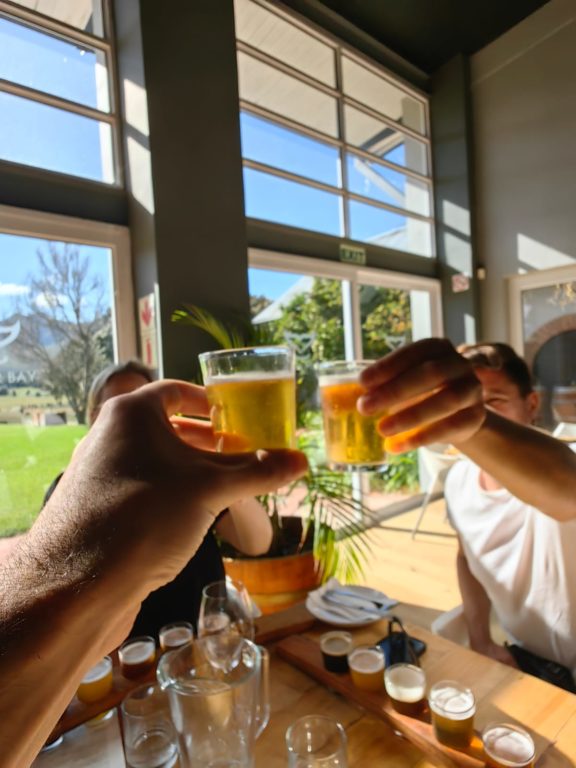 don't let the "pub-style" restaurant fool you though, its more sophisticated than that. With dishes ranging from lamb shank and gourmet burgers to homemade gnocchi.
Explore a market
If you find yourself in Stanford on the last Friday month, then head to the market square for the Sunset Market – It's the town's social event of the month.
Alternatively, the weekly Saturday Morning Market on Queen Victoria Street is from 9 am to 12 pm. Get some freshly baked bread, stock up on preserves or just listen to the gossip while a live band plays.
Read: Stanford – the quintessential weekend guide
Taste some more wine
If you are still craving some more wine after your visit to Birkenhead and want to ample more than Walker Bays wines, Stanford has quite a bit to offer.
The Stanford wine route encompasses Springfontein Wine Estate, Raka (try the Biography Shiraz), Brunia, Boschrivier, Sir Robert Stanford, Stanford Hills, and Lomond Wines. Take the back road to Lomond or take a quick 10-minute drive to Springfontein Wines, the options are endless
Adventure in Walker Bay Nature Reserve
This large reserve extends all the way from the Klein River Estuary, along a coast with pristine beaches, to De Kelders before Gansbaai.
It is known as one of the best places for land-based whale watching when hundreds of southern right whales gather annually to calve their young. What's more is that there's plenty of beach to share, caves to explore full of archaeological treasures and exceptionally empty.
From Stanford, you can access the reserve via Wortlegat Road (4X4 only) or using the main gate at De Kelders. Pack a picnic and take a long and leisurely stroll along the beach.
View this post on Instagram
Stay here
Stanford Heights River House
Centrally located with direct access to the river, this is former documentary filmmaker, David Morin's, African-themed dream house. Inspired by his time in Kenya.
A fireplace inside for those chilly winter nights and a living room that opens up to an expansive outdoor stoep for summer. The house also house an inverter, so you don't have to worry about that pesky loadshedding schedule when you arrive.
It is also home to the friendliest and most welcoming of cats, Yoda.
View Stanford Heights River House here.
Pictures: David Henning (unless otherwise specified)
Follow us on social media for more travel news, inspiration, and guides. You can also tag us to be featured. 
TikTok | Instagram | Facebook | Twitter
ALSO READ: Exploring Namibia: 15 must-do activities and places to visit