It is no secret that South Africa is currently experiencing an egg shortage, which has resulted in rising prices and limited availability of this staple food item. So, many people are seeking alternative options to satisfy their cravings for egg-based dishes, and we have the perfect breakfast solution for you. Among these alternatives is the eggless omelette, which is a delicious and nutritious alternative to traditional omelettes.
Here are 2 Eggless omelette recipes to enjoy:
Chickpea Omelette: 
What you will need:
Mixing bowl
Spatula or whisk
Non-stick pan
Ingredients:
1 cup Chickpea flour
1 cup water
½ teaspoon salt
 ½ teaspoon spices of your choice.
Tip: You could opt for garlic powder, onion powder, black pepper and parsley for a flavourful omelette. 
Method
Mix chickpea flour, water, salt, and spices of your choice to create a batter. 
Pour the batter onto a heated non-stick pan and cook until golden brown. 
Add your favorite vegetables, such as onions, bell peppers, and spinach, and fold the omelette in half. Serve whilst hot.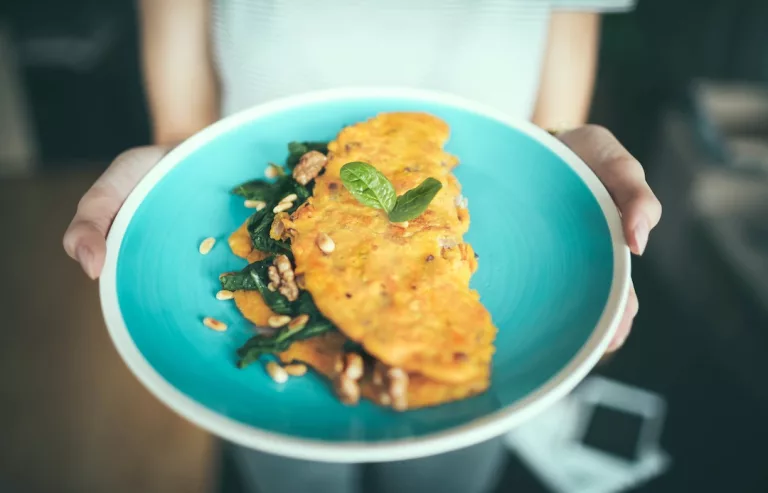 Tofu Omelette:
What you will need:
Blender
Non-stick pan
Spatula
Ingredients:
1 package tofu
½ teaspoon salt and pepper
½ teaspoon nutritional yeast
 ½ teaspoon turmeric
Non-stick pan or non-stick spray
Method
In a blender add tofu with nutritional yeast, turmeric, salt, and pepper and blend to create a smooth mixture. Pour the mixture onto a greased pan and cook until firm. 
Add fillings like mushrooms, tomatoes, avocado and cheese, and fold the omelette.
Tip: If you prefer a vegan cheese alternative, these would make excellent vegan options as well.
Whatever you choose, these wonderfully fluffy delights will leave you satiated. Enjoy them with iced coffee or fresh squeezed juice, or whatever appeals to you.