Embark on a journey of discovery in Swellendam, the historical heart of South Africa and its third-oldest town. This haven offers a rich tapestry of experiences, seamlessly weaving together its storied past with an array of captivating attractions. Adventure seekers and those in pursuit of tranquility will find their place in this enchanting town. From delving into historical treasures to embracing the thrills of the great outdoors and soaking in the tranquility of nature, Swellendam is poised to offer a feast for the senses. For the discerning traveler seeking an idyllic escape, Swellendam stands ready to deliver a stay that's both pleasurable and rich with discovery. Here are the 10 Best Places to Visit in Swellendam.
1. Drostdy Restaurant
Immerse yourself in a culinary reverie at Drostdy Restaurant, set against the backdrop of majestic mountains and housed within a heritage site from 1757. Chef David Godin infuses a French flair into each creation, catering to a diverse palate with vegan, vegetarian, and gluten-free options. Whether it's under the glow of sunset or beside a warming fire, your meal—from the tomato and basil risotto to the red Thai seafood curry—ends on a sweet note with an array of homemade desserts. Treat yourself to an evening of fine dining and spectacular scenery.
2. Bukkenburg Pottery Studio & Guest Cottage
Discover the alchemy of clay at Bukkenburg Pottery Studio. Masters David Schlapobersky and Felicity Potter share their passion for pottery, offering a glimpse into the traditions of stoneware and porcelain. Their Heritage House studio invites you to explore and even partake in crafting your own pottery piece. With exhibitions, workshops, and the chance for bespoke commissions, it's a creative sanctuary that invites visitors to engage and learn.
3. Marloth Nature Reserve
Enveloped by the heart of the Langeberg mountain range, Marloth Nature Reserve stands as a bastion of natural splendor within the Western Cape of South Africa. A defining feature of the reserve is the Clock Peaks, two distinguished and iconic beacons that rise near Swellendam, casting their ancient gaze over the landscape. These peaks, steeped in grandeur, have been the silent witnesses to the passage of time, marking the rhythm of the seasons with the shadows they cast upon the veld. Marloth Nature Reserve is not just a space for conservation but also a testament to the enduring beauty of South Africa's mountainous heartlands.
4. The Bee Things Shop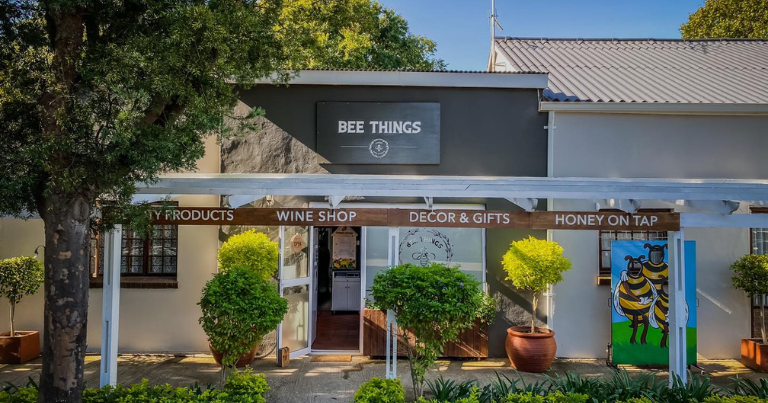 Delve into the enchanting world of beekeeping at the Bee Things Shop. Here, the fruits of bees' tireless labor offer a sensory delight with honey varieties like eucalyptus, wildflower, and Cape Fynbos. Explore the fascinating process of honey making and savor the natural goodness of the bees' creation.
5. Equine Encounters
Just a short drive from Swellendam, Equine Encounters offers the perfect blend of tranquility and outdoor adventure. With rides for all levels, from beginners to seasoned equestrians, guests can forge a connection with these graceful animals against the stunning landscape of Pine Woods and Fynbos.
6. Tradouw Pass (R324)
Journey through the mesmerizing Tradouw Pass, a breathtaking route crafted by the legendary Thomas Bain. The pass offers a symphony of natural beauty, with aloes and indigenous flora lining the path that connects Barrydale with Swellendam.
7. Bontebok National Park
Bontebok National Park, South Africa's petite gem among its suite of 18 national conservancies, was brought into being in 1931 with a singular noble mission: to harbor and protect the Bontebok population from the brink of extinction. Spanning a modest expanse of 27.86 square kilometers, this park may be the smallest in scale but is immense in its dedication to the species it safeguards.
8. Duiwelsbos Waterfall
The landscape captivates with its lush beauty, a stark contrast to the many barren yet majestic mountain terrains one might have seen. The verdant slopes, adorned with vibrant Fynbos, offer a refreshing surprise. Trails are clearly marked, providing ease for walkers to navigate. It's important for visitors to show respect for the mountain: carrying a hat and plenty of water is essential for a safe and enjoyable experience.
9. Two Feathers Horse Trails
Two Feathers Horse Trails invites you to immerse yourself in the serene beauty of nature, harmonized with the thrill of horseback exploration.
Wander amidst the dense foliage, and traverse the gentle contours at the foot of the Langeberg Mountain Range within the bounds of Marloth Nature Reserve.
The trails cater to equestrians of all skill levels, with peaceful walks for beginners and exhilarating trots for the more experienced. Newcomers to the sport can enjoy a tranquil 1.5-hour journey, while those accustomed to the saddle can challenge themselves with a spirited 2-hour ride, featuring both trots and canters.
Young riders, from the age of three upwards, are also welcomed to partake in pony rides, ensuring a family-friendly adventure. To guarantee your place, remember to book at least one day in advance. For an unforgettable excursion, come attired in snug long pants, sturdy sneakers, and protective hats. Embrace the great outdoors on horseback with Two Feathers Horse Trails.
10. Jan Harmsgat Country House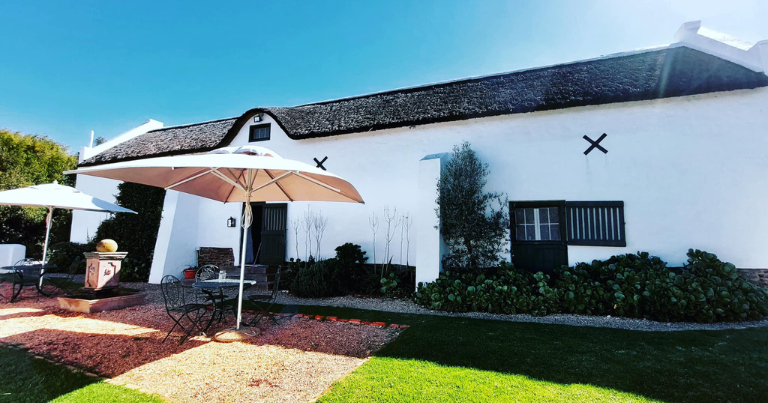 Jan Harmsgat in Swellendam is a culinary and viticultural gem, renowned for its masterfully crafted wines and pomegranate products that are a tribute to South African heritage. The farm's fruitful merger of Karoo's dry climate and maritime breezes fosters a unique terroir, while Just Amy Restaurant offers a gastronomic journey from sumptuous breakfasts to dynamic, garden-fresh lunches and dinners, ensuring a memorable epicurean experience with every dish.