Words by: Kim Barnett
Victoria Falls and Livingstone, on the border between Zambia and Zimbabwe, are renowned for sharing one of the world's most spectacular natural wonders — Victoria Falls. But these destinations offer much more than awe-inspiring views. 
For thrill-seekers and adventure enthusiasts, Victoria Falls and Livingstone offer an abundance of adrenaline-pumping activities to get your heart racing and provide unforgettable experiences. Here are eight adrenaline activities to try in Victoria Falls, Zimbabwe or Livingstone, Zambia.
ALSO READ: Desert countries to visit: 5 things to do in Morocco 
White water rafting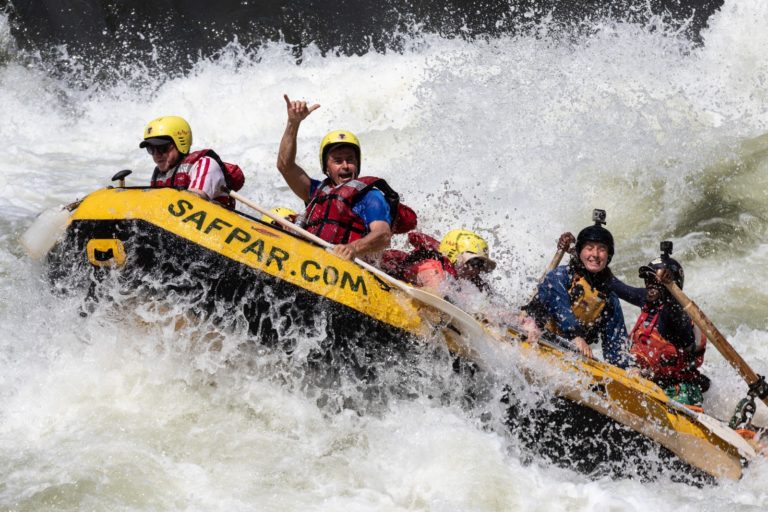 Prepare yourself for an exhilarating experience as you navigate the raging rapids of the Zambezi River. The white water rafting here is punted as being the best one-day rafting trip on the planet, and it's easy to see why. The Zambezi River seems custom-made for big waves, with Class IV and V rapids providing an adrenaline rush like no other. It's a thrilling adventure that guarantees a wild ride and incredible memories. Check out Wild Horizons or Shearwater in Zimbabwe or Safari Par Excellence from the Zambian side.   
River surfing and bodyboarding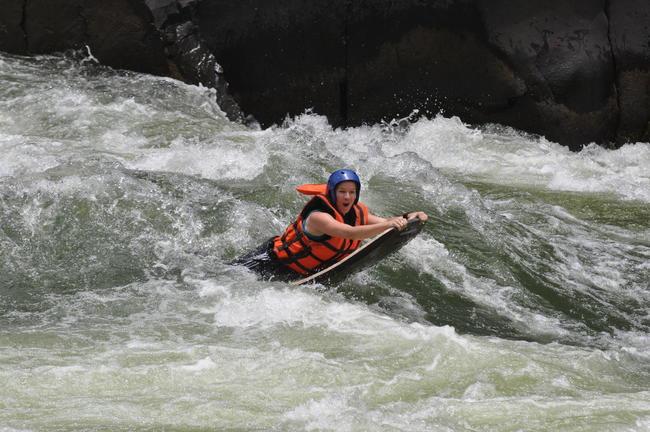 Have you already rafted and want to up your game to the next level? Consider riding the river on a boogie board and experience the thrill of river surfing. Navigate the standing waves and rapids, testing your skills and balance as you carve through the water. It's an exciting and unique adventure for water sports enthusiasts. 
White water kayaking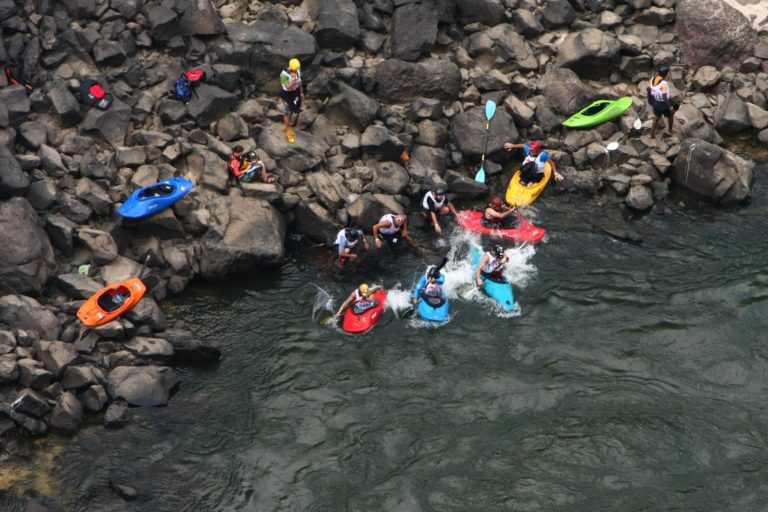 Kayaking enthusiasts from around the globe make their annual pilgrimage to the Zambezi River between September and January. During this time, Jollyboys Backpackers is typically teeming with athletes, a rainbow assortment of boats and palpable excitement. Whether braving the minus rapids or embarking on a multi-day rafting and kayaking adventure, the Zambezi is undoubtedly on the kayaking world map.  
Bungee jumping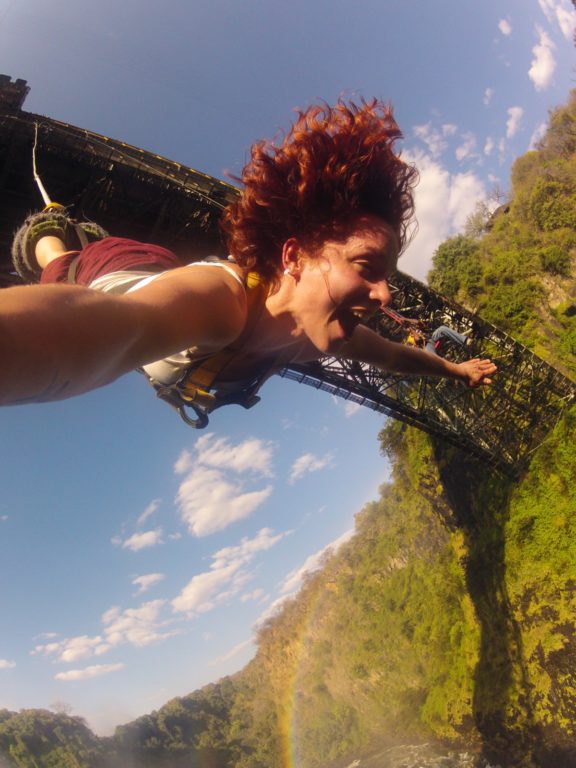 Feel the ultimate adrenaline rush as you take a leap of faith from the iconic Victoria Falls Bridge. Plummet 111m down towards the river below, with the stunning backdrop of Victoria Falls adding to the intensity of the experience. Bungee jumping here is an unforgettable adventure for thrill-seekers aged 14+ (and weighing more than 40kg). Remember to bring your passport, as the bungee platform is located on the Victoria Falls Bridge between Zambia and Zimbabwe, though no visas are required.  
Helicopter flight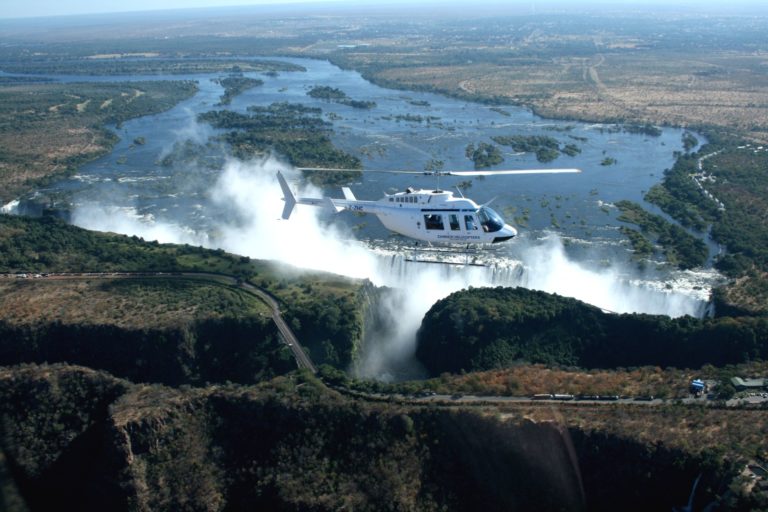 Take to the skies for a unique perspective of Victoria Falls. Board a helicopter to witness the falls from above. Soar over the cascading water, feeling the rush of wind as you marvel at this natural wonder's sheer scale and beauty. Flying is truly the best way to take in how majestic the breadth of Victoria Falls genuinely is, with the zig-zagging pattern carved from years of Mother Nature's patient force. Check out The Zambezi Helicopter Company on the Zimbabwean side or United Air Charters from the Zambian side of Victoria Falls.  
Canoeing safaris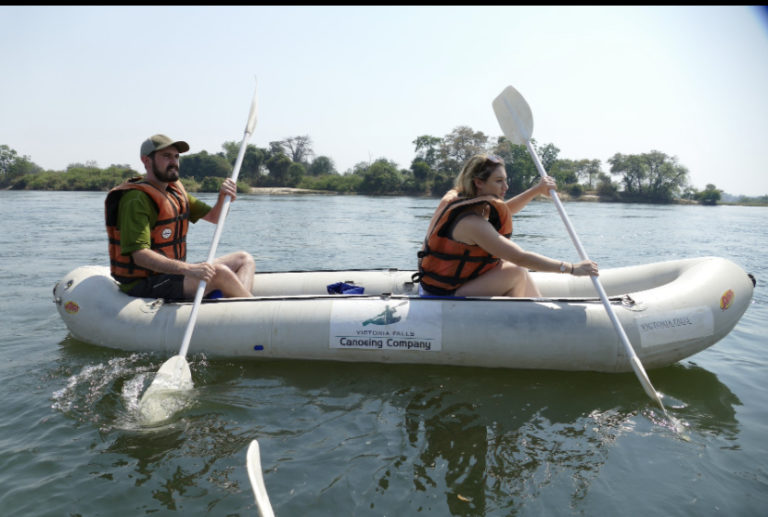 For a combination of adventure and wildlife encounters, embark on a canoeing safari along the Zambezi River. Paddle through calm waters, surrounded by pristine wilderness and diverse birdlife. This might all sound a little too serene for a list of adrenaline activities, but trust us, your heart will pump when you see what lies beneath the surface of the Zambezi River. Be sure to keep your eyes peeled for hippos, crocodiles, and other wildlife that inhabit the riverbanks, creating an unforgettable safari experience. Victoria Falls Canoeing Company offers trips from a half day up to adventures that island-hop daily. 
Zipline and gorge swing

If you're seeking a rush combined with breathtaking views, the Victoria Falls Canopy Tour offers an exhilarating zip line and gorge swing experience. Whizz through the treetops and soar across the Batoka Gorge, admiring the stunning landscapes from a unique perspective. When it's all done and dusted, grab a drink or some lunch and take in the breathtaking view from The Lookout Café. 
Devil's Pool


During the dry season (usually September to December), daredevils can swim on the edge of Victoria Falls in a natural infinity pool known as Devil's Pool. Plunge into the Zambezi River just metres from the thundering falls, clinging to the rocky ledge for an adrenaline-fueled encounter with one of the world's most iconic waterfalls. All Devil's Pool trips depart from the Zambian side and can be booked with Green Safaris, as reservations are highly recommended for this popular Victoria Falls adrenaline activity. 
Whether you're a seasoned adrenaline junkie or someone seeking an extraordinary adventure, Victoria Falls and Livingstone are hot spots for adrenaline activities. From white water rafting to bungee jumping, aerial flights to river surfing, there's an experience to suit every adventurer's taste. So, gear up, embrace the excitement, and prepare for an unforgettable journey that is certain to be memorable in Victoria Falls and Livingstone. 
Follow us on social media for more travel news, inspiration, and guides. You can also tag us to be featured. 
TikTok | Instagram | Facebook | Twitter
ALSO READ: Top adrenaline junkie activities around the world