'Fishing is full of surprises,' says Kennedy Ilunga, Front of House Manager at Ichingo Chobe River Lodge. Kennedy, I soon discovered, lives up to his reputation.
Written by Jenna Berndt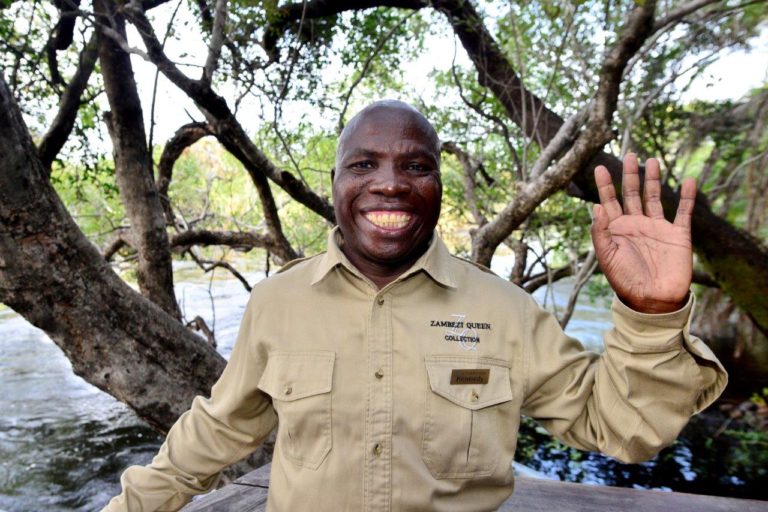 Long before my speedboat transfer pulled up at the little "dock" at the lodge, I had already heard tales of the ever-smiling Kennedy. With genuine warmth, Kennedy and the team of staff (all local Namibians) turn an already unforgettable adventure into something that keeps visitors coming back year after year.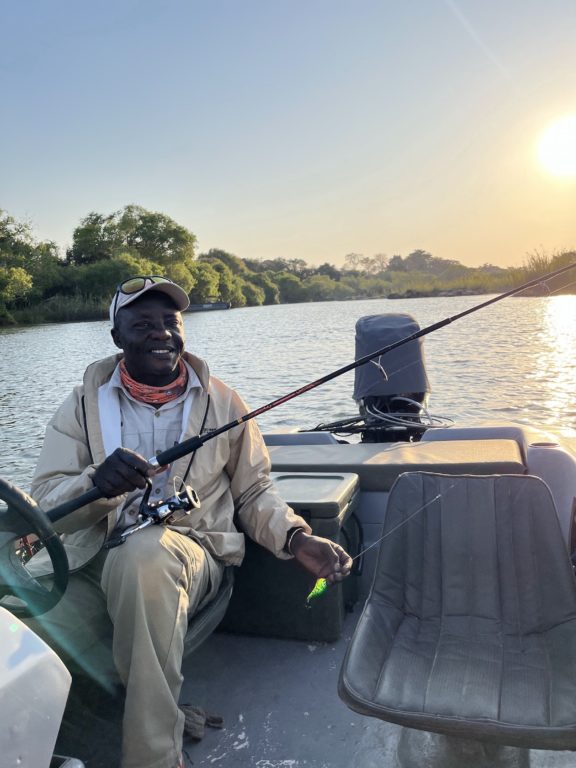 But back to Kennedy and his fishing surprises. When Kennedy isn't charming the lodge guests, he shares that he loves to fish. Perhaps my favourite tale was the one in which an 18-year-old Kennedy and his dad went out fishing and happened to stumble across a hippo.
To Kennedy's shock, parental responsibility flies away as fast as the hippo comes after them. Kennedy's dad clambers up a tree leaving Kennedy to bolt up another. Needless to say, Kennedy still loves to remind his dad about the time he first thought to run for his life, and second, yelled for his son to follow.
Thankfully there is no emergency tree climbing necessary on my trip, although there are adventures aplenty.
Staying on Impalila Island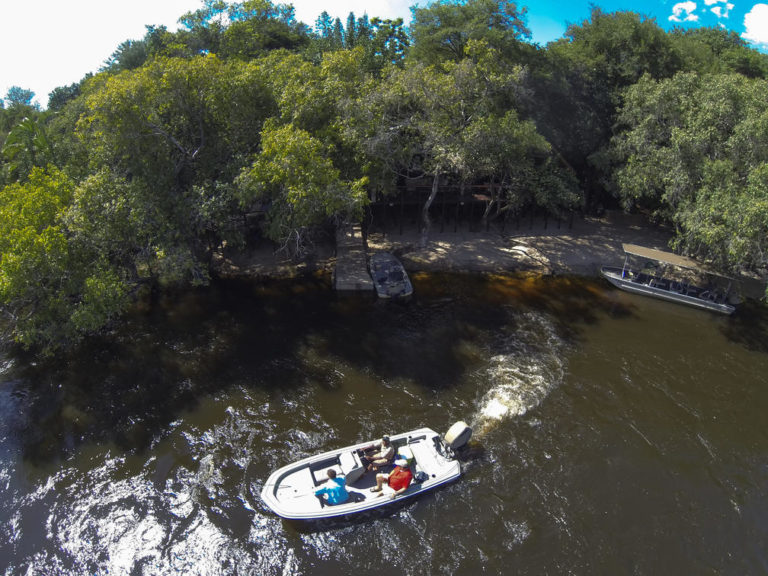 The lodge is on an idyllic little spot in a quieter and more secluded section of the Chobe River – 100% part of its charm! Sure, it's a bit of a trip to get to the island – I caught a short Fastjet flight (less than 2 hours) from Joburg to Victoria Falls Airport before collecting quite a few passport stamps and transferring on road through Botswana and Namibia and embarking on a very glamorous 20-minute speedboat transfer from Kasane Immigration Office and boarding point to Ichingo Chobe River Lodge. Arriving by speedboat transfer alone is worth the journey!
Impalila Island (which translates as either "Unable to" or "Far Away Island" in the local Sibuya language) is only about 12km long and 4km wide. The Zambezi River forms its natural northern border while the Chobe River hugs its south.
The Kasai Channel cuts the piece of land off from the rest of the Caprivi floodplains in the west. About 450 adults and 300 children live on the island. For those who love fishing, the island enjoys another world-class claim to fame. The Chobe River – and particularly this lodge – enjoys the easiest access to some of the best tiger fishing in Africa with the rapids just downstream lulling you to sleep at night – bliss!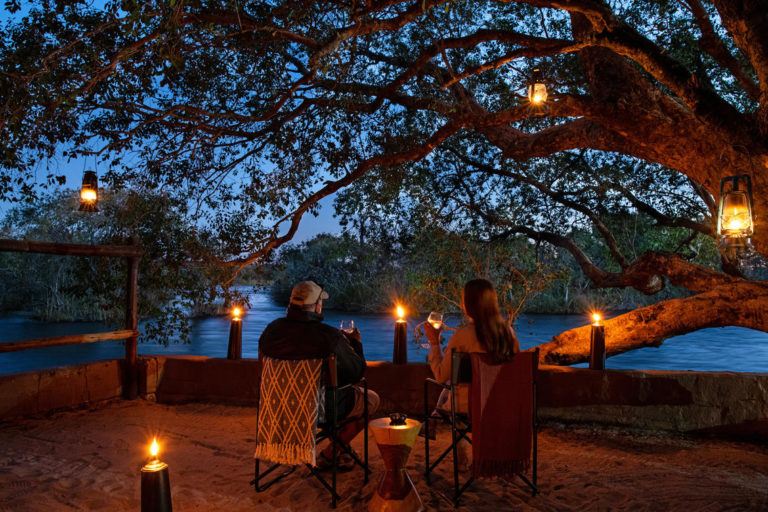 While I don't really know a hook from my line and sinker, the other lodge guests were very serious about trying to hook a tiger. (All fishing at the lodge is strictly catch-and-release).
It's no surprise that it's a favourite with fishing groups well as families looking for an adventurous and unique safari.
Ichingo Chobe River Lodge comprises eight ensuite safari tents with private balconies, with a small beach or the river just a stone's throw from your balcony.
The tents are comfortable and akin to any boutique safari accommodation – it's glamping, not camping. Each tent gets its own tender boat and guides at your disposal too. So, if you want to try to catch that elusive tiger from dawn to dusk, then your guide will be only too happy to be on the water with you all day.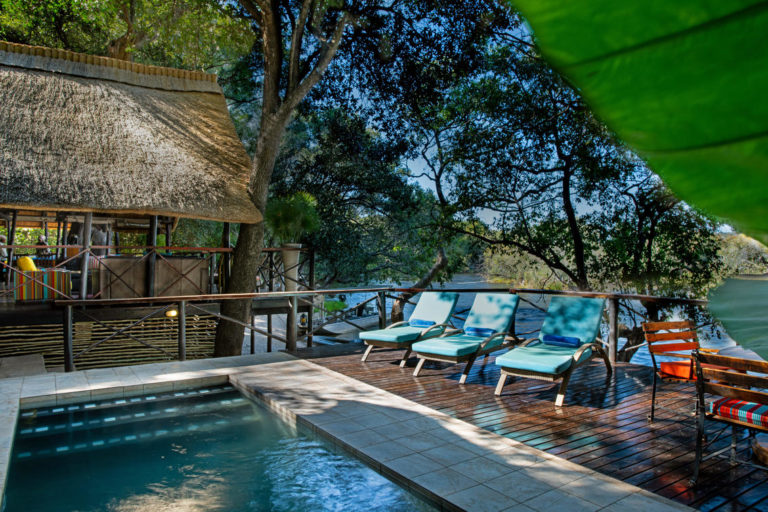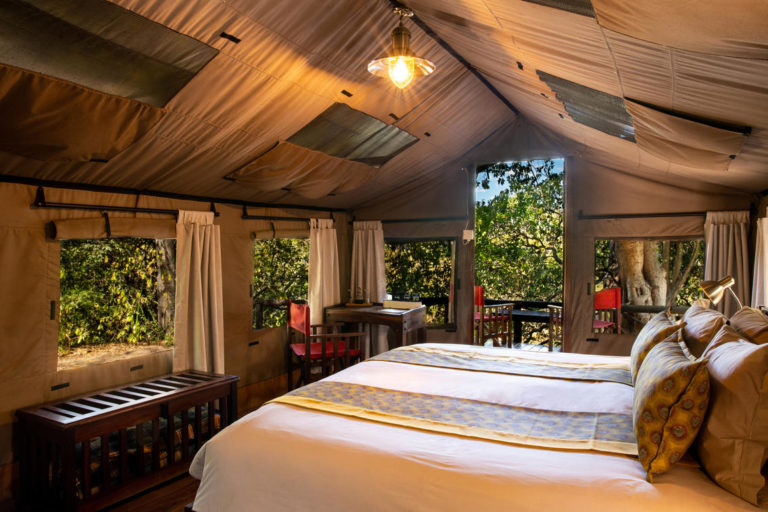 Your guide is a wealth of knowledge so ask him to share his favourite spots and sights. While I didn't succeed in catching any tigers (so much for beginner's luck), I did get a "bite" – "a nibble" says my personal guide Anton, encouragingly.
What else is on offer?
There's not only fishing on offer either. Recreational activities such as water-based game viewing, fishing, photographic safaris, cultural village visits and more are included in the all-inclusive lodge packages (along with transfers, meals and accommodation).
Lace-up your sneakers for a 6km walk on the scenic Impalila Island trails. At a specific point on the island – where a 2000-year-old Baobab tree once stood – you can see four countries – Namibia, Botswana, Zambia and Zimbabwe. This is called the African Quadripoint.
And at one special time of the year, if you're very, very lucky, you can watch the water change direction in the Kasai Channel. "Chobe" means 'pull' in Subiya – so named because it pulls water from the Zambezi River but for a special day or two in the year, the water will change direction. Upstream will become downstream – or something like that in layman's terms! Keen birders will have their binoculars 'full' spotting 450 diverse and rare birds while photographer lovers can book a spot on the custom-built photographic safari boat.
Fancy taking to the waters instead?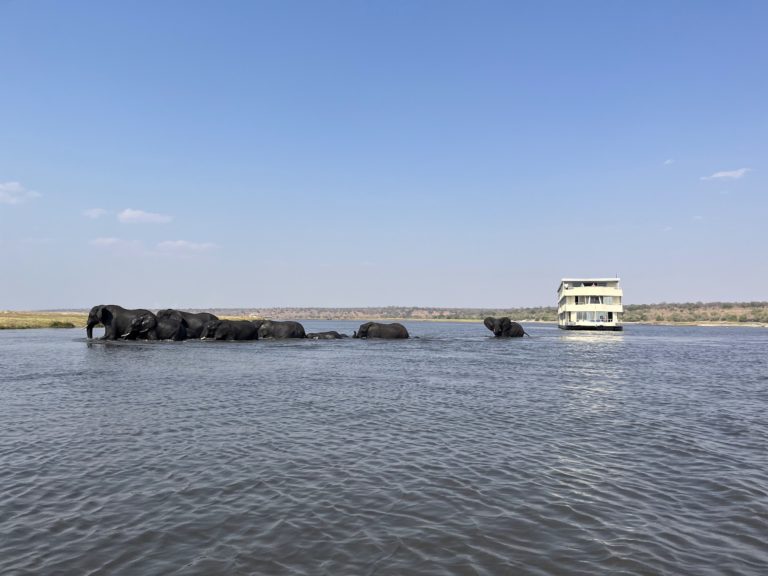 While the lodge is ideal if you're a family with young kids and are there to fish, the lodge also boasts a couple of sister 'properties' – the luxurious Zambezi Queen houseboat and a trio of smaller Chobe Princess houseboats. They can navigate up to 50km of the Chobe River, giving you an entirely new perspective of what a safari entails. Here, the wildlife comes to you as you relax onboard.
If you're travelling with teens or older, the Zambezi Queen welcomes children aged 13 years and up.
For younger kids and a more affordable option, the Chobe Princess houseboats cater to children between 7 and 12 years old.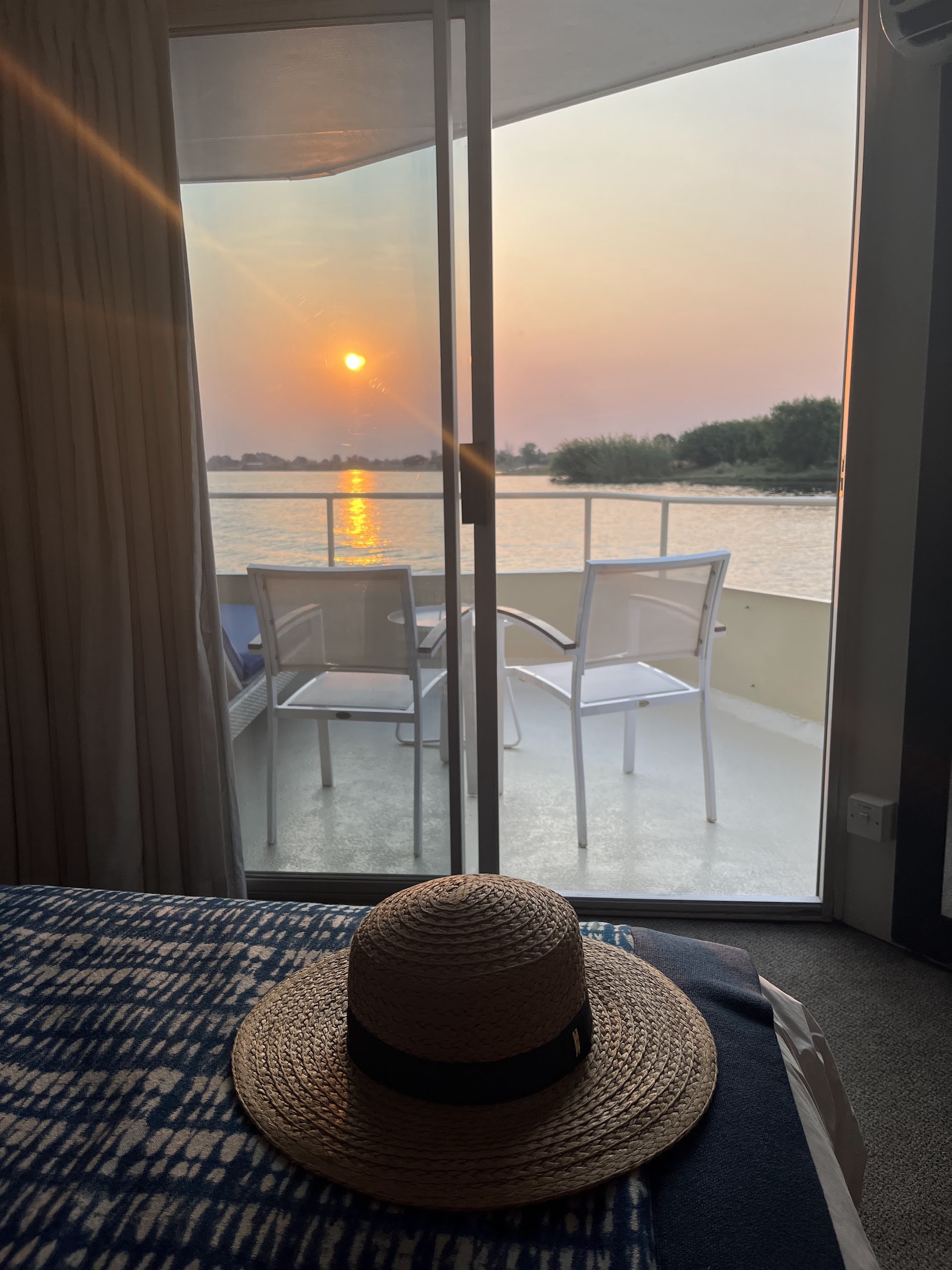 So, if you're looking to catch some tigers and a few adventures, you couldn't find a more magical place to do it than on this Far Away Island in Namibia. Getting there Fly direct into Victoria Falls Airport on Fastjet from Johannesburg. Combo packages, visiting the Chobe River and Victoria Falls, are very popular. Guests can also fly into Kasane Airport.
The writer was hosted by the Zambezi Queen Collection, Fastjet and Victoria Falls Safari Lodge.
ALSO READ: Spend your Easter holidays soaking up all that KZN has to offer
Follow us on social media for more travel news, inspiration, and guides. You can also tag us to be featured. 
TikTok | Instagram | Facebook | Twitter