Deep in the Lowveld of sunny Limpopo exists a place of peace.  A place of comfort and astounding beauty. Where nature and nurture exist harmoniously.
As someone who was born and raised in the lush pastoral regions of the province, my visit to Monwana Game lodge felt like it was my first time there. It truly felt like I was coming home.
With the owners recently meticulously refurbishing, redesigning and re-imagining the lodge – from testing out every single piece of cutlery, furniture and meal –  it's no surprise that visitors and staff feel like it's a home away from home.
Leaving the city for an adventure on the safari
Whether you reside in the coastal Western Cape or metropolitan Gauteng we wake up to the laborious humdrum of the concrete jungle each day. Each is on a journey of their own. Ebbing and flowing in an ocean of people where, oftentimes, every man and woman feels like an island. The connection between others and ourselves can feel distant as we pull further away from the trees and into the mechanical forest of our dreams in search of a place of refuge and a life of comfort.
Luckily we can reconnect with that natural sense of self, and thankfully we can also get there with minimal fuss.
For me, it was a peaceful 2-hour 30-minute Airlink flight from Cape Town International airport to Hoedspruit Eastgate Airport. The privately-owned, independent premier regional airline also offers flights from Johannesburg. Wherever you will be flying from, there are very few sights that compare to the winding Klein Drakensberg as you begin your descent into Hoedspruit or anything as comforting as the stretch of green landscapes as you touchdown on the runway.
Worth getting a window seat for.
I was then chauffeured to the lodge some 45 minutes away from the airport. And the journey there shimmer glimpses of a world that lies ahead far away from the city.  Instead of skyscrapers, you are greeted by towering giraffes strutting in the flora. Little did I know that would not be the last greeting.
A warm welcome to your new home
Monwana isn't only a home because of its design, but it's the family of staff that make you feel like it is.
The first thing I saw when the car pulled into the driveway was a group of people waving from the entrance. Smiles across their faces and genuine excitement to receive me as a guest. It felt familiar and even before setting foot into the lodge, I had already settled in. The staff took my luggage away and guided me through a narrow entrance that opened into an expansive dining area overlooking a waterhole where nyala were quenching their thirst. The divide between man and nature was as porous as it could be.
The living spaces
Next, I was taken to my living space.
Monwana offers different room types. Guests can choose between Suites and Savannah residences which can be converted to family suites for 2 adults and 2 children sharing. Alternatively, Woodland residences are also available, but if you're a solo traveller or prefer an exclusive getaway serviced by a dedicated team, then the Monwana villa is for you.
Two spacious 90 m2 luxury suites each accommodate two guests and feature a 25 m2 private outdoor area with sweeping views over the bushveld.
The accommodation provides comfortable amenities, including air-conditioning and heating, high-quality linens and towels, and luxurious amenities. There is also a private outdoor shower experience. The guest can relax in various areas such as the bed, lounge, or deck with a private plunge pool.
Rates:
Low season (January – July): R23 200 p.p sharing / R34,800 p.p single
High season (August – December): R25 050 p.p sharing / R37 575 p.p single
Max occupancy: 2
These 118m2 air-conditioned residences have ample space, with a separate lounge, and a private outdoor space of 35m2. They can comfortably accommodate two adults and two children over 12 if the lounge is converted to a twin bedroom.
The Savannah Residences have understated, elegant decor and include a separate lounge area that can be converted into a bedroom with twin beds. The accommodation features two bathrooms with a bathtub, double shower, and single shower, as well as an outdoor shower.
Rates:
Low season (January – July): R25 300 p.p sharing / R37 950 p.p single / R18 975 p.p sharing [12-15 yrs]
High season (August – December): R27,300 p.p. sharing / R40,950 p.p single / R20,475 p.p sharing [12 -15 yrs]
Max occupancy: 2 + 2
The two magnificent Woodland Residences each have 118m2 of plush interiors to accommodate two guests in ultimate comfort, with an additional 35m2 of intimate outdoor space for relaxing.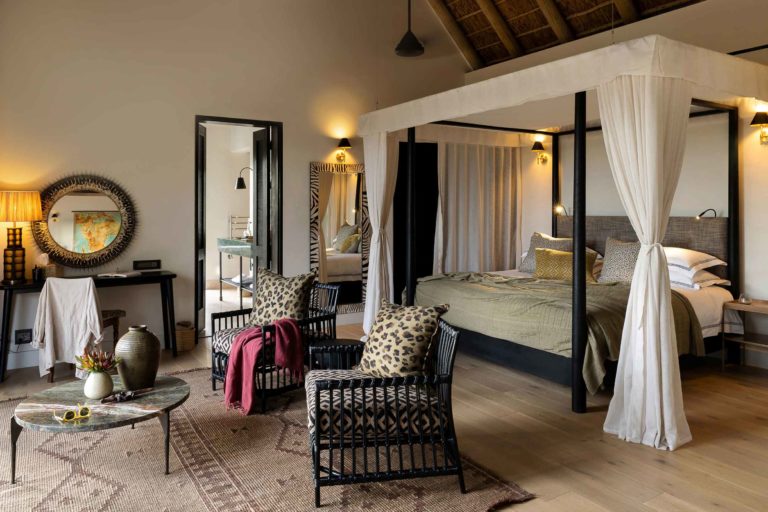 The Woodlands Residences are ultra-luxurious and located in a remote area for a private and personal experience with nature. The guests will feel as if they are alone in the wilderness, surrounded by birds and animals, which can be a heady experience.
Rates:
Low season (January – July): R27,500 p.p sharing /  R41,250 p.p single
High season (August – December): R29,700 p.p sharing / R44,550 p.p single
Max occupancy: 2
Monwana's impressive four-sleeper Villa has 390m2 undercover and includes two en-suite bathrooms. A 130m2 outdoor deck area includes dining amenities.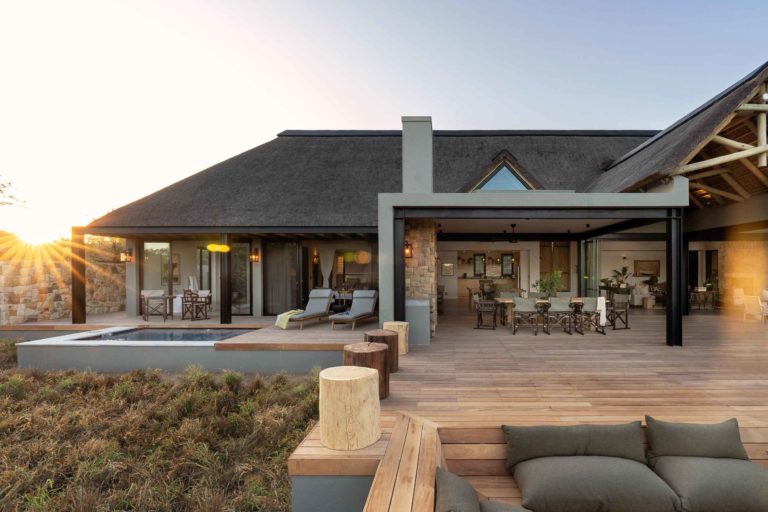 The Villa is a private and exclusive home on a safari, with its own entrance and a dedicated team of staff, including a field guide, tracker, butler, and chef. It has two en-suite bedrooms with private plunge pools, and a shared living area with a kitchen, lounge, dining area, and fireplace. The Villa also features a wooden deck with seating space, an outdoor dining area, and a heated pool. The guests can expect a custom safari experience with the ability to dictate their daily activities.
I was fortunate enough to stay in this residency. I can't recommend a night swim and the outdoor shower afterwards enough.
Rates:
Villa suite: Low season – R140,400, Peak season – R151,600 [Max occupancy: 4]
Villa lounge: Low season – R102,600, Peak season – R110,800 [Max occupancy: 2]
Accommodation is a family affair
Monwana lodge is quite progressive in its business approach, too, and I think this is something that deserves a mention.
The lodge is green-friendly – you will find no traces of plastic used on any of their premises, and to curb the energy limitations caused by loadshedding and low supply from Eskom they have solar panels and inverters installed that ensure the lodge has sufficient power at all times. Even going as far as using heat lost from cooling water as an energy resource.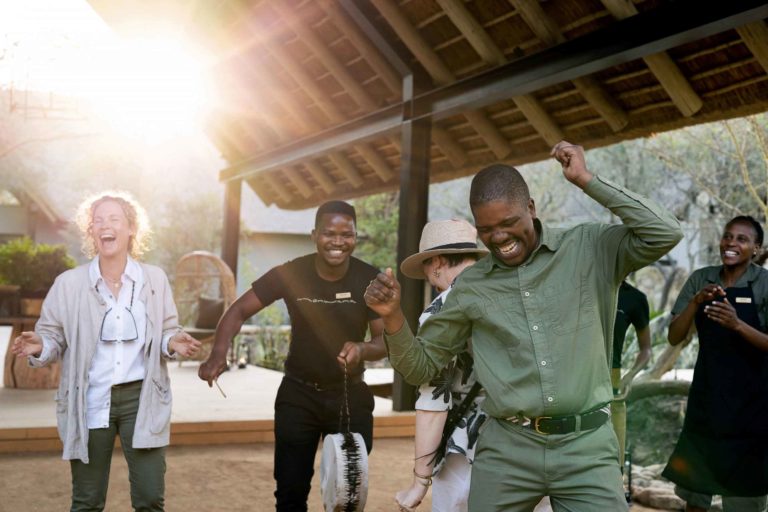 Perhaps the most impressive element is the commitment to their staff. The lodge offers each of them bachelor living quarters that would rival some apartments back in the city. And if they have children, they are welcome to live with them for the duration of their service, while also enjoying sumptuous cuisine from their kitchen, too.
Game drives into the wild
Monwana shares an unfenced border with the Greater Kruger National park, so the wildlife density on this land is extraordinary.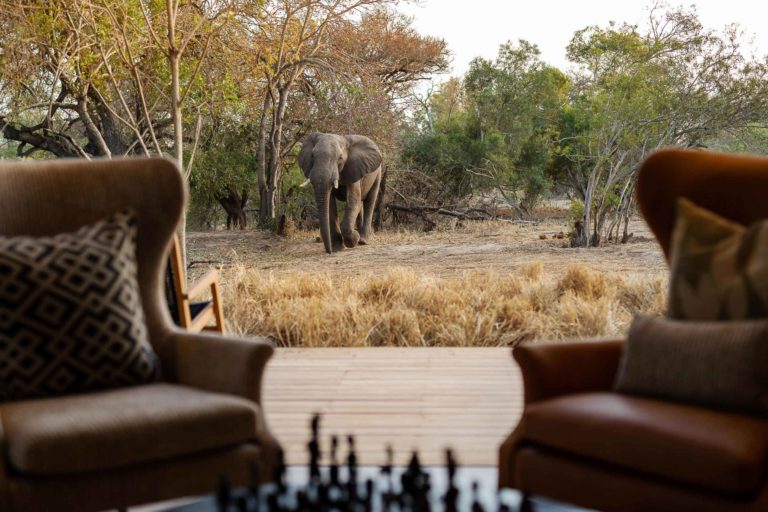 Your safari checklist includes 147 mammals (including the Big five, giraffe, wild dog, cheetah and many more), 114 reptiles (such as the giant plated lizard or the black mamba), 507 birds (like the mesmeric Lilac-breasted roller), 49 fish and 34 amphibians.
An unforgettable highlight for me during one of our guided safari drives was spotting a leopard feeding off the carcass of its prey high up in a tree. And we got a really good look at this event from quite close, too. Unfortunately for the big cat, there was a hyena lurking below, lecherously licking its lips for any scraps. Eventually, they fell like manna from above. The twitchy leopard dropped its catch and the hyena swooped in like clockwork. All in a day's work.
Where is David Attenborough when you need him?
All things must come to end but the feeling lasts forever
I am generally not very good with goodbyes. Knowing that I was set for a return to a different wilderness, this one felt even harder. But all things must come to an end. 'Se sesa feleng sa thlola' (what has no ending is a miracle).
As the engine roared to life and the tires kicked up the gravel, I looked over my shoulder to take in the view one last time. And there they were once again, the Monwana family waving me goodbye. I knew right then that this was not the end, but the beginning of a feeling that would stay with me forever.
To make a booking contact: [email protected] / 021 203 0111