Allison Foat's Grand Daddy-cool airstream staycation inspired a road trip out of town to seek out other quirky abodes on wheels. She found them off Route 62 in McGregor and Montagu and shares here about all three innovative small stays that ooze nostalgia, charm and innovation.
Written by Allison Foat
Quirky stays
Airstream of Dreams
CAPE TOWN CBD

For a snazzy staycation in Cape Town's pulsing epicentre, scroll no further than the Grand Daddy Boutique Hotel, home to the famous Rooftop Airstream Trailer Park, the only one of its kind in the world.
The Grand Daddy is a shining example of well-preserved Victorian architecture that was built in 1895 as The Metropole and has been a cherished CBD landmark ever since. After it was sold in the mid-2000s, the maverick developers behind its renovation and rebrand acquired a fleet of Airstreams from the States, hoisted them up onto the roof in a spectacular fashion and voilà the wow factor.
The rest as they say, is history. Today the hotel is clocked as a convivial, colourful hub underpinned by excellent service, attention to detail and joie de vivre, and it's a must-visit for locals and tourists alike.
A Grand Daddy Airstream sleepover delights from Check-in to the ride up to the third floor in the vintage elevator that feels like a journey up the rabbit hole of adventure.
Up top, you're surrounded by spectacular 360-degree views over the high rises and Table Mountain, the sexiest of skyscapes encircling the trailer park. The caravan set-up is a quaint one with a wooden walkway connecting each coach and small trees and pot plants dotted around the place interspersed with chill nooks, fairy lights, vintage memorabilia and kitsch embellishments that augment the retro aesthetic.
The seven silver bullets stand like shiny capsules, positioned laager-style around an open-air, under canvas lounge with couches, tall tables and bar stools. It's the ideal all-weather cocktail spot that morphs into a cinema called The Pink Flamingo where movies are shown every Thursday if the South-Easter isn't barrelling down on the inner city.
This communal area, which is also open to the public, closes at 9pm ensuring minimal disturbance and a good night's rest for campers. Note to digital nomads – the Sky Bar is also a great spot for remote working during the day.
Originally the Airstream interiors were conceptualised and designed by local artists who took a flamboyant approach. "For the refurb in 2021," explains General Manager Dane van Heteren, "the brief to designers was to create décor inspired by a road trip across South Africa." Inside, each Trailer is unique, representing an iconic part of South Africa to make guests feel as if they are travelling there.
The 'streams are spacious two-sleepers with a bathroom and loo in one and have been aptly christened with names like Cape Winelands (the biggest trailer), Karoo Dorp, Gold Rush and Beach House, and they all sport post-mount mailboxes to complete the old-school neighbourhood vibe.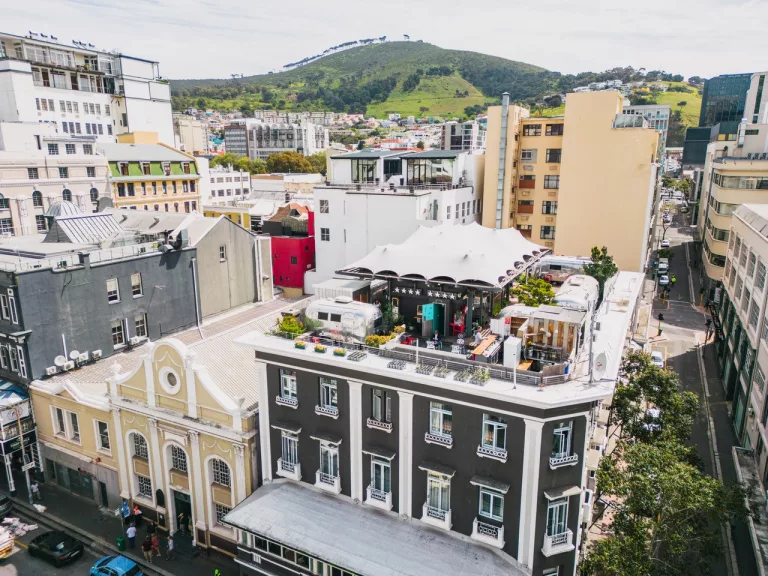 Breakfast is served at Trailer 38 Café on the ground floor which is open seven days a week from early until 9pm. It's a casual menu with locally inspired dishes, gourmet sandwiches, wraps, burgers and vegetarian options. Order a flat white and a pastry, plant yourself at the window and watch Long Street go by. As owner Jan van Heteren says, "The Grand Daddy Hotel is your charming home away from home and our funky heart of the mother city beat." True that, plus the fact it inspired me to hit the open road. Mission accomplished.
www.granddaddy.co.za | +27 (0) 66 104 5113
The Red Caboose
MCGREGOR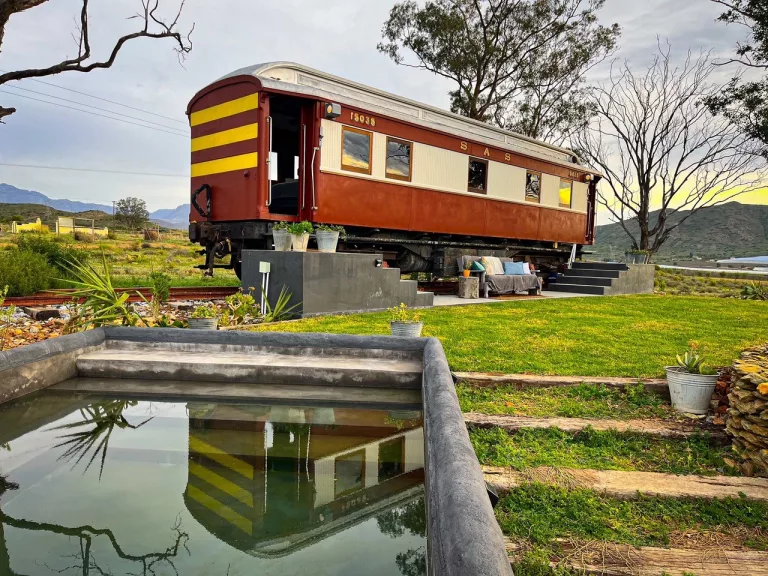 A few minutes from McGregor Village on the 'Road to Nowhere' stands a yellow-striped ode to wanderlust – The Red Caboose – a solitary railway carriage neatly installed among the tall trees and loveliness of Red Earth Farm.
The meticulously restored rail car that recently joined a slew of stunning accommodation options in the region, has been repurposed from a conductor's living quarters into a unique small stay deep in Langeberg territory. Kudos to the urbanites-turned-country dwellers behind it, Dustin and Steph Taljaard, who spotted it six years ago on Gumtree, bagged it and went all in.
After wading through reams of red tape and transportation challenges, they finally had their prize in hand and kickstarted the laborious, yet rewarding transformation. Lashings of perseverance later opened to the public, good as new and with a fresh lease on life.
On arrival at the farm, Steph is there to greet you. After a whirl around her veggie garden secateurs in hand, she hands over a basket of leafy greens for your first meal on board and conducts the royal tour. Inside, a narrow corridor runs all the way down bookended by the main bedroom (with a double bed), while a roomy kitchen, the latter formerly part of the old galley and engine room has been modified and is well-equipped for a smooth self-catering experience.
Throughout the cabin vintage elements have been carefully reassembled, from the original windows etched with the South African Railways bokkie, to a pedal-flushing loo, teak pull-up shutters and a fold-up wash basin. Every inch is an excellent rebuild sans any compromise to the aesthetic of yesteryear. Dustin also re-configured the layout to create four rooms that, aside from the master bedroom, include a second room with double bunks (ideal for small children), a separate bathroom and a dining nook that seats four.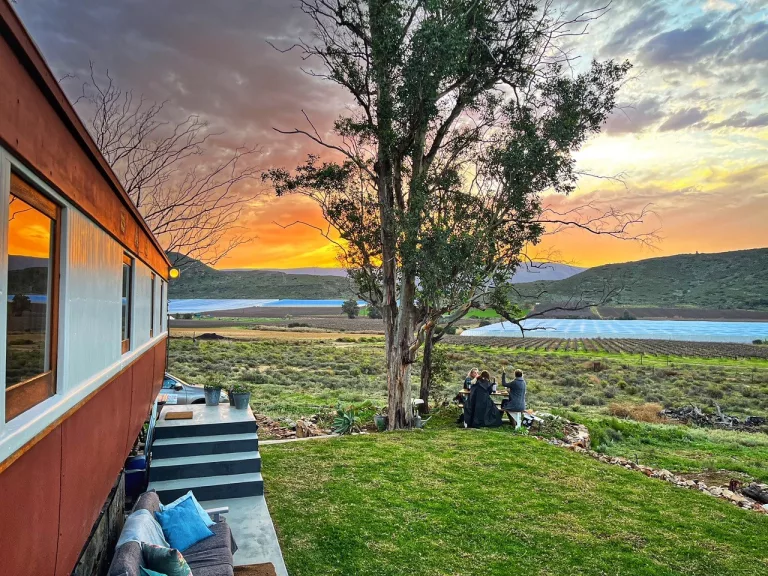 Outside has a charm all of its own. An inviting couch demands naps on repeat and presides over a little garden bordered by succulents and shrubs. There is a fair-sized dipping pool and a fire pit for barbecues and late-night conversations while on the opposite side stands a wooden table, perfect for feasting al fresco while you survey the sweeping vista before you.
All things considered, there's no reason to budge until check-out. But if you need to nip out for supplies or feel like dining out, McGregor, with its corner shops, cafés, delis and restaurants, has you well covered. Eseltjiesrus Donkey Sanctuary, right across the road from your railroad retreat makes a great outing with its well-stocked charity bookshop and gentle, long-eared rescues.
Oenophiles should factor in a wine tasting at neighbouring Tanagra and De Kaap, two vineyards that champion the natural environment and sustainability, while nature lovers might want to opt for a mood-boosting hike in the adjoining Vrolijkheid Nature Reserve. Whatever your fancy, The Red Caboose on the Taljaard's working farm is an idyllic base for any Route 62 adventure.
[email protected] | @the_red_caboose
The Gypsy Wagons on Glen Eden Farm
MONTAGU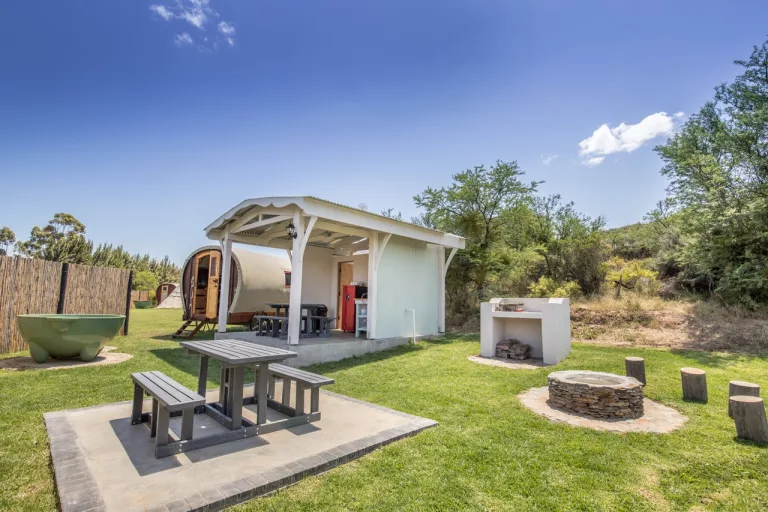 Fourteen kilometres on Route 62 outside Montagu lies a small holding known as Glen Eden Farm. It's a sought-after holiday destination where down-to-earth hospitality meets a dash of posh in five luxury cottages and six upmarket camping sites suited to tents, camper vans and caravans, complete with a stylishly designed ablution block and kitchen facilities. But wait, there's more. It's also where you'll find the Glen Eden Ranch, a gypsy wagon glamping cluster with a difference, and a gem of a find.
A cheese farm in a previous life, the property was bought in 2012 by Birmingham-born free-climbers, Claudette Bricknell and Andy Cooper.
"We came to the Cape to do some free climbing in the Cederberg and ended up buying this farm," explains Claudette, an energetic visionary and a warm hostess. From bouldering to building, their lives took off in a new direction on the other side of the world and with two kids now in tow, they've never looked back.
"The farm grew organically," she explains, "as and when we had the money." The first wagon debuted eight years ago and with the swift uptake Claudette wasted no time placing more orders with craftsman Howard Dunbar who is based just outside of Stanford and is a master at the intelligent use of space in tiny abodes. The Glen Eden 'bow-top caravans' as he calls them are fashioned from beech and spruce, with insulated walls and ceilings that ensure stable temperatures indoors in all types of weather.
Claudette weighed in on certain aspects of the design that were informed by her specific requirements and the end result is a fleet of unusual accommodations that has taken the glamping concept to a whole new level.
The three wagons – Protea, Lilly and Aloe – are each part of their own enclave that includes a two-sleeper tepee tent, a private pod with a well-equipped kitchenette and a bathroom with a shower, designed with an elevated open roof to one side, a nice touch. Outside is another table, a braai area and a fire pit and a freestanding hot tub-come dipping pool lit by an external KolKol for additional safety.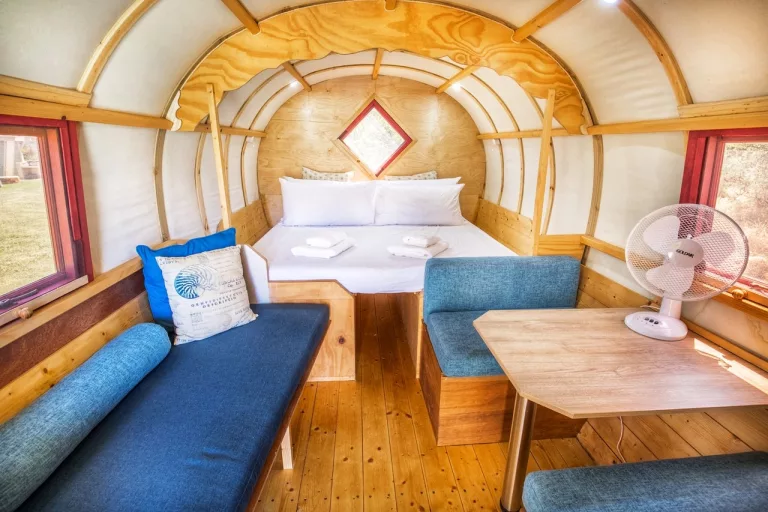 Aloe comes with a king-size bed (that can be made into two singles) with the option to convert the table and banquettes into a small bed, while the other two wagons offer extra-length doubles. There is also Wifi is available throughout the glampsites. (Note: no pets are allowed on the Ranch and there are no loos inside the wagons)
Aside from ensconcing in your whimsical cocoon, there are several activities to enjoy beyond the ranch. From walking trails to fishing and rowing at the dam.
The recreation area at the main reception is a bonus too, with a swimming pool and sun loungers, and the Beany Peanut eatery known for its great pizza, artisanal coffee, milkshakes and ice cream, a great place to hang out with other glampers. A shiny red tractor, jungle gym and touch farm with rescued animals like donkeys, alpacas and potbellied pigs that beg for belly rubs, make this a kids paradise too. Whether you're down for a family vacation or a solo escape, glamping at Glen Eden is a great getaway that caters to all.
https://www.glenedenfarm.co.za/glamping/ | @glen_eden_farm
Follow us on social media for more travel news, inspiration, and guides. You can also tag us to be featured. 
TikTok | Instagram | Facebook | Twitter
ALSO READ: Greystone Lodge: A pawsitively perfect getaway for you and your 'fur child'