Discover the vibrant allure of Randburg through an array of captivating experiences. This dynamic Gauteng city offers diverse leisure activities, from invigorating hikes to thrilling go-karting adventures.
Immerse yourself in the charm of the numerous farmer's markets, where the essence of local culture comes to life. Indulge in unparalleled shopping experiences, ranging from chic shopping centres to eclectic charity stores. Join us as we explore the myriad places to visit in Randburg, where every moment promises a blend of adventure and discovery.
1. Golden Harvest Park 
Golden Harvest Park, a serene retreat located near Northwold's Northgate Coca-Cola Dome in Johannesburg, spans an impressive 55 hectares. Established in the 1970s, this park was a visionary project by municipal leaders who anticipated the city's growth. Today, it stands as a hidden oasis amidst the urban landscape, offering a pocket of tranquillity and natural beauty.
This park is a gem for nature lovers and city dwellers alike, boasting largely untouched indigenous bushveld. It's a popular destination for locals, offering scenic trails for leisurely walks, and bird watching, and an ideal spot for fishing enthusiasts by the dam. The park also caters to families and sports fans with a well-equipped play area for children, outdoor gym facilities, and a soccer field. Security at the gate ensures a safe and welcoming environment for all visitors.
Golden Harvest Park not only provides a perfect setting for recreational activities but also for social gatherings. It offers designated picnic and braai areas, making it a favoured spot for weekend family outings. Despite its many amenities and attractions, the park's tranquillity offers a sense of solitude and escape from bustling city life. Visitors are reminded to help maintain the park's beauty by being responsible and keeping the areas clean, ensuring that this urban sanctuary continues to be a cherished spot for relaxation and leisure.
Opening hours: Monday – Sunday, 6:00 am – 6:00 pm
Address: 1 1st Rd, Randburg, Johannesburg
Contact: 011 712 6600
2. Randburg Raceway
Delve into the exhilarating world of go-karting at Randburg Raceway, where the thrill of the race meets state-of-the-art technology. Here, imported karts and cutting-edge safety gear blend to create a stylish and secure racing adventure for enthusiasts of all ages.
Randburg Raceway is not just a track; it's a racing haven. Whether you're planning a family outing, a fun day with friends, or a competitive event, this dynamic track caters to every need. Their Grand Prix race, ideal for groups of six or more, promises an adrenaline-filled experience with three 20-lap races, culminating in an intense final showdown. The top three drivers are celebrated with certificates, adding a competitive edge to the fun.
Perfect for birthdays, stag parties, or team-building events, Randburg Raceway offers a unique and memorable experience. With options for children as young as 1.1 meters tall, the whole family can join in the fun. The track's stewards are known for their helpfulness, ensuring a safe and enjoyable racing experience for regulars and first-timers alike.
Opening hours: Monday – Friday, 10:00 am – 6:00 pm; Saturday, 9:00 am – 6:00 pm; Sunday, 9:00 am – 5:00 pm
Address: 9 Samantha St, Strydompark, Randburg, Johannesburg
Contact: 011 792 2260
3. Braamfontein Spruit Hiking Trail
Embark on an adventure along the Braamfontein Spruit Trail, a captivating 4.3-mile journey nestled in Johannesburg's lush suburbs. This family-friendly trail is a haven for hikers, runners, and nature lovers, offering an accessible yet moderately challenging excursion that takes approximately 1 hour and 47 minutes to complete.
Beginning at the north end of the parking lot across Olifants Road, the trail weaves through Roosevelt and Keith Flemming parks, leading adventurers to the picturesque banks of the river in Parkhurst. Stretching from the Botanical Gardens in Emmarentia/Greenside to the eastern suburbs of Sunninghill and Bryanston, the trail is a diverse mosaic of urban greenery and natural splendor, frequented by cyclists and horse riders.
Tailor-made for various outdoor pursuits, the Braamfontein Spruit Trail includes sections designed for dog walking and trail running. It links key spots such as Sprocket & Jack to the Johannesburg Botanical Gardens MTB Loop, positioning it as a central hub for outdoor activities in the city. As you traverse this trail, embrace the opportunity to connect with nature, observe the local birdlife, and enjoy the rhythmic flow of the river, all set against the backdrop of Johannesburg's vibrant outdoor scene.
Opening hours: Monday – Sunday, All hours
Address: Hamilton Ave, Craighall Park, Randburg
Contact: 011 712 6600
4. Adventure Golf Randburg
Located in the bustling Randburg, Adventure Golf is a delightful retreat for families and groups in Gauteng. With three 9-hole courses, each game is a journey through a lush landscape of vibrant flora, palm trees, and cycads. It's more than just a mini-golf course; it's an escape into a green haven within the city.
The courses are creatively designed with challenges like the world's longest putting hole at 68 meters, caves, and log bridges, making each round exciting and unique. Adventure Golf is not only perfect for family outings but also for corporate events, offering a fun and engaging environment.
Regular maintenance ensures the courses are always ready for play, providing a clean and enjoyable experience. Whether you're a local or just visiting, Adventure Golf in Randburg promises a fun and relaxing day out amidst the city's hustle.
Opening hours: Monday – Thursday, 10:00 am – 9:00 pm; Friday – Saturday, 9:00 am – 10:00 pm; Sunday, 9:00 am – 9:00 pm
Address: Ferndale on Republic, Republic Rd, Ferndale, Randburg, Johannesburg
Contact: 010 442 9600
5. The Linden Market
Nestled in the leafy suburb of Emmarentia, Johannesburg, the Linden Market stands as a quarterly beacon of community spirit and unique retail experience. Far from the typical mall environment, this market offers a refreshing opportunity to browse through 160 stalls, each representing the ingenuity and craftsmanship of local designers and vendors. From artisanal craft beers to handcrafted leather bags and vibrant shoes, the market champions local talent and ethical shopping, contributing to conscious consumerism.
However, while the Linden Market is known for its festive atmosphere, complete with live music and an array of delicious food, visitors might find the seating space somewhat limited, so bringing a blanket is a good idea.
The Linden Market remains a cherished event in Johannesburg's social calendar. It's a place where families, including children and pets, can enjoy a day out, embracing the market's blend of style, sustainability, and local flair. The market continues to be a key event for the community, supporting regional businesses and offering Jozi residents a much-anticipated outdoor family weekend. Be sure to mark the dates for the 2023 markets in your calendar for a delightful and enriching experience.
Opening hours: Wednesday, 9:00 am – 5:00 pm; Monday – Tuesday and Thursday – Sunday, Closed
Address: 45 Thomas Bowler St, Franklin Roosevelt Park, Randburg
Contact: 079 509 6446
Also read: Discover Cape Town's hidden gems with these walking tours
6. Agar's Brewery 
In the bustling district of Kya Sands, Randburg, Agar's Brewery stands proudly, echoing a deep-rooted heritage of beer-making that began with Charles Agar's unique pineapple brew in 1852. Since its establishment in 2014, this family-operated brewery has been a fusion of time-honored tradition and contemporary brewing methods.
Agar's Brewery is synonymous with innovation, regularly experimenting with new ingredients to redefine the boundaries of traditional brewing. Their focus on quality is unwavering, evident in each meticulously crafted batch using the best local and imported ingredients.
The brewery's Tomahawk IPA is a standout, featuring a robust bitterness and vibrant citrus hop flavors. For a lighter touch, the Jozi Blonde Ale offers a refreshing blend of fruity cascade hops and a subtle honey malt. The White Dog Saison, a Belgian farmhouse-style beer, entices with its intricate mix of fruit and spice. The American Pale Ale provides a harmonious blend of citrus floral aromas and bready biscuit malt.
Further exploring the spectrum, Agar's Red Ale, inspired by the American Amber, offers a delightful balance of caramel richness and citrusy hops. The English Ale, perfect for relaxed sipping, combines roasted toffee and caramel malts with English hops.
Darker delights include the Black Mamba Stout, with its luxurious dark chocolate and cappuccino flavors, and the Wild Berry Ale, a summer special infused with strawberries and raspberries. The North Side Pilsner brings a crisp, floral essence, while the Warrior IIPA, a New England style, impresses with mango and orange aromas.
Agar's Brewery, with its diverse range, is a testament to their relentless pursuit of brewing excellence, inviting connoisseurs and casual drinkers alike to partake in a legacy that continually evolves and inspires.
Opening hours: Monday – Friday, 9:00 am – 3:00 pm; Saturday – Sunday, Closed
Address: Unit 2A, Kya North Park, 28 Bernie St, Kya Sand, Johannesburg
Contact: 083 607 0747
7. Johannesburg Botanical Gardens

The Johannesburg Botanical Garden, nestled in the tranquil suburb of Emmarentia, is a verdant oasis in the heart of Johannesburg, South Africa. Originating from a large rose garden established in 1964, it has flourished over the years, expanding to envelop about 125 hectares of lush landscapes.
Managed with care by Johannesburg City Parks, this garden stands as a testament to the city's commitment to preserving natural beauty and biodiversity.
A popular destination for locals and visitors alike, the Johannesburg Botanical Garden offers a plethora of activities. Whether it's a leisurely picnic, a family walk, or cycling through the winding paths, the garden provides a perfect backdrop. For those with a love for water activities, fishing and kayaking are available, adding to the garden's charm.
Despite the seasonal changes that see the grass turning a bit dry in winter and the water features occasionally switched off, the garden's beauty remains undiminished.
Entry to this urban sanctuary is free, making it an accessible adventure for families and friends. The garden's safety is well-regarded, ensuring a worry-free experience for visitors with children. With ample built-in picnic facilities like benches and tables, as well as vendors offering picnic blankets, comfort and convenience are effortlessly found here.
The botanical gardens are not only a spot for relaxation and enjoyment but also provide a healthy dose of sunshine and outdoor activity, all within a clean and well-maintained environment. Visitors can look forward to the splendor of spring when the garden truly comes alive, showcasing its full botanical beauty.
Opening hours: Weekly 6am – 6pm
Address: Olifants Rd, Emmarentia, Randburg
Contact: 011 712 6600
8. Northcliff Ridge Eco Park
Venture to Northcliff Hill, affectionately known as Aasvoels Kop, a prominent Randburg landmark offering unparalleled panoramic views of Johannesburg. As you climb to the top of the ridge, you're greeted by a majestic vista that spans the cityscape.
This serene spot, a haven amidst the urban bustle, is adorned with rugged rocks and flourishing natural vegetation, providing a 360-degree perspective that captures the essence of Johannesburg's expansive beauty.
While the hilltop is typically a tranquil retreat, it becomes a popular spot during weekends, especially at sunset, when the sky's hues add a magical touch to the view. Visitors should exercise caution near the edge, as the natural setting lacks safety fences, heightening the sense of untouched wilderness.
It's advised to enjoy Northcliff Hill's splendor during daylight hours, as nighttime visits are discouraged due to safety concerns. This majestic lookout point stands as a testament to Johannesburg's natural beauty, offering a peaceful escape and a moment of reflection above the city's vibrant life.
Opening hours: Weekly 6am – 6pm
Address: 2115 5 Lucky Ave, Northcliff, Randburg
9. Alberts Farm
Nestled within a sprawling 90-hectare landscape, this nature park is a tapestry of history and natural beauty. It boasts an age-old family cemetery, intriguing rock formations, and a revitalizing natural spring, among other treasures. It's a perfect sanctuary for those seeking a serene walk or a peaceful picnic spot.
The park has been conscientiously preserved in much of its original glory, with an abundance of trees and wild grasses painting a picture of unspoiled nature.
Recent efforts to rejuvenate the park have paid off beautifully. Visitors can now enjoy an environment that is both safe and immaculately maintained, a significant transformation from past conditions. Today, it's not uncommon to stroll through the park without encountering a single piece of litter, a testament to the dedicated cleanup efforts.
A particular highlight is the natural spring that emerges gracefully from the rock formations, offering a unique spectacle for nature lovers. This park, with its blend of historical significance and natural allure, stands as a cherished escape into tranquility.
Address: Alberts Farm, 6th Road West
10. Cresta Shopping Centre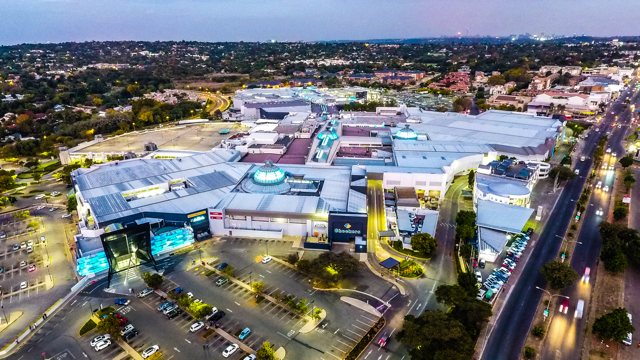 Step into the Cresta Shopping Centre in Johannesburg, affectionately known as 'Cresta' – a bustling nucleus of commerce and culture. Home to around 250 stores, Cresta is a vibrant tapestry of retail diversity. Whether it's the latest fashion and beauty trends, tantalizing culinary delights, or elegant home décor, Cresta is your all-in-one destination for shopping bliss.
Unveiling CrestAquarium: A Submerged Treasure at Cresta
Discover the CrestAquarium, a hidden underwater gem within Cresta Shopping Centre. Located just beneath the bustling Food Court and across from the Ster-Kinekor Cinemas, the CrestAquarium is an enchanting gateway to the Indo-Pacific's marine wonders. With a diverse array of 32 exotic reef fish, it's more than just an exhibit; it's a living, breathing illustration of the ocean's beauty and the fragility of its ecosystems.
Address: Weltevreden Rd, Cresta, Randburg
Contact: 011 678 5306
Follow us on social media for more travel news, inspiration, and guides. You can also tag us to be featured. 
TikTok | Instagram | Facebook | Twitter
Also read: 10 Best Things to do in Johannesburg at Night