The North West province combines natural beauty, cultural immersion, and wildlife experiences and offers a multitude of exciting things to do.
Below are ten things to do in the North West for a fun and enjoyable time away.
1. Madikwe Game Reserve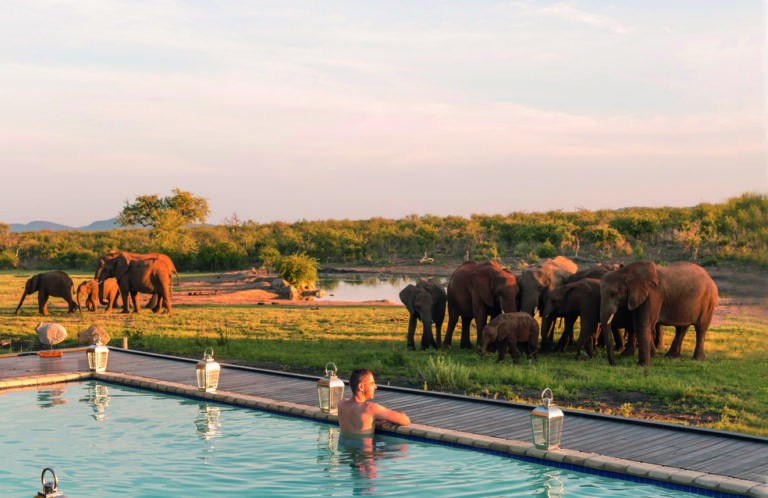 Madikwe is South Africa's fifth-largest game reserve and borders Botswana and the Kalahari Desert. It's a lesser-known reserve but offers a malaria-free Big Five safari experience with luxurious and community lodges. Enjoy uncrowded game-spotting opportunities and a high possibility of seeing their African wild dog
2. Pilanesberg National Park
Book a game drive, or drive yourself through the Pilanesberg National Park, where you have the chance to spot the Big 5, among a myriad of other fascinating wildlife. It is one of the most accessible parks in South Africa and is situated between the Lowveld and Kalahari within a 1300 million-year-old volcano crater.
3. Sun City Resort
Sun City Resort is known as the 'best holiday resort in South Africa.' With its Valley of the Waves, a world-class water park, and close vicinity to the Pilanesberg, it's 'the only surf-and-safari destination within a two-hour drive of landlocked Johannesburg.' Whether you're looking for a weekend getaway with mates or a romantic time away with your partner, Sun City Resort is a great option.
4. Kgaswane Mountain Reserve
The Kgaswane Mountain Reserve sits in the hills above Rustenberg, including the Magaliesberg mountains and grassy vleis. It is famous for its sable antelope breeding herd, other antelope species, and several predators. Spend a weekend hiking or biking around this scenic mountain reserve.
5. Mafikeng
Mafikeng attracted global attention during the Anglo-Boer War when Boer soldiers were warded off for 217 days by a small British garrison. Anglo-Boer War and ethnographic exhibits are showcased at the Mafikeng Museum, where visitors can learn more about this time period. Other historical sites can be visited like the Kanon Koje (a fort built in 1885 during the Warren Expedition), The Kgotal of the Barolong Boora Tshidi (Chief Montshoia's tribal meeting place), and a monument that honours Barolong (who was killed in the Mafikeng siege).
6. Magaliesberg
Whether you want to hike, bike, or have a hot air balloon ride above them, the Magaliseberg Mountains offer adventure. The mountains formed over 2 billion years ago and are older than Mount Everest. You can hike up the cliffs, through the valley, and cool off in the waterfalls of the mountains the next time you visit these ancient mountains.
7. Lesedi Cultural Village
At Lesedi Cultural Village, you will learn more about the rich culture and traditions of the North West's indigenous people through interactive performances and exhibits. You can stay in their supremely comfortable guest accommodation and enjoy a village tour, Ingoma show (dance), and 'an Africa-inspired culinary journey.'
8. Chameleon Village
Chameleon Village is the perfect place to visit any time of year. Enjoy the summer sunshine at their open-air restaurants or cosy up inside by their heaters and fireplaces in winter. Try out go-karting, archery, bungee bouncing, or paintballing if you're an adrenaline junkie. For the shopaholics, browse their eclectic mix of stalls and stores selling homemade products.
9. Little Paris
Escape to Paris for an afternoon of warm cappuccinos and delicious food. Tuck into a hearty meal while gazing at the glorious (miniature) Eiffel Tower at Little Paris in Hartebeespoort. The coffee shop and gallery were built for the French Toast movie, making for a unique dining experience.
10. Vredefort Dome
Vredefort Dome is the world's oldest and most extensive meteorite impact structure. This 190 km radius crater was formed two billion years ago and offers a glimpse into earth's geological history. It was declared one of South Africa's UNESCO World Heritage Sites in 2005.
Pictures: Getaway Gallery
Follow us on social media for more travel news, inspiration, and guides. You can also tag us to be featured. 
TikTok | Instagram | Facebook | Twitter
ALSO READ: Guide to Kei Mouth