Africa has some of the least developed public transport systems in the world, which are seldom punctual. But using public transport across Africa is an incredible way to see parts of the continent you wouldn't encounter otherwise.
There is only one piece of advice that'll work when using public transport in Africa: plan for things not to go to plan.
While Africa's one of the fastest-urbanising continents, its public transport infrastructure desperately needs attention. In 2015, my friend and I were broke students who'd managed to squirrel away savings and could only afford to travel by public transport.
From Cape Town, we managed to make it to Zanzibar in three weeks, mainly by rail, via Mozambique, Zimbabwe, Zambia and Tanzania. People find it hard to believe we managed to travel to all these countries on a budget of R10 000, including accommodation.
Our journey started where all good stories do, at Bellville railway station in Cape Town, where we boarded the Shosholoza Meyl to Pretoria, planning to take a connecting train to Komatiepoort and cross the border to Mozambique.
It was smooth sailing to Pretoria – I think we reached the station in around 20-24 hours. Our train had bunk beds and even hot water. Those were among the few luxurious comforts we'd enjoy on our journey, as, from there, we encountered our first hiccup: the railway between Pretoria and Komatiepoort was allegedly under maintenance. Fortunately, Prasa sent some buses to take us to Komatiepoort, which was actually much quicker than the train (no surprise there, I guess). But that meant we arrived at Komatiepoort station hours before the first taxis were due to start transporting passengers to the border. This was the first time we'd ever had to sleep on a station floor.
Two taxi rides later, we were in Maputo and things were going pretty smoothly. We had time to kill before the train from Maputo to Chicualacuala (a small town on the Mozambique-Zimbabwe border), a few days in fact, which was just enough time for an island escape.
We took an uber-slow ferry from Maputo to Inhaca Island, involving a 37km journey across Maputo Bay, on the deck of an old boat cruising at a snail's pace. We pitched a tent at a backpackers, the only one on the island, then bought fresh fish locally, cooked it over a fire and lived the beach-bum life.
After two days on the island, we returned to Maputo, enjoyed pastel de natas from local cafes and got an early night to rest ahead of our train journey from Maputo to the Zimbabwean border. We were advised to get to the station early to ensure we got a seat on the train.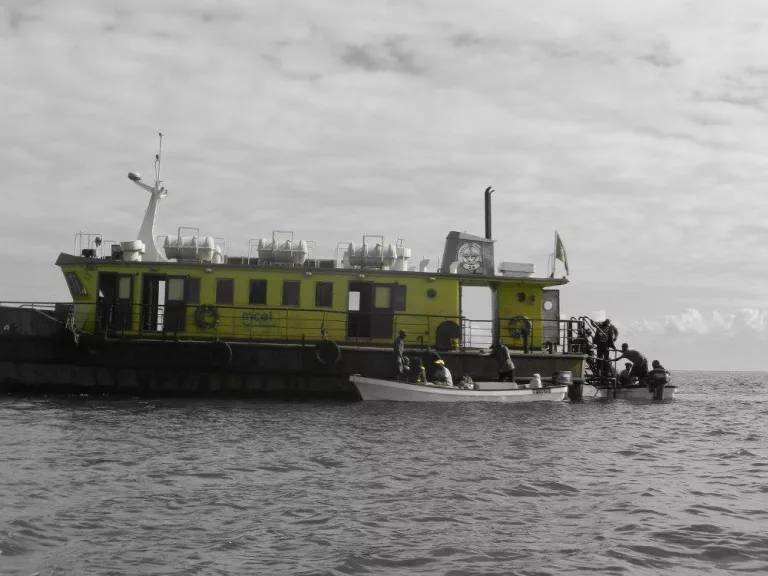 There was already a queue when we arrived hours before our departure. We secured a four-person cubicle that ended up seating six. We arrived in the dusty town of Chicualacaula after what I think was a more than 20-hour train journey. My memory was hazy, probably due to lack of sleep and food, but a walk across the sand to a single building was the border post.
I had my passport stamped and my name and passport number written inside an A4 hardcover book. I'll never know if that information was logged on a digital system, but the only trace of my existence there is my handwritten name in a book and the stamp in my passport.
After crossing the border, we were now in Zimbabwe and the village of Sango. I couldn't see a platform, but a railway line ran through the bushveld. We were told to wait and that the train would arrive eventually.
We sat under the shade of an acacia tree, dozed off between naps, watched chickens clucking around us and read – all the things one does to try and pass the time. We also ate the first proper meal we'd had in w while, pap, goat and spinach cooked over the fire next to us. It might have been the hunger, but it was one of the best-tasting meals I'd ever had.
Eventually, a train appeared on the tracks, a conductor appeared, and we approached him to buy tickets, only to find out they only accepted take cash. Fortunately, they took South African rands. But the train only ran on Wednesdays and would arrive in Bulawayo on Thursday morning.
The train was emblazoned with the original "Rhodesian Railways" logo and there was a brass sink in each carriage room. When we asked the conductor how old the carriages were, he guessed they'd been around since the '30s.
Going at a snail's pace, we enjoyed the comfort of the train's bunk beds. Arriving in Bulawayo, we had a day to spare before catching another overnight train that evening to Victoria Falls.
Zimbabwe had the most punctual train service during the journey, without a mishap. One of the conductors invited us to the "bar" in the next carriage, another room with an ice bucket containing drinks, and we could hear merry travellers (mostly train staff) making their way up and down the passage.
From the train, we could see a part of the countryside that tourists don't usually catch a glimpse of, such as obscure villages, bushveld as far as the eye can see and, if you are lucky, wildlife.
Eventually, we arrived in Victoria Falls. We hadn't showered for a few days and probably stunk. Not that we'd have been able to tell. Luckily, visiting Victoria Falls meant we could quickly rinse in the fall's mist before crossing another border in Zambia.
Next up: A train through Africa: things get even more awry
Pictures: David Henning
Follow us on social media for more travel news, inspiration, and guides. You can also tag us to be featured. 
TikTok | Instagram | Facebook | Twitter