What do a black mermaid and a white shark have in common? They're both fearless, sharp and happiest in the ocean depths. And they're named Zandi. Conservationist and social activist Zandile Ndhlovu is not only the first freediving instructor to come out of Soweto, she's also the first black instructor in the country.
Seeing my first white shark was really the first time I had an 'oh shit' moment in the ocean. I've been diving since 2016, and had never had any typical fear of marine life. I was in a cage in Mossel Bay, filming for the Discovery Channel and looking for these white sharks to tag. I wasn't sure if I'd be happier in or out of that cage. It was breathtaking moment – finding her, tagging her… and then I nearly lost my mind when she was named after me. 
What's funny about Zandi the shark is, she disappears for days and then she shows up out of nowhere. Anyone close to me, knows that I don't necessarily stay in one place for a long time. I'm always hopping around everywhere and then I go silent and then I show up out of nowhere and everyone says, 'Where the hell have you been?' So she is me; we are each other. I love that.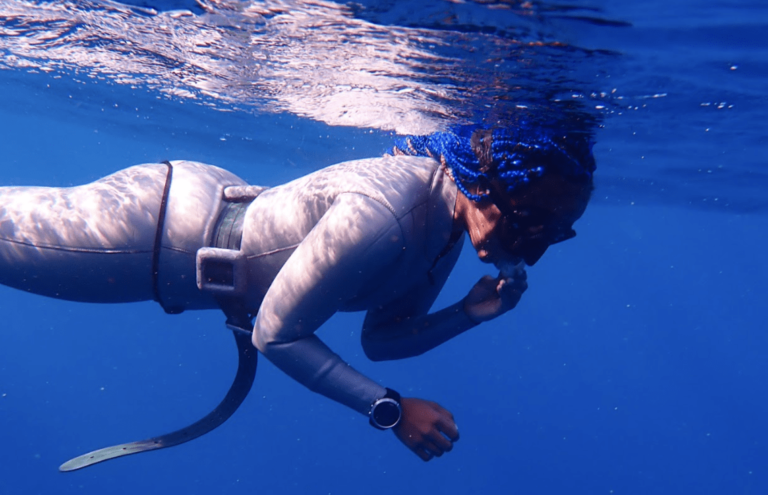 From the first moment of seeing beneath the surface of the water in 2016, I just fell in love and I knew that it was where I needed to be. I was on a snorkelling trip in Bali, and I was hooked. I came back to South Africa and asked everyone, 'What's next? What happens after snorkelling?' And that's how I ended up diving. I knew that I didn't only want to do this for leisure; I wanted to teach and I wanted to tell anybody who would listen.
In a really good week, I'm in that water three to four times. Sometimes it's a dive, sometimes it's just an ocean swim but it's a fix I need to have.
When I'm down there, I feel free. Unbounded. Free from the expectations of the world, of society. I feel my most true self. A peace. Liberated. The ocean is my church, the ultimate place of worship. It's where I go to place all of my thoughts, all of my burdens. To just be in awe of life.
I came to diving late, and I'm still bewildered by the ocean's wild beauty. I never experienced any real fear of marine life. During my first shark dive, I remember the blacktips were circling the boat. They're about one and a half to two metres long but when I heard 'Jump!' I just rolled back on to the sharks and went down among them. I wasn't fearful at all.
Overcoming fear is the beauty of letting go. In the ocean you have visibility at 25m or deeper, but in a quarry it gets dark at around seven or eight metres. In Joburg, when you dive in quarries, it's incredibly dark. You have to release your fears when you can't see anything. It's a good lesson – to sit in darkness and be at peace. It also depends on what you grew up around. For us, it is sometimes said that healers will go underwater, that deep water is an ancestral space. So I think it's just a question of what narratives you grew up with around water, because even though there are no sharks in those quarries, there is definitely an element of fear. The ocean is way bigger, making the odds of an "unreal encounter" quite low, whereas I feel in the quarry they're not so low – about one in 12. Your imagination runs wild.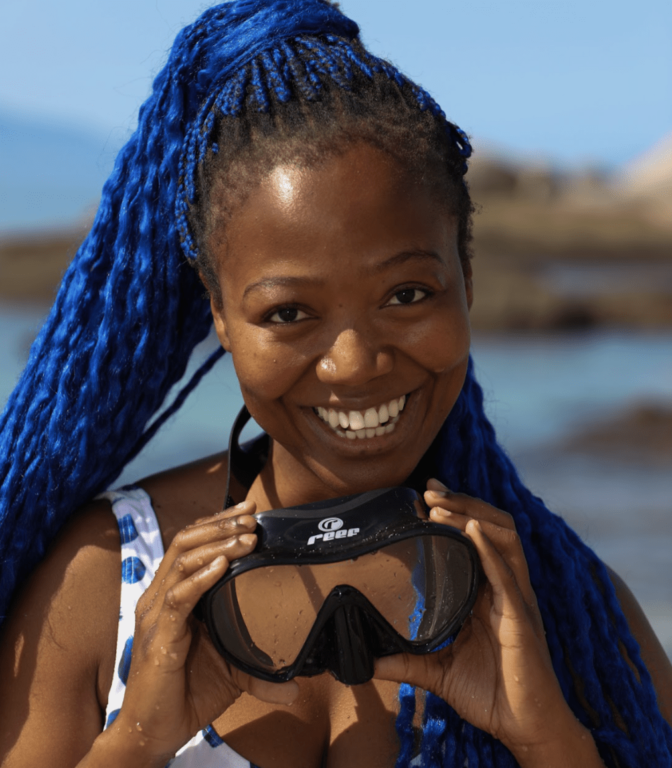 Quarries are a good place to practise depth and buoyancy, and you're able to get your certification at a lesser cost than having to go to the sea. It's definitely a way to become a better diver, particularly if you don't live near the coast.
I grew up in Soweto. The comfort I now feel in the ocean didn't come immediately. That feeling that anything could go wrong has settled a bit now. It's not to say that nothing can go wrong – I just have the skills to navigate "situations" that might arise.
In the beginning, my family would ask, 'What are you doing? Are you trying to kill yourself?' My grandmother would say it all the time. They were shocked. With time their perspectives have changed. They're realised that maybe it's actually okay for me to be there, in the water. Not that it has rubbed off on anybody else in my family. Yet.
That's why I started the Black Mermaid Foundation, which introduces disadvantaged children to the water. Because I realised that I had to tell everybody who would listen. I want everybody to experience what I experience – at least once. I'd like to change the narrative that exists around the water. To bridge this fear. The answer is to work with children. I want to see black and brown families in these ocean spaces; going out to the beach, actually being in the water. The culture needs to shift.
All of this is close to me because of my family. I took my sister and brother out diving with me, and to be able to share the water in that way, in the midst of such wild fear, was incredible. It's a feeling that I'll never ever be able to explain to anybody else. That moment when my sister had to trust me, to come into depth with me, is easily one of my most special memories.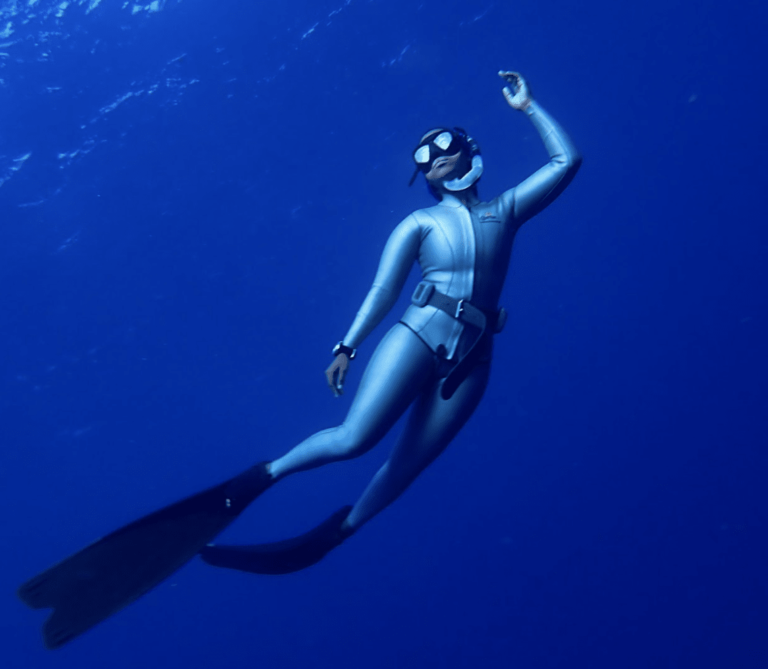 Zandi's Top Five Dives

KwaZulu-Natal
Sodwana Bay is such an incredible place – you can come across anything there. And Aliwal Shoal is absolutely loved by sharks. Enough said.
Cape Town
The kelp forests blew my mind, and I'm still absolutely mindblown by them. 
North West
Marico Oog is a freshwater spring in Ventersdorp that is absolutely beautiful. It's crystal clear and a great place for beginners.
Egypt
Dahab and Ros Mohammed have the most magnificent coral life and crystal-clear warm water, plus incredible wrecks.
Africa's East Coast
Kenya is very similar to Sodwana. You see a lot of paper fish – they've got them in various colours… pink, purple, black and white. Mozambique is magical, and special mention has to go to Seychelles, which is like diving in a bath.
A version of this article originally appeared in the September 2022 print issue of Getaway
Photography by Kristof Goovaerts and Nicolene Olckers
Follow us on social media for more travel news, inspiration, and guides. You can also tag us to be featured. 
TikTok | Instagram | Facebook | Twitter
ALSO READ: Grubbs up: insects and food