If you stand in the middle of the intersection of Long and Church Streets in Montagu, you can view each of the four main styles of architecture found in the pretty old village (but be alert – Long Street is the R62, with cars whizzing past on the way to and from Oudtshoorn).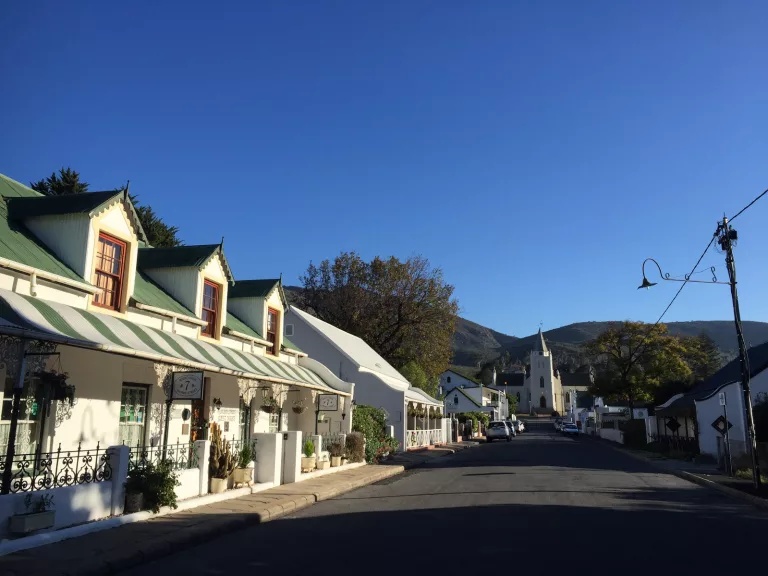 The small Western Cape town was founded on the farm Uitvlugt in 1851 and was originally not very imaginatively known as Agter Cogmans Kloof, as it was on the other side of the Cogmans Kloof. In the Cape Fold Belt, it is surrounded by the Langeberg, and is on the banks of the Keisie and Kingna rivers, which have their confluence in the town.
Cogmans, incidentally, was a Khoi chiefdom that existed in the area around the beginning of the 18th century.
Thomas Bain, master road builder, built the Cogmans Kloof pass, completed in 1877, along the Kingna River; it was the only exit to the west out of the growing town, which linked it to the railway station. Ever since, the "Hole in the Rock" has been seen as the gateway to the Klein Karoo.
The road through the pass was tarred in 1931, shortly followed by the streets in the town, and then electricity arrived. But most of the beautiful old buildings were already up, with their channels for lei water still in use today.
Best known for its hot springs and dried fruit, it's a historical gem for architecture buffs.
Starting with Cape Dutch thatched roof houses, which date back to 1853 to 1870, there are also plenty of Cape Georgian, British Colonial and Victorian buildings dotted around.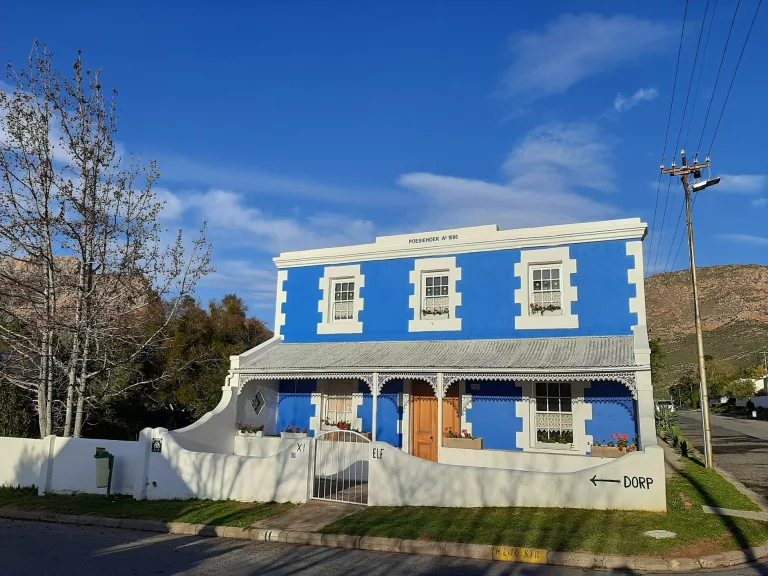 And then there is the gorgeous Art Deco Montagu Country Hotel, its original incarnation was the first hotel in town. It has been sensitively restored by owner-managers PJ and Colene Basson. The phrase 'stepping back in time' is often bandied about but in this instance it really is apt, with everything from the light fittings to the wallpaper carefully chosen period pieces.
Settle into a large, comfy Art Deco armchair, order a cup of coffee and a slice of heavenly cake, and plan your route around town.
Marcelle van Zyl of Flying Feet is your best bet for a guided tour, either on a bicycle or shanks' pony. Two-wheelers are a good bet; they're restored Dutch town bikes and riding a vintage bike around a vintage town has a pleasant symmetry.
And so we set off, straight down Bath Street and past the old ABC Bank and bank manager's house, a late-Victorian building with Dutch Renaissance revival gables and cast iron verandahs. Today it is an art gallery called The Vault. Across the road is the Dutch Reformed Church, a fine example of a neo-gothic cross-shaped church completed in 1862 by Joseph Barry.
There are two properties with central gables on Bath Street, but off it, on Barry Street, is the quaint St Mildred's Anglican Church, still in use. It was completed in 1871 and is one of several churches across South Africa designed by Sophy Gray (or Sophia), wife of Robert Gray, the first Anglican archbishop of Cape Town. She wasn't a trained architect, but nonetheless designed about 58 churches, including the little Belvidere stone church outside Knysna.
For a fine example of colonial Edwardian architecture, 9 Rose Street is your go-to. It's an imposing place – the central passage is 30m long and there are 15 rooms. Built in 1911, it was originally the Dutch Reform parsonage, occupied by DF Malan, who later became prime minister.
And then we turned on to Long Street, replete with plenty of notable heritage buildings. The Cape Georgian double-storey at 26 is uncommon in that its doors and windows are not symmetrically placed.
Joubert House is at 25 Long Street, the oldest surviving residence in the town. Built in 1853, its outbuilding is believed to have been the town's first prison. But it hit hard times and was declared a hazard in the 1970s. It was bought by the Montagu Museum in 1981 and was restored to its former glory. Today a fantastic house museum, its kitchen floor is laid out with peach pips, and there is a nursery and many herbs in the back garden.
Further down the street – and the years – Alexander Floris Kriel built his stately town house in the Cape Georgian style in 1892, on the corner of Church Street. It is opposite Boneur, a Victorian town house with a high pitched roof and broekielace around the verandah.
A short detour: Church Street itself is filled with beautifully preserved buildings, although only two are proclaimed heritage sites, Mimosa Lodge and Eerste Pos.
The third building on the Long-Church intersection, a rectangular thatch, was once the home of artist Francois Krige and was restored by architect Revel Fox. It now houses Krige's work. It is opposite a typical British Colonial town house, of which many examples are found across the Karoo.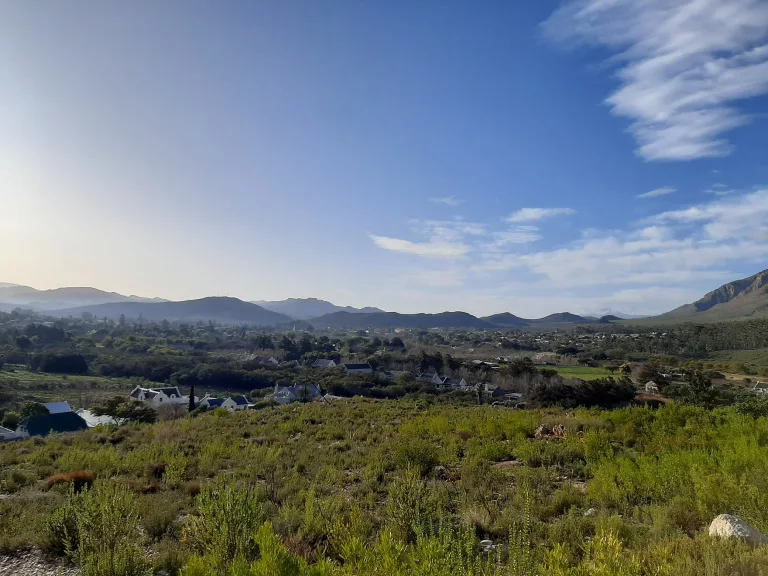 The Montagu Museum is housed at the old Mission Church, built in 1907. It tells the history of the town, the community and the church.
For industrial construction, check out the KWV buildings, one of which is the home of the Montagu Cultural and Educational Trust. And on Piet Retief Street, the library and municipal building was finished in 1893. The school building was enlarged in 1910. During renovations of the complex in the 1970s, a flask was found, containing five coins, an Ons Land newspaper from 9 May 1892 and a Cape Times newspaper dated 10 May 1892, as well as a document containing the names of the people who attended the laying of the cornerstone in 1883.
An addendum: cross the Keisie River on Mill Street for a gander at number 11, the Blue House known as Poesiehoek. Built around 1886, it is in a simple Karoo Cape Georgian style with an unadorned parapet and keystone work around the windows and on the corners.
During the Spanish Flu of 1918 it was used as a hospital, and the many deaths there prompted stories of its haunting. Later it was a brothel run by twin sisters and it also did time as a convenience store. Today it is a private residence, still proudly displaying its name.
Enough of architecture and more of people: if it's Saturday, it's time for the weekly village market. It's one of the oldest in the province and is stocked chockful with organic produce, delicious street food, arty crafts, thrift treasures and, well, more.
Eat your fill and then have a snooze; it is, after all, Saturday afternoon. Montagu's famous rock climbing is an activity for another day.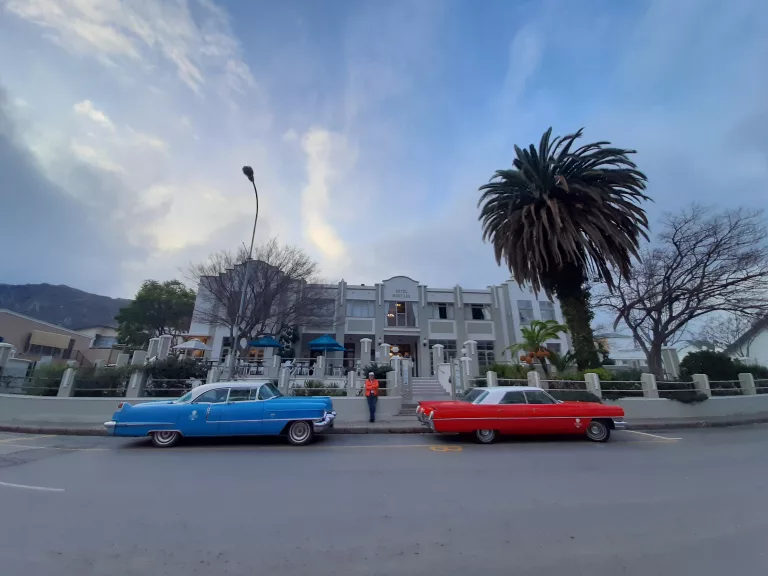 Small Town, Big Style
Montagu Country Hotel is a surprise. Something out-of-the-ordinary, a space where time seems to have meandered through the years until it found a pretty place, and stopped.
The original building was built in 1875 when the hot springs and the agricultural riches brought more visitors to Montagu, sometimes referred to as the loveliest town in all of the Western Cape.
Around 1932, the present-day Art Deco building was completed behind the Victorian original, which was then demolished. Today it is an ode to that beautiful period, when even the most prosaic of objects was given an artistic makeover.
The hotel was carefully restored by owner-managers PJ and Colene Basson, with every detail thoughtfully refined, every item carefully chosen to fit the period. It is, in PJ's own words, 'an on-going project'.
The hotel has 29 individually decorated rooms in three buildings, an inviting courtyard with pool linking them. The restaurant serves a fine meal, too.
Montagu Country Hotel is a founder member of Cape Country Routes (capecountryroutes.com), set up in 1997 by a group of independent hotels and country inns to encourage visitors to explore the scenic, romantic and historic routes between Cape Town and Port Elizabeth.
Montagu Country Hotel may be antique, but it has very modern sentiments. It uses a grey water system to irrigate the gardens and solar geysers. It's a certified member of Fair Trade Tourism and has an electric vehicle charging point for guests.
From R1 012 pp pn, bed and breakfast; self-catering units from R1 398 pn, bed and breakfast
082 771 4177

Do This
Dream Machine
Take a trip in a classic American car with American Dream Cars. There's a baby blue 1956 Cadillac Sedan De Ville or a fire-truck red 1964 Cadillac Sedan De Ville to choose from, and you get to write your own script.
You can take a guided cruise around town, go on a jaunt to the Hole in the Rock for a photo op, or a wine-tasting tour of the Robertson Valley, which has some really visit-worthy wineries.
Bookings must be done in advance.
R850 an hour (maximum of four adults per car, excluding driver)
023 614 3125
montagucountryhotel.co.za/american-dream-cars
Seen Around Town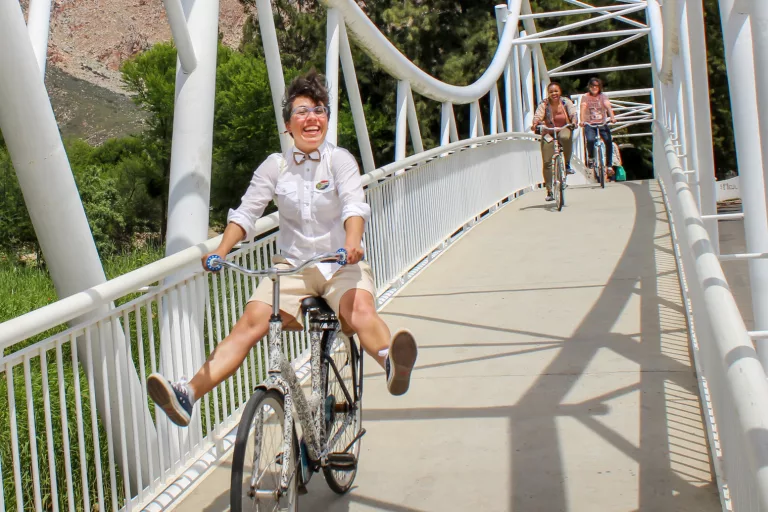 Tour the pretty town by bicycle or on foot, discovering its architecture and history, with Flying Feet. There are a number of options on offer, and you can even rent your own bike for a self-guided outing.
There's a ghost and historic tour, an art tour, walking tours, hiking tours. And for the fit-as-a-fiddle explorers, even a three-day Mooie Montagu hike.
You get to ride the quiet streets, or wheel along Lovers Walk. About 2.5km long, the footpath runs along the Keisie River to the hot springs.
Tours from R200
076 891 3623
A version of this article originally appeared in the March 2023 print issue of Getaway
Photography by Maryke Roberts and Marchelle van Zyl
Follow us on social media for more travel news, inspiration, and guides. You can also tag us to be featured. 
TikTok | Instagram | Facebook | Twitter
ALSO READ: Ghost hunting and other things to do in Montagu