As the skies alight to create aurora borealis, phytoplankton can illuminate the seas at night to create bioluminescence.
If you've ever dreamt of witnessing this luminescent natural phenomenon, these ten places are known to have bioluminescent waters at certain times of the year. Of course, you can't be guaranteed a sighting, but you might just be lucky enough to catch them.
1. Mosquito Bay, Puerto Rico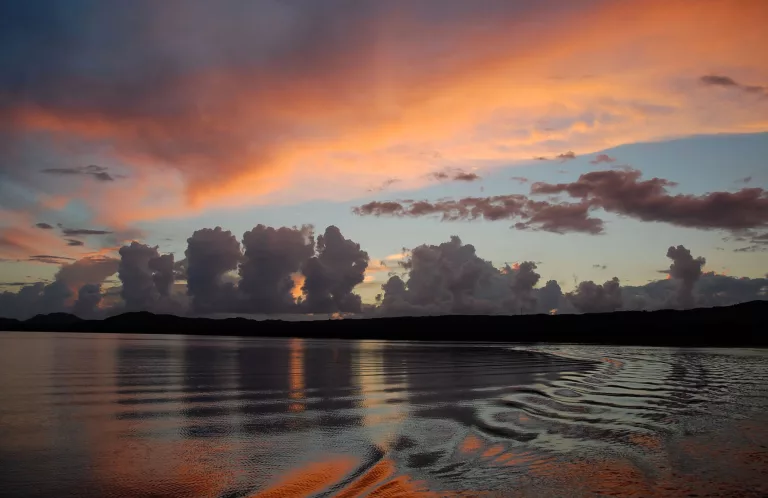 Puerto Rico's Mosquito Bay is one of the most popular bays for seeing the bioluminescent waters. Because of its immense popularity, rules have been established to protect the phytoplankton that light up the seas. Swimming is prohibited; visitors may only kayak with a licensed tour guide and not wear chemicals like Mosquito spray.
2. Sam Mun Tsai Beach, Hong Kong
Sam Mun Tsai Beach is well known for its 'red tide,' where the water turns red during the day due to a micro-organism bloom. However, certain types of micro-organisms that cause red tide can harm other creatures, so be sure to ask authorities before jumping into the ocean.
3. Gordons Bay, South Africa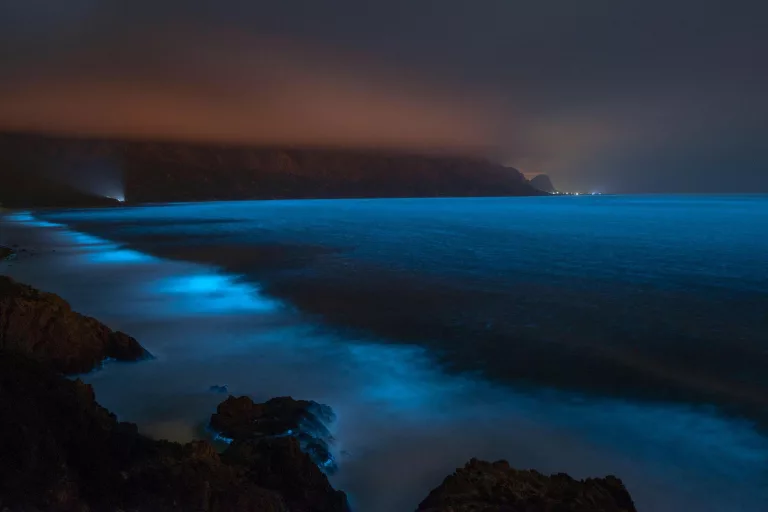 Although not a common natural phenomenon, Gordons Bay, near False Bay, has sporadically displayed glowing oceans, especially during the warmer months. If you're bound to South Africa and desperate to see these sea blooms, Gordons Bay is one of your best bets.
4. Springbrook Park, Australia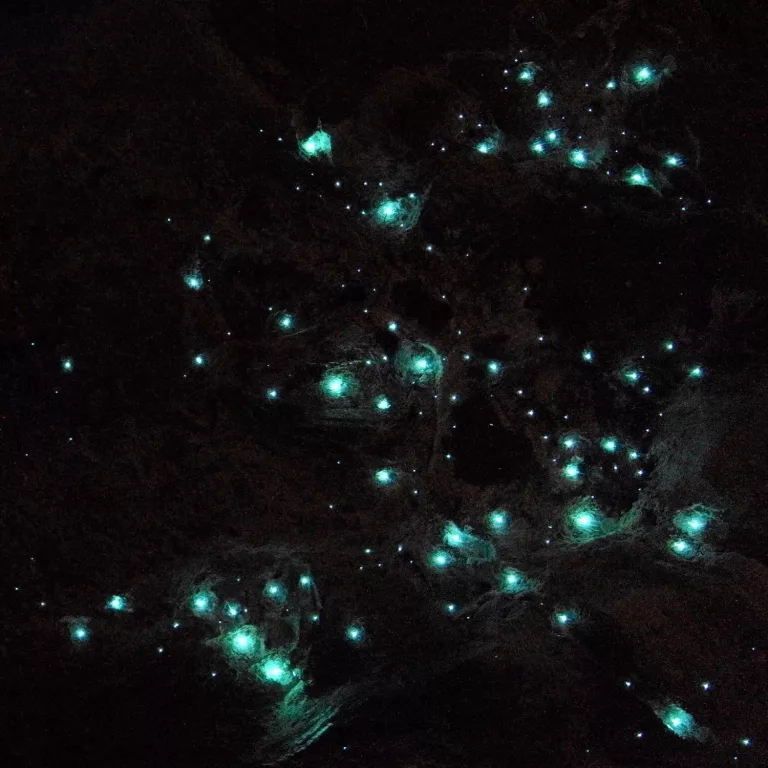 For something different, Brisbane's Natural Bridge glow worm cave has fragile and rare larvae that give off a green-blue neon glow. You can experience the larvae-covered cave ceiling (which looks prettier than it sounds) or walk along the asphalt track with a beautiful waterfall through a cave tour.
5. Toyama Bay, Japan
Firefly squid lights up Toyama Bay, as opposed to phytoplankton. Interestingly, this type of squid lives in the deeper parts of the ocean, but an unusual ocean current brings them through Toyama Bay, where they illuminate the waters.
6. Indian River Lagoon, Florida
Indian River Lagoon in Florida has over 3000 flora and fauna species, making it the northern hemisphere's most biodiverse lagoon ecosystem. You can experience the bioluminescent water through the plankton and bioluminescent comb jellyfish that create the phenomenon.
7. Sea of Stars, Maldives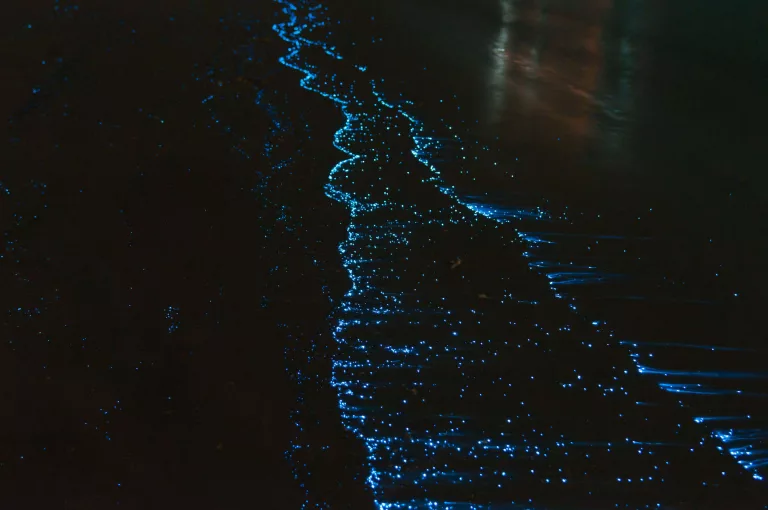 Bioluminescent plankton light up the Indian Ocean in the Maldives from the end of summer until the end of the year. The plankton float among the sharks, tropical fish, and colourful coral, creating a luminous sight for those lucky to be there.
8. Ha Long Bay, Vietnam
Ha Long Bay is a stunning option for a holiday and a chance to see a bioluminescent beach. Enjoy an immersive experience via an evening kayaking expedition or boat tour when the waters sparkle with blue lights.
9. Plettenberg Bay, South Africa
Plettenberg Bay is another South African town where your chances of seeing the luminous waves are higher than other coastal towns. In March 2023, residents and lucky visitors were treated to a three-day light show when Plett experienced an influx of dinoflagellates, a certain type of bioluminescent plankton.
10. Koh Rong's Glowing Plankton, Cambodia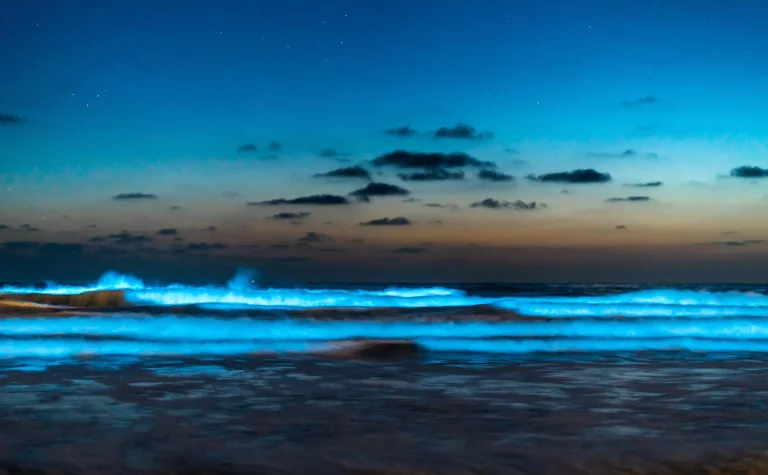 Cambodia's beaches in Koh Touch often have a glowing ocean lit by the plankton inhabitants. You can stroll along the beach to get a sighting of the phenomenon or take a boat trip to experience the incredible sight fully.
Pictures: Alamy
Follow us on social media for more travel news, inspiration, and guides. You can also tag us to be featured. 
TikTok | Instagram | Facebook | Twitter
ALSO READ: An enchanting seaside stay at Tintswalo Atlantic, Hout Bay