You might see the odd whale swimming along the coast on any given day, but South Africa's whale-watching season happens between June and November.
There are few things more exciting than spotting a plume of spray on the horizon, the tail slap on the water, or even a whale breaching past backline. These five places in South Africa offer some of the best whale-watching experiences this season.

1. Plettenberg Bay, Western Cape
The best place to spot whales has to be in a Whale Heritage Site, so pack your bags and head out to Plettenberg Bay. This gorgeous coastal town was awarded this esteemed status in June by the World Cetacean Alliance.
Southern Right Whales are often seen off the coast of Plett, and there are whale boat tours if you'd like a more interactive and close-up experience with these gentle giants.
READ: Plettenberg Bay receives Whale Heritage Site status
2. Algoa Bay, Eastern Cape
Algoa Bay is home to a wide variety of wildlife, including the humpback and southern right whales, which can be seen swimming past almost daily along their migratory path in the cooler months.
The whales can sometimes be seen from the shore, but boat tours offer the best viewing experiences.
3. Durban, KwaZulu Natal
While the whales pass very close to the Western Cape coastline, Durban boasts the highest number of whale sightings each year, particularly humpback sightings. Whales migrate to the warm Indian Ocean off the coast of Mozambique before returning south to the Antarctic.
They can swim along the Mozambique Plateau continental shelf past KZN and can often be seen from Durban's beaches.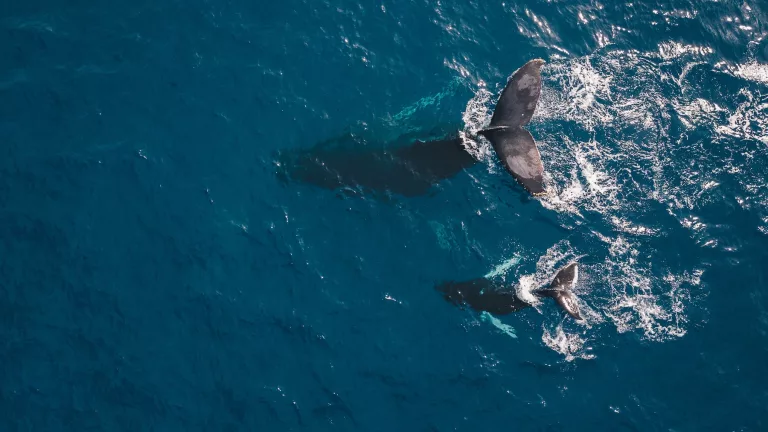 4. Elands Bay, Western Cape
Elands Bay, a surfer's hotspot, sits between the Bobbejaan Mountains and the Atlantic Ocean. However, it's also a prime spot for catching sight of the migrating Southern Right whales between July and September.
Large pods of Heavyside Dolphins are also seen year-round in Elands Bay, and even Killer Whales have been spotted on occasion. For the best whale-watching experience, you can take a boat cruise to see them up close.
5. Hermanus, Western Cape
Hermanus is known as the whale-watching capital for good reason. The waters run deep close to the shore, and migratory southern right and Bryde's whales often swim to the bay, where they are easily visible from the beach or clifftop paths.
The town's culture is so interlaced with these ocean mammals that they have the world's only 'Whale Crier' who blows a horn, marking the arrival of the whales. They also hold the annual Whale Festival, celebrating the southern right whales' return to Hermanus' waters.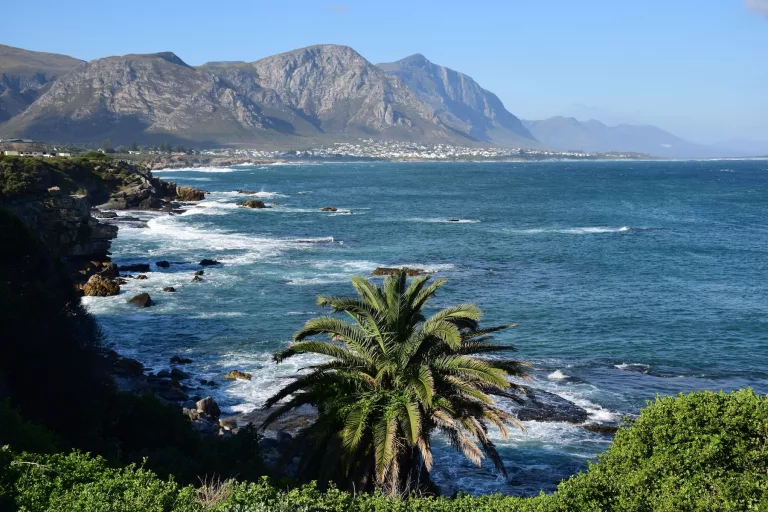 Hermanus Whale Festival
The Hermanus Whale Festival is the world's only Eco-Marine Festival and has been held annually for 32 years. The festival has attracted 75,000 – 130,000 visitors, who sit on the cliff tops and enjoy a front-row seat to the whales calving and nursing their young.
The festival is held over three days and includes an Eco-Marine Village where attendees can learn more about conservation, Marine & Nature Talks, a children's treasure hunt, and a Street Parade, among many other activities.
This year's Hermanus Whale Festival will take place on 29 September – 1 October, and you can visit their website to learn more about it.
Follow us on social media for more travel news, inspiration, and guides. You can also tag us to be featured. 
TikTok | Instagram | Facebook | Twitter
Also Read: Wining and whale-watching: wineries to visit along the whale-watching route