I park my car midway up Chapman's Peak Drive, and a shuttle transports me down a winding road that cuts into the side of the mountain and meanders to the rocky shoreline below. The view of The Sentinel and Hout Bay has got to be the clincher; it's paradisical, and I anticipate the sunset later that evening. Can a lodge match this panorama?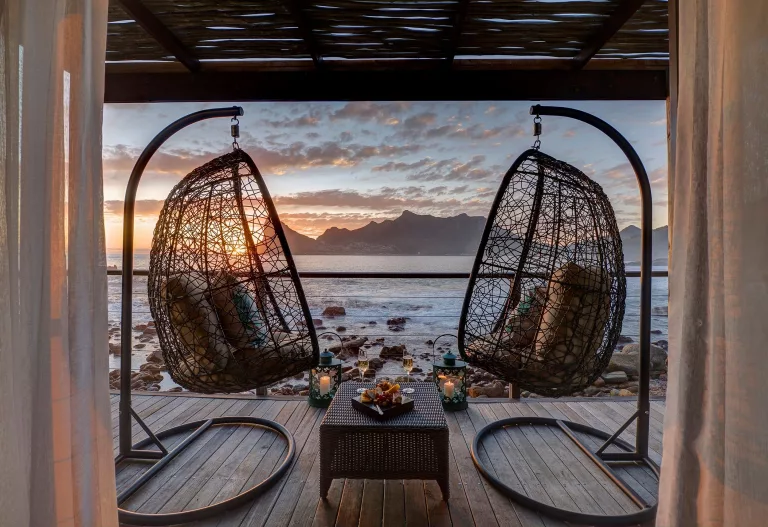 The property has survived two devastating fires, one veld, one kitchen, a staff member explains as we walk to my room, pointing out the charred remains of a hammock that serves as a reminder that it's not only still standing but going from strength to strength.
I walk into the top villa and immediately begin to understand why. I'm staying in the Elba Island Suite, named for an island in Tuscany, Italy. Known in ancient times for its iron resources and valued mines and later the French Emperor Napoleon Bonaparte's 300-day stay, the island has become famed for its wine, and today it is a renowned tourist resort.
Each room is unique, inspired by Tintswalo Lodges co-founders Warwick and Lisa Goosen and Gaye and Ernest Corbett's (Lisa's parents) curious exploration of their favourite Islands – my suite shares a villa with another, Corsica. And each represents three generations, as the Corbett-Goosen family women are keenly interested in interior design. Tintswalo attracts regular guests who enjoy island-hopping between each suite.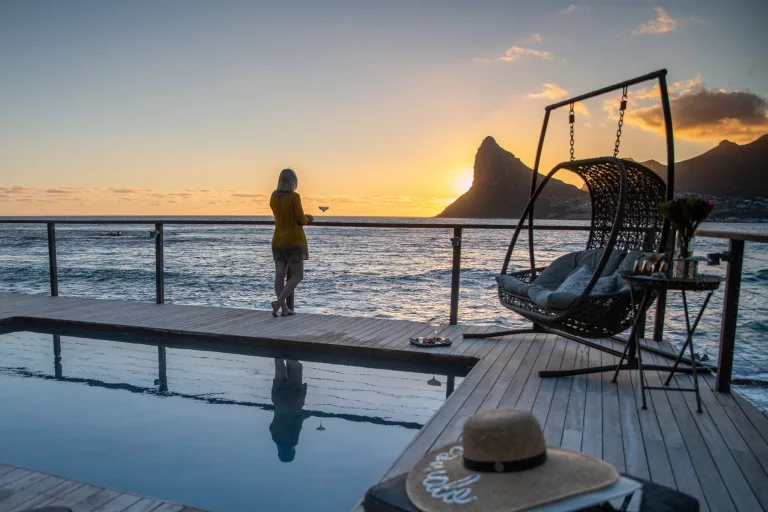 My suite has a grand four-poster bed, wingback chairs, a fireplace and my favourite, an enormous bathroom with Africology products and a magnificent Victorian bath next to a window facing The Sentinel. The Head of Evening Turndowns, Steven, has used shells to spell 'welcome' on the ottoman, and I will later return from dinner to find my clothes neatly folded, a robe and slippers laid out on the bed.
This villa is ideal for families, and if guests want to splurge, staff set up a spa experience in one suite while you sleep in the other. They'll even serve you a meal there, if you wish. It often hosts intimate wedding ceremonies or proposals or small corporate getaways.
The owners have spent a lot of time at Tintswalo Atlantic, as there are carefully considered places to sit, admire the view and contemplate. Our villa's wrap-around balcony has loungers and dining furniture. I visit the lounge to take advantage of the cocktail of the day and bottomless wine bar. Next to it is a deck with a heated pool, relaxation nets and a daybed. On the rocks below is a hammock and swing. Staff bring me a glass of bubbly, for which I don't even have to ask!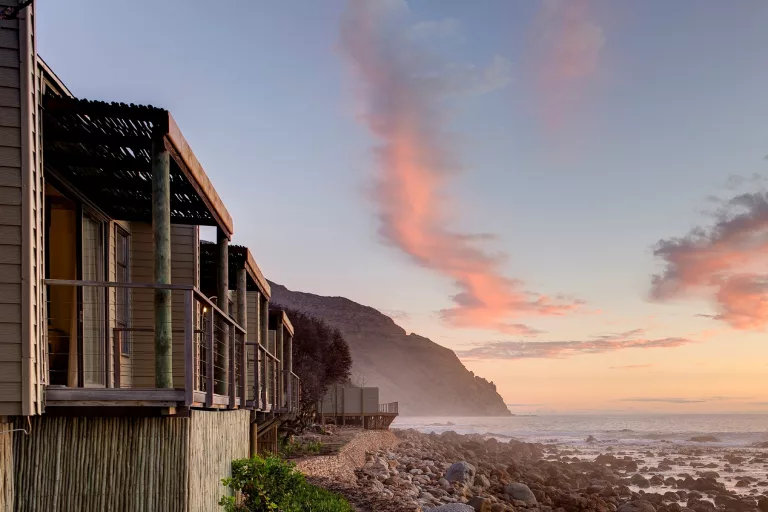 I can tell you about the sunset over Hout Bay from the deck, where we enjoy cocktails and canapés, burnt orange, violet and then indigo, and how The Sentinel's silhouette fades into the darkness, allowing the twinkling lights of Hangberg homes to take over, but that doesn't do the experience justice.
We dine at Chefs Warehouse Tintswalo, opened in November 2020 in a joint venture with renowned chef Liam Tomlin, featuring his fine-dining quality global tapas concept. The same year the restaurant opened, it was named one of the best new restaurants in the world on the Condé Nast Traveller Hot List 2021. The restaurant was then voted South Africa's Best Hotel Restaurant in the World Culinary Awards 2022. Thisannouncement came shortly after it scooped a One-star rating in the 2022 Eat Out Awards and walked away with a Two Plate award for its excellent cuisine in the 2023 Gourmet Guide ratings.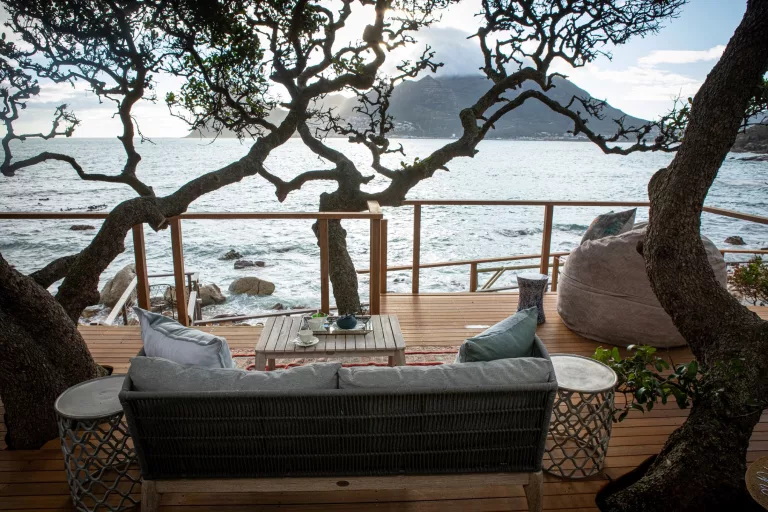 Unlike former Head Chef Braam Beyers's classic French cooking style, current Head Chef Cameron Smith's is more of a playful, experimental fusion of different cultures. My favourites include barbecued swordfish off-the-hook in Hout Bay, at the base spiced dahi, topped with a coconut atchar, and carrots confitted in turmeric and coriander. It is served with a buckwheat and cashew nut twirl to give it a bit of texture and finished with a light drizzle of coriander oil. There are even a few coriander shoots and curry leaves.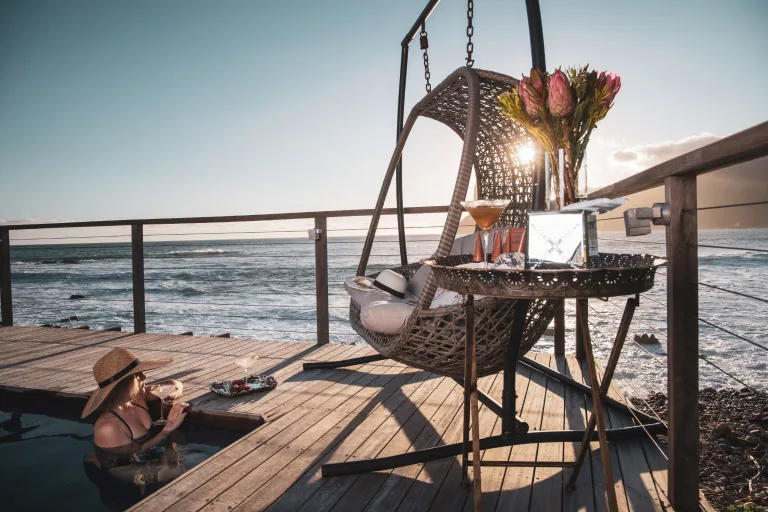 Then there is the tender duck breast. At its base is a port reduction and smoked cashew nut puree, served with a candied pear tartlet, celeriac and gorgonzola mousse, then topped with some Parma ham. Poured over it is a decadent bourbon jus.
My belly satisfyingly full, I fall asleep listening to the sound of crashing waves. Tintswalo is luxurious without being precious – you don't feel like you might accidentally break something. On the contrary, it feels more like an extension of my home, examples of the owner's personal touches in every corner. And nothing is too much trouble.
To book your stay visit tintswalo.com/atlantic/, or find them on Facebook, Instagram and Use the hashtag #LuxuryCapeTownlodge.
Follow us on social media for more travel news, inspiration, and guides. You can also tag us to be featured. 
TikTok | Instagram | Facebook | Twitter
ALSO READ: Travel the world for free with these 10 virtual travel tours