Think of Stellenbosch and surrounds and your first thoughts will no doubt be of tranquil wine farms, tree-lined streets and laidback students. But this is no place for the lazy, as Alan Valkenburg discovered
Study at Stellenbosch University and you'll become well versed in the usual spots pretty quickly – the Botanical Garden, the trail behind the Danie Craven rugby stadium leading to Ertjieskloof Dam, the Rooiplein. But if you're one for leaving the crowds behind, there are other spots and sights just a little ways further, and they're well worth exploring, too. 
To get to some of these lesser-known spots, we called in the experts, accepting the help of the Stellenbosch Adventure Shop, which kindly supplied us with a guide and some bicycles for a 20km cycle to Boschendal. Less experienced or fit cyclists can opt for an e-bike, turning the 20km slog into a don't-break-a-sweat breeze.
Our cycle began in the town centre, before heading up into Idas Valley. Within 10 minutes we were cycling along quiet country roads and soon after, on quiet trails that would be the envy of many towns around the world. Our route took in some truly beautiful paths, many of which are maintained by the Stellenbosch Trail Fund. There was plenty of shade, too, so we were in no danger of overheating. 
Also read: Babylonstoren: all you need to know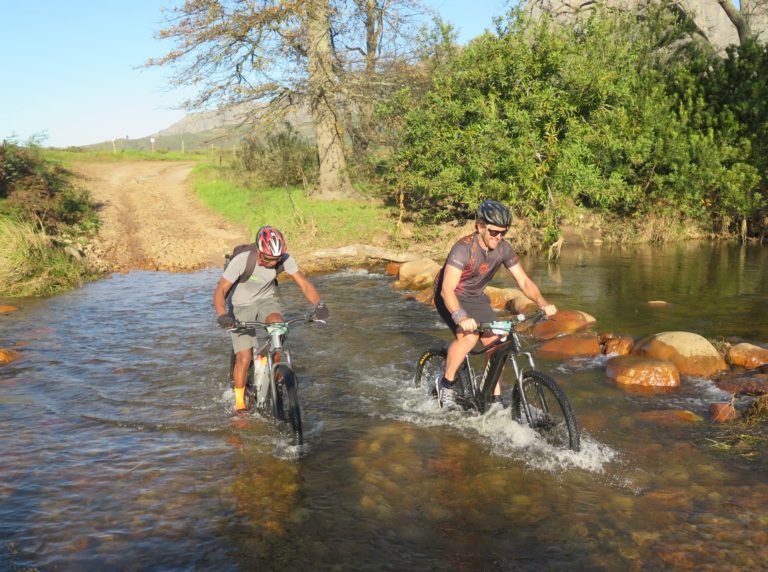 There were also plenty of photo opportunities – views of dams, quiet bridge crossings, jeep track and single track –before we cruised into the Banhoek Conservancy in Kylemore.
The conservancy is the pride of many a local, and people speak with fondness for their little gem that draws tourists and locals alike to its trails. It isn't hard to see why: the air is fresh, the sky is blue – and it felt like we had the place to ourselves.
We were impressed by the quality of the cycling trails. There were some standard paths, some switchbacks, a few challenging rocky sections, a river crossing … and a family of blue wildebeest that watched us from afar. 
It was just as well that we were headed to Boschendal because we'd built up quite a thirst. Over smoothies and cheesecake we learned that the wine farm not only caters for the traditional wine tasting crowd, but it also caters to the whims of cyclists and hikers.
'Boschendal targets the whole family,' activities and experiences manager Mandisa Zama told us. 'There are outdoor experiences for the kids, and parents can drop their kids and head off for some wine tasting.'
But for those who want to experience the mountain as a family, there are also family-friendly hiking and cycling trails of varying lengths. And horse riding and farm tours, as well as plans to introduce blueberries within the next few years, so guests will be able to pick their own.
Sufficiently stuffed – with information and cheesecake – we headed to Kylemore Guesthouse, our digs for the night, to rest ourselves for the next day's hike. A stone's throw from the conservancy, and a short drive from the surrounding wine farms, it is the perfect spot to explore the area.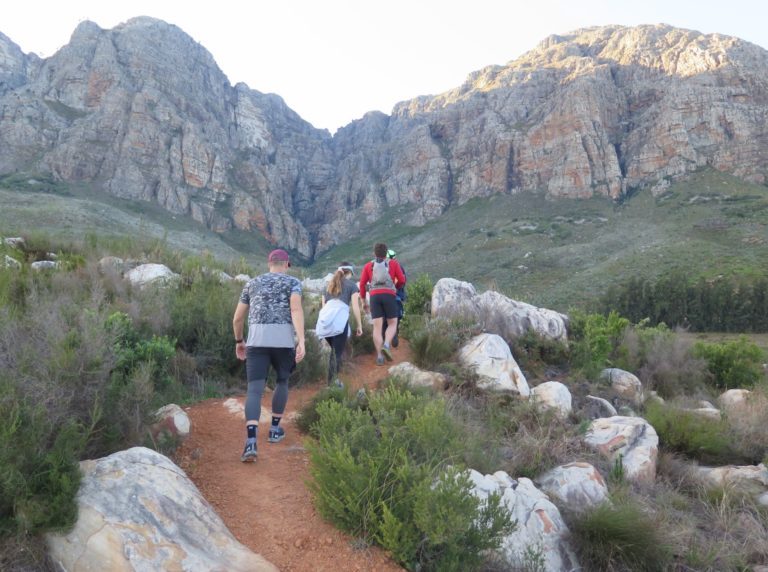 A cold shower
Back at the conservancy the next morning, Uhlan Lackay, our guide from Pniël Cultural and Environmental Hiking Tours, took us up to the Cathedral Waterfalls, regaling us with stories of the area, the locals, the history. It's great hiking with someone who knows their stuff, but it's even better when the person is a born-and-bred local.
We passed eland watching us from a safe distance and made our way higher up the mountain. It's a good thing we had a guide. There are some tricky sections and you don't want to take a tumble up here.
The water was freezing when we eventually reached the waterfall, but it didn't stop one of our party stripping down to his shorts and taking a shower. Most won't be that brave. We headed back down the way we'd come, completing the circuit in about four hours, much richer in knowledge than when we'd begun.
We completed our visit to the Banhoek with a trip to the Chilli Oil Taste Kitchen for a chilli oil tasting, before enjoying a well-earned lunch.
Looking out at the mountains and forests, I thought, put this place in almost any other country in the world and it would be a tourist trap, attracting visitors for the wealth of activities it offers. Here, just outside Stellenbosch, it flies under the radar, a secret paradise for those in the know. And we barely scratched its surface.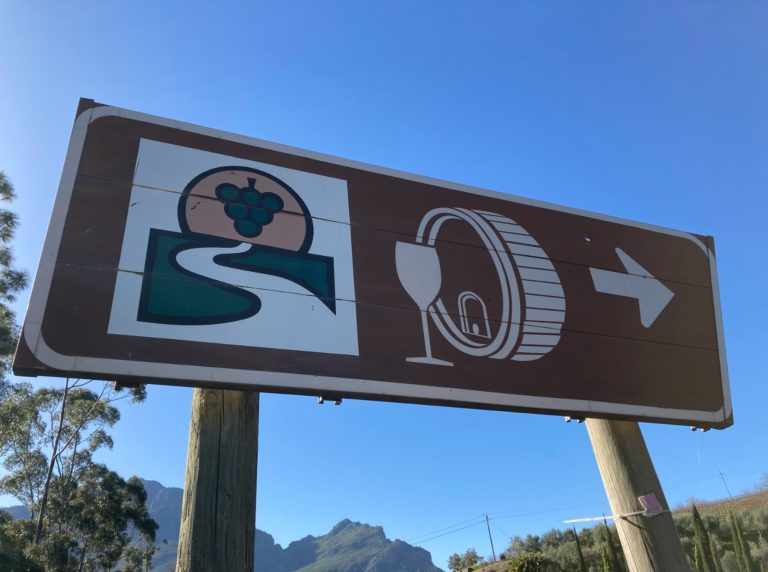 A Glass (Cage) of Emotion
If you want to really mess with your tastebuds, and we mean really mess them up, try the chilli oil milkshake at the Chilli Oil Taste Kitchen at Banhoek.
We're not sure whether to recommend it or not, such was the mix of emotions it conjured. The first sip is met with cool satisfaction. Then the chilli kicks and you reach for the nearest thing to cool your tongue… the milkshake. Another sip brings only a second of relief before the chilli kicks you again like a disgruntled horse. Repeat the process until the (tall) glass is empty.
The food is beautifully paired with the Banhoek chilli oil and I really enjoyed my meal. But that milkshake… I can't decide whether it was terrible or amazing.
021 300 0795
Do This
Boschendal
Marked trail circuits start just inside the Avenue 1685 security gate. There is a 4km yellow route, 9km green route, 11km blue route, 15km red route and a 23km black route. The black XL route adds 3-4 sections.
R60 per trail for day visitors, guests who stay overnight can use the trails for free. 
Guided horse rides for a tour of the farm. R550 pp per hour
Adventure Centre – Stellenbosch
There is so much to do, you may need to set aside a week to try it all. Besides the bike tours, there is also a three-day slackpacking meander and historical walking tours of the town.
021 882 8112, adventureshop.co.za
Le Pommier Estate 
Occupying a prime spot on Helshoogte Pass, the main route between Stellenbosch and Franschhoek, the place is rustic, the menu comprehensive and the children's playground a win.
021 885 1269
Check In
Staymore Guesthouse 
Owned by Lecelin and Antonio Roberts, it's a home away from home but in the middle of a mountain range. The self-catering accommodation sleeps groups of up to eight people.
From R1 700 for six
072 269 1650
A version of this article originally appeared in the February 2023 print issue of Getaway
By Alan Valkenburg
Be sure to check out The 25 Best Restaurants in Stellenbosch.
Follow us on social media for more travel news, inspiration, and guides. You can also tag us to be featured. 
TikTok | Instagram | Facebook | Twitter
Also read: Walking on the moon: Climbing the Rwenzoris