Finding themselves extremely fortunate to spend seven nights in the Botswana bush at Feline Fields, Peter and Eileen Leopold found a quiet place to sit, relax and recalibrate their senses.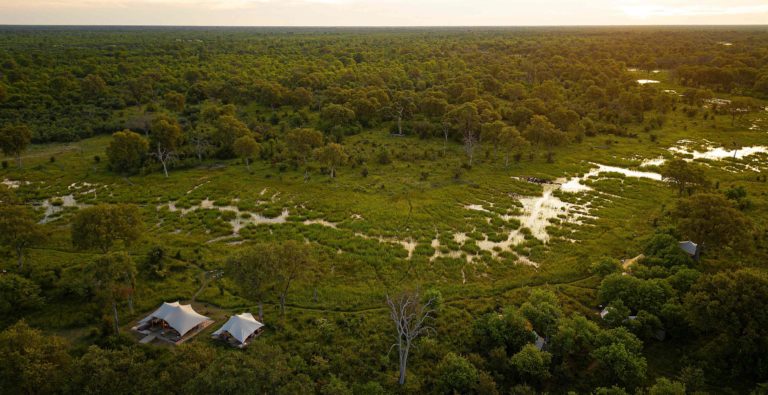 Feline Fields is a family-owned business whose owners take pride in delivering a personalised experience tailored to their guests' needs.
Their first accommodation option is a luxury boutique safari lodge in the Kalahari. Built in 2012 and taking over four years to complete, it is the most remote lodge in Botswana. The second is the Khwai River mobile campsite, consisting of eight double tents, which offers an authentic out-of-Africa safari experience in the Okavango Delta.
Our adventure began when we left Johannesburg and drove 1 150 km to Maun, a long but easy drive on fair highways. (There are also several commercial flights available, if budget allows). We crossed at the Groblersbrug border post, which was efficient, spent our first night at Serowe and then carried on to Maun.
Khwai River campsite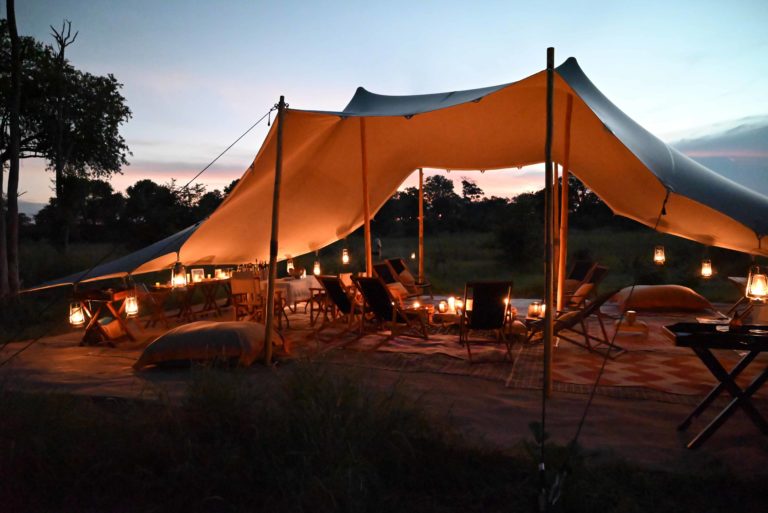 The following morning, we took a chartered flight to the landing strip that serves the camps in the Khwai River concession. If you have a 4×4, you can drive for about 2.5 hours on moderately bumpy roads.
The flight, however, has breathtaking views of the Delta, plus sightings of herds of animals from above. We were met by our excellent ranger and charming host, Tebo, and our Bushman tracker, Kannetjies.
Rounding a corner, we hit beautiful white, soft, billowing tents floating out of the thick bush. And furnishings and décor that transport you to a bygone era of elegance but with all the mod cons, such as hot showers, cellphone chargers and Master Chef cuisine. Definitely glamping on steroids!
We were most interested in savouring the bush and learning about local folklore rather than chasing the Big Five. But Tebo and Kannetjies certainly delivered on both! We saw leopards, rhinos and buffalo and spent several peaceful hours watching elephant breeding herds. A new experience was a relaxing guided Mokoro trip past our camp and learning about The Little Five.
READ: How much do you know about South Africa's Little 5?  
What struck us most about Khwai Camp was the sense of total peace – something the Celts call a thin place, where the barrier between now and beyond is thinner as is the boundary between nature and humans. A place to sit quietly and let your senses relax.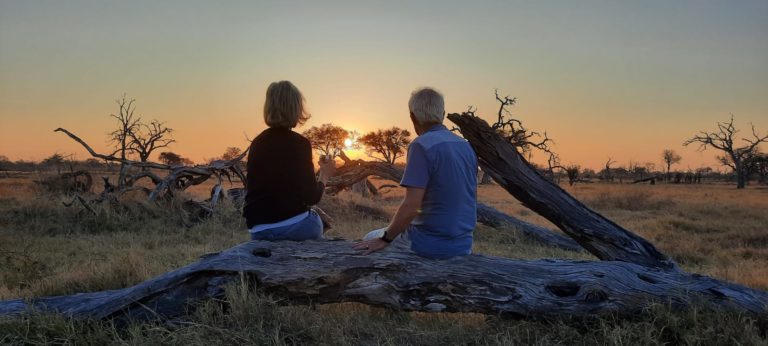 After three days, we bid farewell to the wonderful staff and flew back to Maun, this time via the scenic route. It was also Kannetjies's first flight. He vehemently declared, 'Never again!'
Feline Fields Kalahari Lodge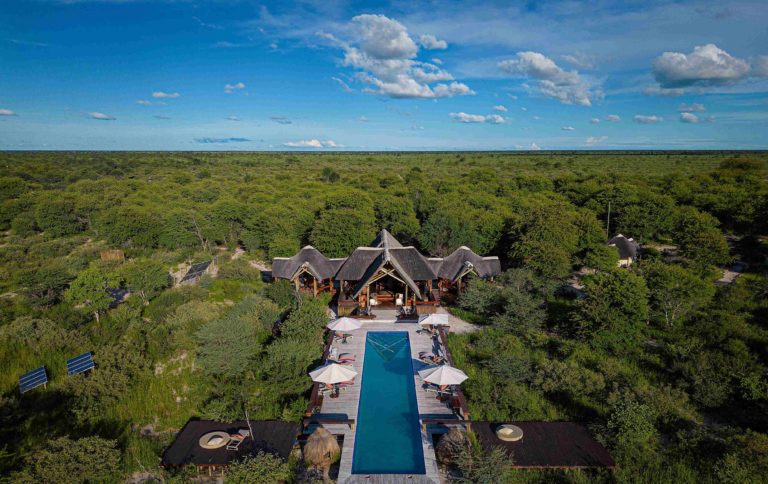 Tebo then drove us to Feline Fields Kalahari Lodge, an easy 4×4 journey of about 3.5 hours. We arrived late in the evening as we had to slow down for a pair of honey badgers, and then a porcupine, who made it quite clear that he owned the road! (You can also drive yourself or take a helicopter flight).
It was quite a sight as we drove up to the lodge, our excitement quickly turning to wonder. We have stayed in hotels around the world, but they are all surpassed by the architecture and style of the lodge, including a 25 m lap pool, all beautifully lit up and rising as if from nowhere.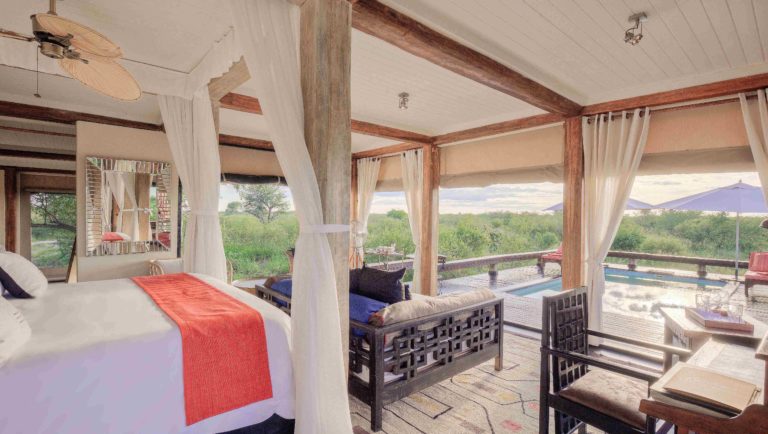 There are eight chalets of various styles and accommodations for up to 20 guests, all elegant and luxurious. Our suite was a double-storey with a sumptuous bathroom, a rooftop deck with an enclosed tent and a comfy double bed – in case you want to sleep under the stars – and a private swimming pool overlooking the great Kalahari.
We could wax lyrical about the food based on modern French dining. Fresh produce is vital, and many of the herbs and vegetables are grown at Feline Fields' premises in Maun. It is hard to believe that we were in the middle of nowhere eating salmon, strawberries, kiwis, souffle, awesome salads and decadent desserts, all prepared by an in-house chef.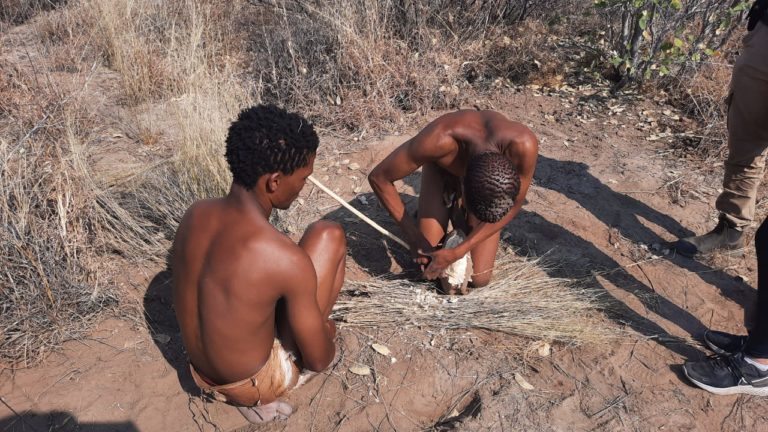 The lodge has gone to great lengths to offer various alternative activities unique to the Kalahari. We spent an educational 2.5-hour walk with Kannetjies and his friend learning about the Bushman lifestyle, from tracking to hunting, drinking bulbs from plants, making fire and setting bird traps. Above all, we experienced the extreme patience and reverence that the Bushmen have for their habitat. We certainly can't ride horses but went riding with Mandela, known as the cowboy, who regaled us with stories of riding to school and hunting buffalo on horseback with his grandfather. There are also bush bikes, a gym and tennis courts for those who need to work off all that food, but we chose the lazier option! 
Special mention must be made of all the staff at both sites, none of whom could be faulted. Every person showed genuine interest, enthusiasm and meticulous attention to detail.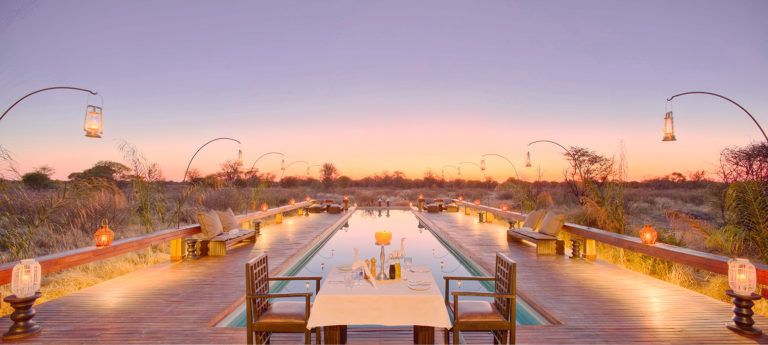 There was a genuine delight in creating surprise events for guests. When staff learned it was our 43rd wedding anniversary, we returned one evening to champagne and a candle-lit bubble bath, followed by a private dinner on our deck, a magnificent cake and serenading staff.
This was another example of creating an unexpected personal element of surprise.
A long but not arduous journey back to real life in Johannesburg followed. It will, however, take us quite some time to process it all. Feline Fields is open year-round, combining the lodge and campsite and various activities for all seasons. It is all about going back to basics, a slower pace of life and finding your truth.
Pictures: Supplied
Follow us on social media for more travel news, inspiration, and guides. You can also tag us to be featured. 
TikTok | Instagram | Facebook | Twitter
ALSO READ: Rambo's redfin mission: a quest for an endangered fish