Cape Town has something for everyone. From hidden gems, restaurants, events, outdoor adventures and even luxurious getaways, the City is filled with a never-ending to-do list.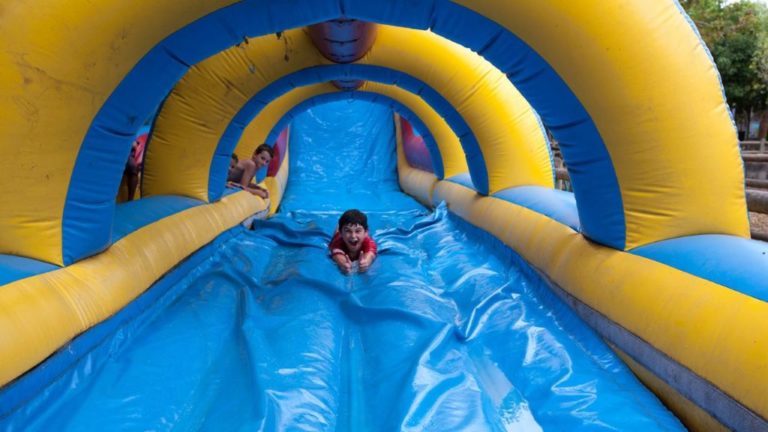 There's even something for the kids – from tackling an obstacle course, exploring the universe through VR, to even settling down for a good movie, Cape Town has it all. And while some of these activities can quickly become very expensive for just an hour of fun, there are quite a few options for families looking to get the most bang for their buck while their kids are being entertained.
Here's a list of things to do for kids in Cape Town for under R250:
Jump 4 Fun (J4F)
The J4F Entertainment Centre is the place for the intrepid busybody. The centre has an indoor trampoline park, glow-in-the-dark indoor golf, a climbing wall, a games arcade, and more. The Pizamo Eatery and Cafe, located inside, is the perfect place to reload all that energy with a pizza, wrap, burgers and other yummy dishes. The venue is also open to party bookings.
Cost: Prices start from R60
Location: 30 Mynhardt St, Gants Plaza, Strand, Cape Town
Contact: 081 230 2038 | [email protected]
DEAL: Enjoy an hour jump session and glow-in-the-dark golf in Strand
---
Also Read: Family-friendly food pairings in Cape Town
---
Sense Virtual
At Sense Virtual, kids can step into a new reality and game like never before with VR technology. Featuring lifelike graphics and animations and hyper-realistic environments, kids can push the boundaries of reality by playing and interacting in a whole new way. Available games include Beat Saber, a VR rhythm game; the pulse-pounding boxing game Creed; the multiplayer shooter game Pavlov; and even a job and vacation simulator. Designed with gamers in mind, Sense Virtual caters to all interests and skill levels and offers high-quality equipment, a premium gaming environment and experienced staff to guide players through the games.
Cost: Prices start at R85
Location: The Regent, 21 Regent Road, Sea Point, Cape Town
Contact: 076 969 5375 | [email protected]
DEAL: A 30-minute virtual reality gaming experience in Sea Point
Acrobranch
This tree-top experience offers both children and adults a unique adventure. Move from tree to tree in lush, green forests, take on an obstacle course designed to test your limits, and fly through the air on a zip line. Younger kids can have some fun on the Acro-Twigs adventure (all while being supervised by regulated safety instructors) to test their balance and capabilities. Acrobranch has courses for beginners and the more daring alike.
Cost: Prices start at R160
Location: 1 Hout Bay Main Road, Constantia Nek, Cape Town
Contact: 086 999 0369
DEAL: Entrance for two to the Green Monkey Moves obstacle course at Acrobranch
ALSO READ: 12 sensational Western Cape campsites
GoDriveIn
With a wide range of movies, from timeless classics and new releases to blockbuster films, GoDriveIn is the perfect friends-and-family outing for a Friday or Saturday night. The kids will surely enjoy watching a movie on a big screen from the comfort of your car (even the boot!) in true nostalgic style. Camping chairs are also welcome. The movies are projected onto a solid nine-metre screen, while audio is transmitted via an FM transmitter that can be controlled via your car's FM radio. The frequency is provided on arrival, and portable radios are also available for hire. A fully stocked snack hut with traditional movie snacks is on the premises, as no outside food is permitted.
Cost: R250
Location: Movie Theatre, 346 Victoria Road, Salt River, Cape Town
Tickets: webtickets.co.za
DEAL: A drive-in movie experience in Cape Town for a car of 5 people
Bugz Playpark
Kids of all ages are spoilt for choice at Bugz Playpark, which offers visitors a ride on a Choo Choo Train, swing horses, pedal bikes, rowing boats, a zippy slide, toddler tractors, a splash zone, a worm train and much more. Parents are, however, urged to be upfront about their little one's age, as the park's play professionals ensure that age-appropriate activities are enjoyed at the end of the day. Kids can also get in touch with nature and spend some time at the park's petting farm, where they can learn all about taking care of animals. Note that an extra fee of R25 is charged for this experience.
Cost: Entry for kids under three is free, thereafter prices start at R160 per person for a day pass
Location: 56 Tarentaal Street, Joostenbergvlakte, Kraaifontein
Contact: 027 21 988 8836 | [email protected]
DEAL: A VIP Bugz Playpark pass for two
Follow us on social media for more travel news, inspiration, and guides. You can also tag us to be featured. 
TikTok | Instagram | Facebook | Twitter
ALSO READ: The ultimate guide to hiking Table Mountain: 22 trails