Pretoria, South Africa's administrative capital, is a city that effortlessly blends history, culture, and natural beauty. From iconic monuments and botanical gardens to bustling food markets and nature reserves, Pretoria offers a diverse range of attractions for every kind of traveller. Let's explore 30 of the best things to do in Pretoria, each promising an unforgettable experience.
Also read: 5 vibey weekend markets in Pretoria
1. Voortrekker Monument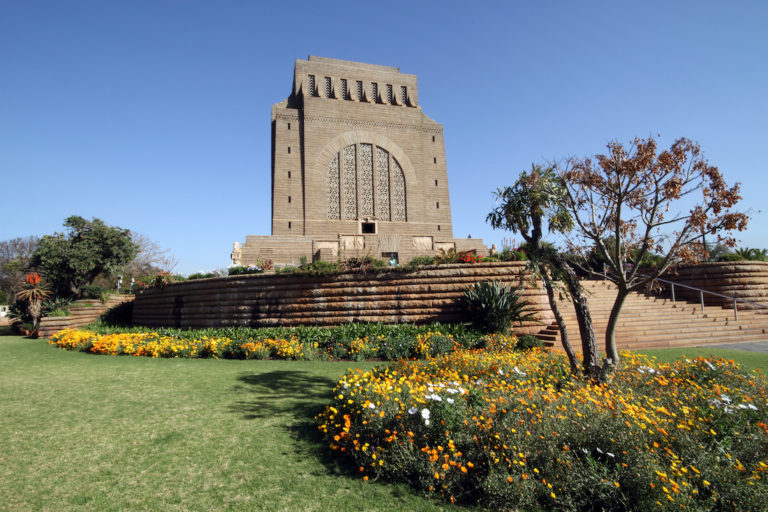 The Voortrekker Monument is a beacon of history, standing tall on a hill, its granite structure basking in the sun's glow. Inside, the monument is a treasure trove of historical narratives, each corner whispering tales of the Afrikaner people's Great Trek. The panoramic views of Pretoria from the top are the cherry on top of this enriching experience.
Are you looking for a bite to eat? You should check out 10 of the best restaurants in Pretoria!
Also read: 10 Coffee shops to try on your next visit to Pretoria
2. Pretoria National Botanical Garden
The Pretoria National Botanical Garden is a breath of fresh air amidst the city's hustle. This 76-hectare garden is a canvas painted with diverse indigenous flora and fauna. The themed gardens within the park are like different chapters of a book, each telling a unique story.
Are you more interested in the shopping scene in Gauteng? Then you'd better not miss out on 10 of the best malls in Johannesburg!
3. Union Buildings
The Union Buildings are a testament to architectural grandeur. The buildings, which serve as the South African government's seat, are adorned with expansive gardens and a statue of Nelson Mandela that stands tall, embodying the nation's spirit. The guided tours here are like a walk through the corridors of history.
---
Also Read: The 20 Best Restaurants in Pretoria East
---
4. Rietvlei Nature Reserve
The Rietvlei Nature Reserve is a wildlife haven located a stone's throw from Pretoria. The reserve is a canvas painted with diverse wildlife, from rhinos and cheetahs to a plethora of bird species. The serene picnic spots and walking trails here offer a delightful immersion into South Africa's wild side.
5. Pretoria Zoo (National Zoological Gardens)
Immersed within the Pretoria Zoo lies a vibrant tapestry of global wildlife, encompassing diverse habitats and captivating creatures. With its array of attractions including an enchanting aquarium, a captivating reptile park, an aviary resounding with avian melodies, and thoughtfully designed primate enclosures, the zoo presents an enthralling and enlightening adventure for individuals of every generation.
6. Hazel Food Market
The Hazel Food Market in Lynnwood is a culinary journey around the world. Open every Saturday, the market offers a smorgasbord of international cuisines. The tantalising aromas and vibrant atmosphere will keep you coming back for more.
Also read: 5 Campsites near Pretoria for a bushveld experience
7. Hennops Hiking Trail
The Hennops Hiking Trail offers an invigorating escape for outdoor enthusiasts. Located near both Johannesburg and Pretoria, the trail meanders along the Hennops River and into the surrounding mountains, offering breathtaking views and a peaceful retreat from city life.
Read: Hennops Hiking Trail: perfect for a weekend adventure in Gauteng
8. Kruger House Museum
Step back in time at the Kruger House Museum, the historic residence of Boer leader and South African Republic President, Paul Kruger. The house offers a glimpse into Kruger's life and the era he lived in, making it a fascinating visit for history enthusiasts.
9. Freedom Park Pretoria
FreedomPark, situated on Salvokop, is a poignant tribute to those who lost their lives in the South African Wars, World Wars I and II, and during the apartheid era. The park's memorial features a list of names of the fallen, serving as a solemn reminder of the country's turbulent past.
10. Moreleta Kloof Nature Reserve
Tucked away in the foothills of the Moreleta Kloof, the Moreleta Kloof Nature Reserve is a hidden gem in Pretoria. The reserve, spanning approximately 100 hectares, is home to various small game species and abundant birdlife. With its tranquil trails and the perennial Moreleta Spruit flowing through, it's a perfect spot for nature lovers.
11. Statue of Nelson Mandela
The Statue of Nelson Mandela stands tall, a bronze beacon of hope and resilience. It's the tallest bronze sculpture of Mandela in existence, a fitting tribute to a man who towered over adversity. The statue stands on the spot where Mandela was inaugurated as South Africa's first democratically elected president in 1994, a place of historical significance that adds to the statue's allure.
12. Austin Roberts Bird Sanctuary
The Austin Roberts Bird Sanctuary is a haven for birdwatchers. This 11.76-hectare nature reserve, located in the Walkerspruit Open Space System, is a symphony of chirping birds and rustling leaves. Opened in 1956, it's the first bird refuge in Pretoria, a testament to the city's commitment to preserving its natural heritage.
13. The Wonderboom fig tree
The Wonderboom fig tree is a living testament to the passage of time. Over 1 000 years old, this fig tree has sprouted 13 daughter trees, creating a massive shaded area that can shelter up to 1 000 people. The nature reserve built around it also houses interesting Iron Age discoveries and a fort built for protection against the British.
Also read: 5 amazing picnic places around Pretoria
14. Groenkloof Nature Reserve
The Groenkloof Nature Reserve, the first and oldest game sanctuary in Africa, offers a unique wildlife experience. With a 20km mountain bike trail and guided horse trails, you might pass some curious giraffes and zebras as you explore the reserve.
15. Ludwig's Rose Farm
Ludwig's Rose Farm is a riot of colour, with millions of roses to see! The farm also offers garden advice, tractor rides on weekends, bird watching, and a restaurant. The huge play garden and rosy shop make it a perfect family outing.
16. Urban Being Sculpture and Spirit of Tshwane
The Spirit of Tshwane by Anton Smit, located at Aramist Avenue, Menlyn Maine, is a stunning sculpture that represents the spirit of the local Apies River. The sculpture also symbolises the interdependence of the people of Tshwane.
17. Mrs Ples
Immerse yourself in the captivating world of our evolutionary past as you pay a visit to the Ditsong National Museum of Natural History and marvel at the remarkable Mrs Ples. Regarded as one of the most complete examples of a pre-human skull ever discovered, this 2.3 million-year-old relic offers a captivating glimpse into the intricate tapestry of our ancient origins.
Also read: 11 gorgeous places to stay in Pretoria
18. Jacaranda Trees
Pretoria is famous for its beautiful jacaranda trees, which line the streets and create a stunning purple canopy. These iconic trees, however, are under threat due to a fungal condition and their classification as alien species. Enjoy the jacarandas while they last, and remember the legend: when a jacaranda blossom falls on your head, you're sure to pass your exams!
19. Horseback Africa
Horseback Africa offers an awe-inspiring three-night stay. The serene surroundings create a sense of being distanced from the bustling city life. With horseback safaris, abundant opportunities to observe various animals, and exceptional hospitality, it's the perfect city getaway.
20. E-Biking with Wildlife
Delve into the enchanting realm of E-Biking with Wildlife, where a magnificent array of animal species awaits your gaze, ranging from elegant giraffes and swift ostriches to captivating zebras and a multitude of buck varieties. The allure of fascinating sights along the route ensures that the actual riding time remains within the blissful span of two hours.
21. Brooklyn Theatre
The Brooklyn Theatre transcends its role as a mere performance venue; it stands as a vibrant epicentre of art and culture in Pretoria. Since its establishment in 1994, this esteemed theatre has served as a dynamic platform for showcasing classical concerts, fostering the growth of classical music, and nurturing opportunities for talented classical musicians. With an illustrious record of producing 31 remarkable CDs, it stands as a testament to the flourishing arts scene that thrives within the city.
22. Ditsong Kruger Museum
Kruger House holds significant historical value as the former residence of Paul Kruger, the renowned leader and President of the South African Republic. Constructed in 1884 by architect Tom Claridge and builder Charles Clark, this house stands as a testament to the rich heritage of Pretoria.
23. Ann van Dyk Cheetah Centre
The Ann van Dyk Cheetah Centre, formerly known as the De Wildt Cheetah Research Centre, was established in 1971 by Ann with a dedicated mission to protect cheetahs and other endangered species. The Centre offers guided tours daily, allowing visitors to witness captivating cheetah runs and encounter a range of animals, including cheetahs, King Cheetahs, African wild dogs, caracals and vultures.
With a strong focus on conservation, the Centre is committed to breeding cheetahs for genetic diversity and releasing them into suitable habitats. It has made significant contributions to research, producing numerous publications in the academic field.
24. Loftus Versfeld Stadium
Experience the unwavering passion for sports that resonates throughout Pretoria at the iconic Loftus Versfeld Stadium. Nestled in the vibrant suburb of Arcadia, this esteemed venue stands as a testament to the city's adoration for rugby union and Association football. Boasting a remarkable seating capacity of 51 762 spectators, it serves as a thriving epicentre of sporting excellence and exhilarating athletic encounters. Prepare to be enthralled by the electrifying atmosphere that permeates this beloved stadium in the heart of Pretoria.
25. Jan Smuts House Museum
Immerse yourself in the rich legacy of General Jan Smuts, South Africa's esteemed first prime minister, as you explore the captivating Jan Smuts House Museum. This remarkable museum stands as a profound tribute to Smuts, offering visitors a compelling glimpse into his illustrious career and influential contributions to the tapestry of South African history. Prepare to be captivated by the insights and narratives that unfold within this exceptional cultural treasure.
26. Intiem Love Bridge
The Intiem Love Bridge in Magnolia Dell Park is a romantic spot perfect for couples. This well-maintained and romantic bridge adds an extra touch of intimacy to any relationship.
27. Irene Village Market
The Irene Village Market, located at the Big Red Barn, is a vibrant arts and crafts market known for its exquisite South African handmade products. Set on the picturesque Sunlawns Estate, the market provides a stunning backdrop of expansive grasslands and the scenic Kaal River.
In addition to the market, the Big Red Barn offers an array of exciting activities for children, including Acrobranch and Segway rides. For outdoor enthusiasts, there's a 20km to 30km mountain bike route and a 5km to 13km trail run to explore. To top it off, the Barn features the unique Olifants Cafe, providing a delightful dining experience.
The Irene Village Market at the Big Red Barn is a perfect destination for enjoying local arts and crafts while immersing oneself in the natural beauty of the surrounding landscape.
28. The Pretoria Art Museum
Officially opened in 1964, the museum aimed to focus on building a comprehensive collection of South African art, differentiating itself from other institutions that predominantly housed European artworks. Over time, the Pretoria Art Museum has also dedicated attention to contemporary developments in Southern African art.
The museum's vision is to curate and preserve a diverse and exceptional permanent collection of South African art. This collection encompasses various genres, art forms, movements, influences, and notable figures, while also incorporating traditional South African craftwork. The Pretoria Art Museum serves as a testament to the rich artistic heritage of the country, both past and present.
29. Burgers Park Pretoria
Burgers Park, located in the heart of Pretoria, is a 4-hectare park with a rich history. It was named after Thomas Francois Burgers, the second President of the Transvaal. Originally designated as a botanical garden in 1874, the park was meticulously designed by George Hays and James Hunter, the government botanist.
As the oldest park in the city, Burgers Park showcases the charm of Victorian-style landscaping, featuring meandering paths and a variety of captivating structures. Visitors can admire a spacious fish pond, a florarium, a Kiosk, a cast-iron Bandstand, a statue honouring President Burgers, and a World War 1 monument dedicated to fallen soldiers of the South African Scottish Regiment.
30. South African Air Force Museum
The South African Air Force (SAAF) Museum is dedicated to preserving the rich heritage and history of the SAAF. Its main branch is located at Air Force Base Swartkop, showcasing a vast collection of historical artefacts from the SAAF, some of which are displayed in both static and flying conditions. Additionally, the museum has branches at Air Force Station Port Elizabeth and Air Force Base Ysterplaat.
By safeguarding these artefacts and sharing their stories, the SAAF Museum plays a vital role in honouring the collective heritage of the South African Air Force. Visitors have the opportunity to explore and appreciate the significant contributions of the SAAF throughout history.
Follow us on social media for more travel news, inspiration, and guides. You can also tag us to be featured. 
TikTok | Instagram | Facebook | Twitter
ALSO READ: